Dark, white and orange variants are all causing a stir as consumers look for inexpensive treats.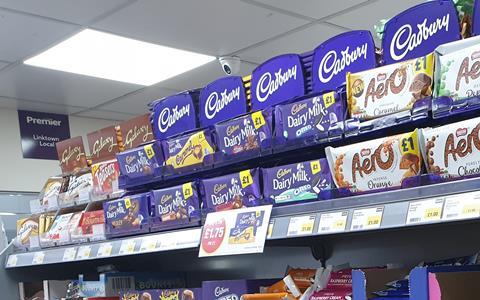 1. Chocolate blocks are the fastest growing subcategory, up 22% YOY
''The chocolate category continues to perform well over the course of the pandemic as shoppers seek out treats from well-known brands to cheer themselves up," says Mark Walker, sales director at Swizzels. "Chocolate blocks in particular are on the up – it is currently the fastest growing subcategory across the whole of confectionery, in growth +22% (IRI Total Market data, Confectionery, 52wks to 27/12/2020). Sales of large blocks were up £136m in 2020 vs 2019, amounting to an extra 105m blocks sold in that period."
Swizzels entered the chocolate bar category for the first time in 2020 with the Drumstick Chocolate Bar.
Whilst Covid-19 hit on-the-go confectionery, this was offset by an uplift in at-home snacking driven by multipacks and larger sharing formats as people turned to treats for comforts and 'big' nights in became the norm, states Ritter Sport UK & IRE. "As a brand which has a strong-hold in the 100g sharing format we were able to capitalise on demand," claims Katy Clark. The company posted a record year outperforming the block chocolate market with growth of +37% YOY. "An outstanding 79% of Ritter Sport's growth was incremental to the total chocolate category," she claims.
Justin Taylor of Spar Winford in Somerset agrees that blocks are in demand. "Chocolate blocks are selling strongly because people are at home and I guess everybody needed a pick me up," he says.
Amish Shingadia of Londis Caterways in West Sussex has seen the trend firsthand. "On the whole we are finding a lot of people are binge eating and not in the best frame of mind and they are buying into snack food including chocolate," he says. "It has been a strong performer."
It's the same story at Keystore More in Lanarkshire, Scotland. "People have been eating more chocolate over lockdown, it's comfort food," says owner Wilson Rea.
Hancocks Confectionery Wholesale concurs. "Sharing categories grew even further throughout the most recent lockdowns as the public were limited in their outdoor activity and instead opted to indulge in sharing formats indoors," says marketing communications manager Chris Smith.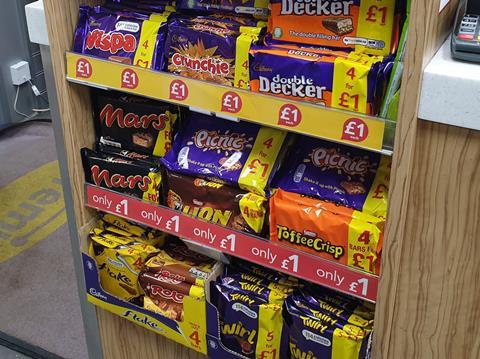 2. £1 PMPs are more important than ever as unemployment rate hits five year high
Recent data from the Office for National Statistics (ONS) shows the rate of unemployment is the highest it's been for five years, so unsurprisingly pricemarks are proving popular.
"Pricemarked packs and in particular £1 bags and blocks are increasingly important for the chocolate category as money has been tighter for thousands of families recently," says Hancocks' Smith, claiming that the popularity of £1 blocks is "the biggest trend we're seeing in wholesale currently".
Justin has seen demand for £1 PMPs. "On block chocolate our bestseller is the Cadbury range on at £1, so it offers good value for money (or the perception is that it offers good value)."
Londis Caterways customers are also hungry for £1 chocolate. "Booker has done a whole new range of £1 Cadbury bars - multipacks and blocks," says Amish. "We've put those in and both have performed very strongly. Mums are buying five bars for £1 multipacks. And in the evening we get a lot of people coming in for blocks."
Wilson claims that his £1 PMPs are flying. "I could stop selling single bars because everyone is switching to £1 for three [multipacks] or £1 blocks of chocolate."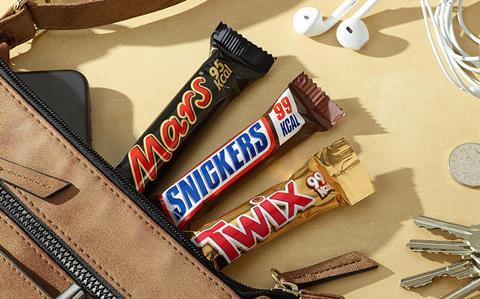 3. 68% of Brits would rather have less of their favourite chocolate than lower-sugar chocolate
Nearly 50% of shoppers consider the portion size of snacks when they are shopping and one in four say that calorie labelling impacts their purchase decisions, according to Mars Wrigley UK. In January the firm launched its new 100 calorie range offering smaller versions of Twix, Mars and Snickers. "Our new 100 calorie range is perfect for the 68% of Brits who said recently that they would prefer less of their favourite chocolate than compromise on taste," says marketing director Kerry Cavanaugh.
Mondelez has also been on a calorie capping mission. The firm brought all Cadbury chocolate and wider biscuit products typically bought by parents for children under 100 calories by the end of last year. "We have also committed to bringing all our Cadbury chocolate bars sold as part of multipack under 200 calories by the end of 2021," says trade communications manager Susan Nash.
"Covid-19 has shone a spotlight on the importance of good health, adopting healthier lifestyles and making better dietary choices a priority for consumers," says Katy Clark, head of marketing Ritter Sport UK & IRE. "Portion control packs are one of the ways brands can help consumers make informed choices and manage their calorie intake."
ADVERTISEMENT
THE MOST VALUABLE PROTEIN BAR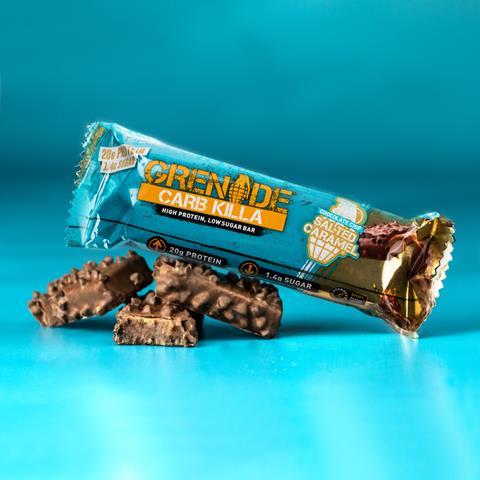 Grenade Carb Killa Chocolate Chip Salted Caramel 60g, launched in March 2020, has fast became the most valuable protein bar in the market[1]. In just 12 months, this unbelievable flavour has quickly established itself as a customer favourite and a must stock amongst the Carb Killa range. Offering the best return on shelf space, with the highest cash rate of sale of any protein bar[1], the Chocolate Chip Salted Caramel should be sold within your healthier snacking and impulse range to maximise the sales of this best-seller.
More Protein, More Profit. Grenade Carb Killa outsells leading chocolate bars[2] and provides up to 40% POR.
Grenade Carb Killa is the UK's No.1 best-selling protein bar[3] and is available through all key wholesalers in a wide range of popular flavours. RRP £2.59
[1] IRI Marketplace, Total UK Market, Protein Bars, CROS (£), 12 w/e 24/01/21
[2] IRI Marketplace, Convenience Channel, CROS (£), Grenad Carb Killa v Chocolate Confectionery, 12/we 24/01.21.
[3] IRI Marketplace, Total UK Market, Value Sales, 52w/e 24/01/21.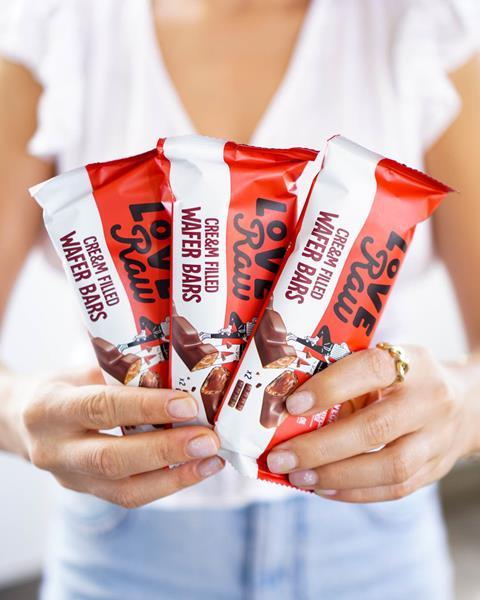 4. Sales of vegan chocolate are soaring
The vegan trend continues to build momentum within chocolate, with Nestle announcing plans to launch a vegan Kit Kat later in the year and marketing director Alex Gonnella claiming it was: "The most common request we see on social media".
"Veganism and sustainability continue to be hugely influential trends that brands are responding to with product innovation," says Ritter Sport's Clark. "Consumers care more and more about the food they eat, how it is made, what it contains and the impact it has on the planet and the value chain, this is why we are winning," says Clark. "Ritter Sport is made using 100% certified sustainably sourced cocoa, 100% natural ingredients, 100% cocoa butter (never substituted for palm oil in our chocolate masses)." To meet growing demand for vegan friendly treats and to coincide with the start of Veganuary the firm marketed an 'accidentally vegan bar range'. This included its top-selling Marzipan bar, which it claims is currently the UK's #1 vegan chocolate bar by unit sales.
Meanwhile, Green & Black's is undergoing a packaging refresh with five Green & Black's Dark bars becoming registered with The Vegan Society.
Vegan chocolate has been a focus at Hancocks. "We have expanded our range of vegan chocolate significantly and this has been very well received," says Smith. "There are some amazing vegan brands we are now working with such as Dirty Cow, Moo Free, Gnawable and LoveRaw."
LoveRaw saw turnover increase by 59% in 2020. "It is evident from our sales figures and our customer base that consumers are becoming more focussed on health and adopting a plant-based lifestyle," says CEO and founder Rimi Thapar. "We have seen incredible growth in not only veganism in the UK but also of flexitarians who are not vegans but are keen to try vegan products and luckily for us, vegan chocolate! We know what the consumer wants and have been working hard to ensure we deliver vegan versions of the nation's favourite chocolate bars, and it has proved to be a very popular decision. From a sales perspective, it has opened a lot of doors for us with buyers as they are getting an increasing demand from their customers for more vegan products and our products are meeting these growing demands." The brand has seen success with M:lk Choc and Cre&m Wafer Bars.
Amish isn't currently stocking vegan bars, however he did trial the Cre&m Wafer Bars and was impressed. "We did stock LoveRaw wafer chocolate, it tasted really nice," he says.
Moo Free vegan chocolate has also had a good year in spite of the pandemic, with annual growth of 30% and an online sales increase of 258% as a result of this. CEO Andrea Jessop claims that health is one of the key drivers of this. "Consumers are seeking out treats and little luxuries to make them feel good and that can also be enjoyed as part of a healthy, balanced diet." The high-quality bars are free from dairy, gluten, soya and palm oil and the range includes Everyday and Mini Bars, which are made from UTZ/Rainforest Alliance cocoa; and Premium range, which uses organic cocoa sourced from the Dominican Republic and produced to high ethical standards.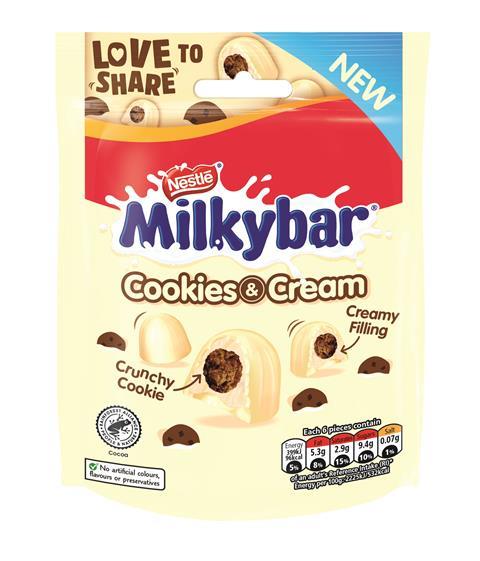 5. White Chocolate sales hit £179m last summer
According to Mondelez, white chocolate is in growth, reaching £179m last summer (Kantar Wordpanel, we: 14.06.20).
When Nestle launched its Milkybar Cookies and Creme 90g block format last September, the firm claimed it had already sold over 11 million Milkybar blocks that year. The NPD has clearly been well received as it was followed up with a pouch format last Feb.
"White chocolate continues to perform well, and innovation continues to drive sales," says Hancocks' Smith. "At Hancocks we are excited by the Milkybar Cookies and Crème NPD which is a more adult focused format for our B2B consumer, not to mention a great eat – it's been a favourite in our office!
"Over the last 12 months Mondelez have launched a wide range of white chocolate products in blocks, pouch and multipacks, taking advantage of not only a growing category but also pack formats that are showing significant growth since the initial lockdown."
LoveRaw has just launched a vegan white chocolate version of its Cre&m Wafer Bar, which bears a striking similarity to a top-selling white chocolate hazelnut filled wafer bar.
6. Orange is dominating chocolate NPD
In the chocolate category and beyond, chocolate orange is everywhere. "We offer over 30 different types of chocolate orange product as it is a firm favourite for Hancocks customers," says Smith. "We sold out of Twirl Orange almost as soon as we got the stock in last year. The White Terry's Chocolate Orange was another firm customer favourite at Christmas and we sold out twice on this line.
"We continue to expand our orange chocolate offering most recently with the NPD from Kit Kat and Smarties, and we are really excited to be stocking the new Galaxy Orange - that will be a must stock for our customers."
Twirl orange was the number one singles NPD of 2020 and one of the fastest-selling chocolate bars of the year (Nielsen, Singles MAT Value sales 26.12.2020) following a second stint as a limited edition and has now been brought back as a permanent line. "Limited edition flavours are driving consumer trial and repeat sales – so much so that Twirl is no longer a limited edition and has been added to the core offering from Mondelez as a permanent line," says Nash. The firm announced the 'Unlimited Edition' news using a quirky creative starring a host of top convenience retailers.
Wilson has been blown away by the volume of chocolate orange launches. "I don't know how they've managed to make it so popular," he muses. "Everyone's jumping on it now - Malteser bunnies, Kit Kat orange, Cadbury Dairy Milk Buttons - it's the flavour of the month."
Justin adds: "Everything has been orange recently - orange Twirl, orange tablets with orange broken smarties in them - it's a classic combination."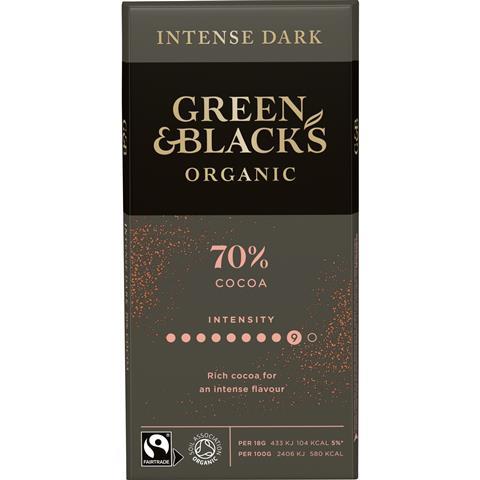 7. Dark chocolate sales exploded in 2020 with growth of over 300%
Annual sales of dark chocolate were up 309% (IRI 52 we to 16.05.20), according to Nestlé Confectionery. Aero brand manager Hannah Smithson says: "More shoppers than ever are seeking out the stronger flavour notes of dark chocolate, but we know that some people can find the taste overpowering." The firm introduced Aero Dark and Milk containing 51% cocoa solids earlier this year." Aero Dark and Milk has a higher percentage of cocoa solids than standard Aero chocolate, which makes it ideal for those who are looking for a more intense, grown up flavour," she says.
Hancocks claims that darker milk chocolate is in decline in wholesale and convenience due to losses in distribution. However, Smith claims that the launch of Aero Dark and Milk should drive incrementality and growth back into darker milk.
"Despite this decline, the launch of Cadbury Dark Milk in Sharing Bags and Multipacks drove growth into these formats, with the Dark Milk Sharing Bag being W&C's [wholesale and convenience's] highest performing dark chocolate sharing bag, as it delivered £1.7m in value sales," he says.
Mondelez's Susan Nash says: "Despite a challenging year for the category, we've seen incredible growth for Cadbury Darkmilk. This success stems from a deep understanding of our shoppers, as we know that although not all consumers grow to love the stronger flavour profile of dark chocolate, many still appreciate a richer tasting chocolate as their taste buds mature."
The firm is making a feature of Green & Black's cocoa content by introducing a Chocolate Intensity Scale on pack.
Green & Black's is a steady seller for Justin. "We do some local premium chocolate blocks and then we sell Green & Blacks, which has steady demand," he says. "We stock about five or six SKUs: some with different cocoa contents, one with orange essence and one with ginger.
Lir Chocolates claims that there is an increasing awareness of the health benefits of chocolate with higher cacao content, creating interest in both dark and darker milk chocolate. "Chocolate with a higher cacao percentage has started to appear in all types of chocolate and not just within dark," claims Lir brand manager Katie Byrne. The demand for chocolate with higher cacao has become popular among consumers as it tends to be lower in sugar and higher quality.
According to Cotswold Fayre, sales of dark chocolate boomed last year, with consumers seeking out the perceived health benefits as part of their lockdown life. In line with this trend, the company added two new products to its chocolate portfolio last year - Doisy & Dam and Divine, both of which are also B Corps.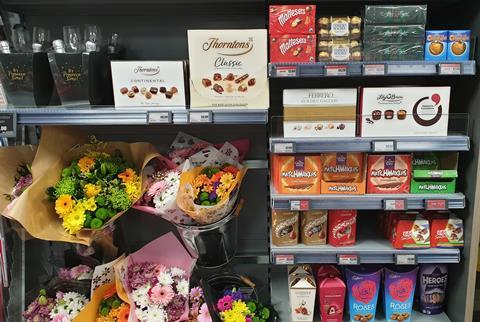 8. Premium chocolate set to benefit from families spending time together as rules relax
"With the new vaccination, there is a sense of hope and people are looking forward to the possibility of spending more time together," states Ferrero customer development director Levi Boorer. "This may still be in smaller groups, but we anticipate shoppers wanting to mark events, making them even more special and gifting loved ones with affordable luxuries – such as premium confectionery, to add a little sparkle.
"Confectionery is one of the few categories where shoppers are willing to spend money on the products that they love." The firm recommends its Ferrero Rocher 300g and Thorntons Classic 262g as must-stocks.
Hancocks agrees that consumers are willing to splash out on chocolate. "We've noticed mid-premium brands such as Lindt Excellence and Lindt Lindor growing as they're considered premium chocolate at accessible prices," says Smith. "Growth in premium is expected to continue for the foreseeable future. Both premium gifting and blocks are showing strong growth and with NPD set to hit the market from the major brands in half two, we expect this trend will remain."
Lir's Byrne says: "One of the main trends that is set to continue across all categories and seasons within the chocolate category is premiumisation. People are demanding more from their products than ever before and are willing to spend more money for better quality over quantity."
Amish finds that his customers are willing to trade up for special occasions. "Premium chocolates have sold well for spring occasions," he says. "We sold 40-50% more than we would have over Valentines and Mother's Day. People can't go out so they can't go out so they're opting for take away and a box of chocolates."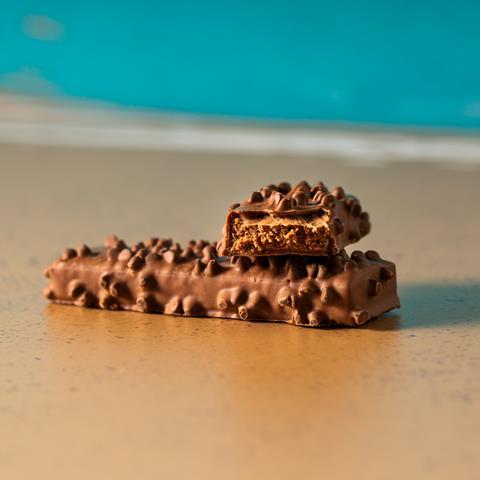 9. Growing health awareness brought on by pandemic will further fuel protein bars
Consumers have never cared more about where their calories come from, states Grenade, which makes top-selling chocolate-coated Carb Killa bars. "While this is likely to have a negative impact on traditional chocolate sales, this is not something that will affect the protein bar sub-category, quite the opposite," says Rachel Austerberry, head of convenience & high street at Grenade. "We only see our market share increasing, with demand for healthy confectionery options expected to increase, as consumers become increasingly health-conscious in the wake of the pandemic.
"Within the protein bar sub-category, Grenade's Carb Killa outperformed every other competitor in every single month of 2020 [IRI Marketplace Total UK Convenience Protein Bars £Value Sales 12we 24/01/21], leading to a 55% value share – the highest it's ever been. Putting that into perspective, Carb Killa's sales now render it five times bigger than the second biggest protein bar brand in the market [ibid]."
The firm claims that 10 of the top 10 protein bars for cash rate of sale are now all Carb Killa bars [IRI Marketplace Total UK Convenience, Protein Bars, SKU level, £ROS, 12wks to 24/01/21], with its Chocolate Chip Salted Caramel Carb Killa bar driving more growth than any other protein bar in the channel."
In a further sign of the blurring between the chocolate and protein bar categories, Mondelez has announced an agreement to acquire a significant majority interest in Grenade.

Sarah is Deputy Editor for conveniencestore.co.uk.