As consumer spending is still led by tight budgets and the changing convenience landscape, find out how to drive sales and unlock value with cheese.
A household favourite, cheese is worth £4.1bn, and is the second-largest dairy category (only milk is bigger). It is a staple in almost all consumers' fridges, with 99% penetration and three in 10 buying in a convenience store every four to five weeks[Kantar].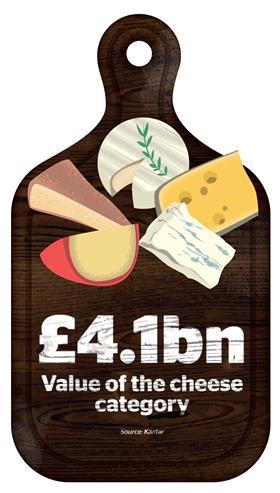 Valued at £402.7m in convenience and in strong growth (+16.3%)[IRI], pre-packed cheese is a go-to essential across diverse meal occasions – an everyday lunch and dinnertime staple, with a perhaps surprising prevalence in snacking occasions and even used at breakfast.
Cheddar is a mainstay of the category, accounting for 45%[IRI] of volume sales in c-stores, with block's versatility making it a firm family favourite, while the convenient nature of sliced, grated and snacking products offer time-pressed consumers a quick and easy solution.
As household budgets continue to be squeezed, some shoppers are managing their spend by switching into private label and/or reducing their basket size. Therefore it is important to offer a mix of branded and private-label solutions and to include smaller pack sizes in the range to encourage top-up and mitigate basket shrinkage.
Top tips to help influence purchasing decisions and drive sales
Maximise in-home consumption:
As consumer behaviours adapt to the cost-of-living crisis, in-home occasions are increasing, with consumers swapping eating out for in-home meals and entertaining. Indulgent in-home treat occasions are increasing, which will benefit the block, recipe and speciality cheese segments. For c-stores, offering value for money on top-up items within these cheese segments will be key, through promotions or price-marked packs (PMPs).
Range convenience cheese formats to capitalise on growing demand:
The accelerating pace of life is increasing the adoption of convenient cheese formats to help consumers get meals on the table in less time. Sliced and grated formats are seeing revenue growth of +19% and +23% respectively in c-stores[IRI]and should be key inclusions in a retailer's range. Both kids' and adults' lunchboxes have returned to growth as a way of managing household spend, offering opportunities for both slices – cheese remaining a perennial favourite filling – and snacking cheeses.
Offer 'must stocks':
A core range of 'must stocks' is key to winning c-store cheese top-up missions. Include household brands that consumers know and love to help signpost shoppers to the fixture and ensure strong availability at all times to instil consumer trust and drive conversion.
How brand familiarity drives choice
Stocking top brands that consumers know and love remains a must for convenience retailers. Not only do the leading brands help signpost the category, but also product quality and brand familiarity drive choice for around a third of convenience shoppers[Lumina].
Bought by 43% of UK households[Kantar], Cathedral City is the nation's favourite cheese brand and has a range of products to cater for all consumer needs, making it a recommended 'must stock' for c-store retailers.
Here's how you can plan your shelf to see the best results:
Stock a core range of best-sellers
Position grated cheese between sliced and recipe cheeses to maximise the dual role in lunch and dinnertime occasions
Stock cheese snacks to cater for both in-home and carried-out lunch occasions