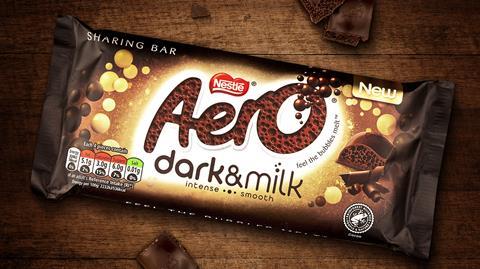 Aero Dark & Milk (rrp £1 for 90g) contains 51% cocoa solids, which is higher than both Galaxy Darker Milk at 33% and Cadbury Darkmilk at 40%.
Aero is now the UK's fastest growing Top 20 confectionery brand, up 30.5% between 2019 and 2020 (MAT IRI Data w/e 26.12.20), while dark chocolate is enjoying a surge in sales with annual sales up 309% (Source: IRI 52 we to 16.05.20).
Brand manager Hannah Smithson said: "More shoppers than ever are seeking out the stronger flavour notes of dark chocolate, but we know that some people can find the taste overpowering. Aero Dark and Milk has a higher percentage of cocoa solids than standard Aero chocolate, which makes it ideal for those who are looking for a more intense, grown up flavour. At the same time, it retains the creamy taste elements you would find in milk chocolate, which means there is no bitterness."
Aero was first launched in 1935 as a peppermint-flavoured chocolate bar and this was followed by the milk chocolate format in the 1970s. Aero Bubbles were introduced in 2005 and in 2019, Nestlé introduced Aero Bliss, a new premium version of Aero which comes as indulgent boxed chocolates that are ideal for sharing.