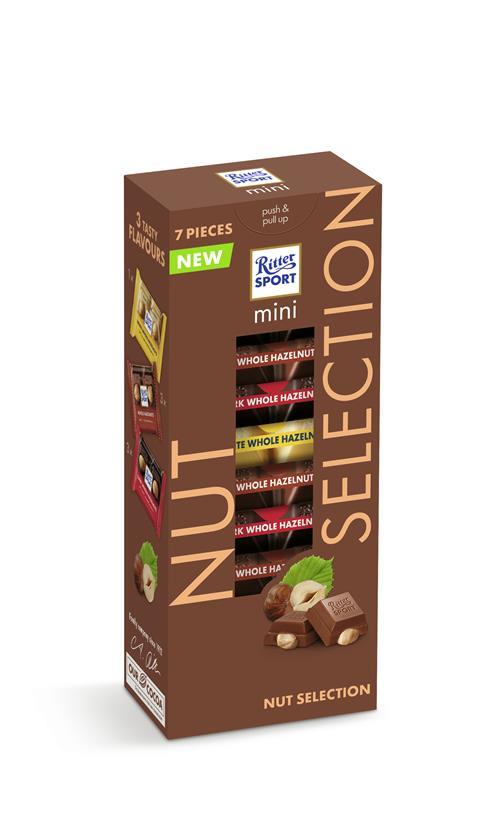 Family-owned German chocolate maker Ritter Sport has revealed its Christmas offering for 2021, which includes a new Mini Tower Nut Selection gift set, as well as three bestselling Winter Edition bars.
The Mini Tower Nut Selection is a seven piece tower containing milk, dark or white chocolate packed with whole hazelnuts. The new product will join the nine piece Mini Tower Chocolate Mix, which launched last year, and includes cornflake, praline, butter biscuit, alpine milk, chopped hazelnut and festive marzipan squares. Mini Towers are available in Spar with an rrp of £3 or on promotion at two for £5.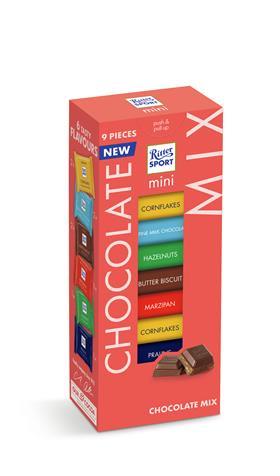 "The format is ideal for the Christmas gifting period as either a stocking filler or token gift for family and friends, or even a thank you for teachers at the end of a busy year," said Katy Clark, head of marketing at Ritter Sport UK & IRE.
"The mini tower format had a great first year in market last Christmas with a 'top six' retailer selling the Mini Tower Chocolate Mix, selling through the entire original predicted volumes by the first week in November! The retailer went on to place an additional order and we were pleased to see that the gifting format was resonating with consumers and fulfilling a shopper need."
The primary packaging for both Mini Towers is fully recyclable, and the paper-based secondary packaging is FSC certified. "Research revealed 21% of chocolate buyers are tempted by products which are available in recyclable packaging [Mintel chocolate report 2020]," said Clark. "Ritter Sport is a leader in this important area. Its CO2 neutral status reflects its passion to do things sustainably, which is at the very heart of the brand."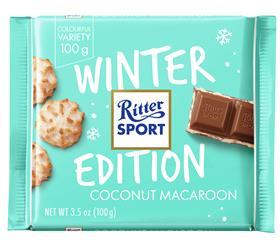 What's more, Winter Edition bars in Caramelized Almonds; Spiced Biscuit; and Coconut Macaroon flavours are back for 2021 in newly designed matte film packaging. They have an rrp of £1 and are available from Bestway, Rayburn and Dhamecha wholesalers.
"Despite footfall down 30% over last year's Christmas period due to Covid-19, the Winter Edition bars still saw a 95% total sell through within a major high street retailer," says Clark. "A promising indicator of their performance and consumer demand."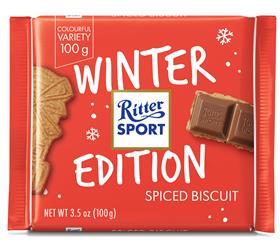 The launch of the 2021 festive range rounds off another big year for Ritter Sport UK & IRE, which launched Ritter Sport Mini Pouches and Ritter Sport Mini impulse bars in the summer. The results aren't in yet for 2021, but in 2020 the group posted a record year, its sixth consecutive growth year since launching. Ritter Sport claims to have outperformed the block chocolate market in all channels with 37% annual growth, 50% ahead of the category (Nielsen Homescan total coverage, block chocolate market 80g+ 52 WE 14.08.21).