Whether it's for self-treating or healthy snacks, biscuits are a perennial favourite among British shoppers. Here, Mondelēz International breaks down the key sectors and explains how convenience retailers can cater to both at-home and on-the-go occasions.
The biscuit category is now worth £3.3bn1 and a must-have part of any convenience store. Biscuits are widely popular across the nation, purchased by nearly 28 million households in the UK in 20222.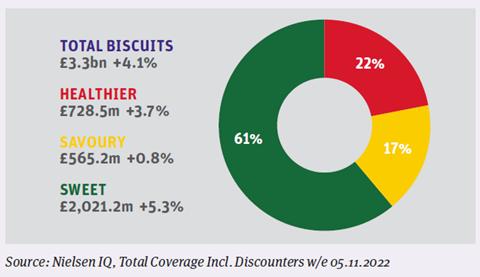 The category can be broadly split into three segments: healthier*, savoury and sweet – which are all in growth3. Within this there are two major consumption occasions: take home and on-the-go, with 86% of total sales within the take home format.
Within take home, sweet is the dominant segment – while healthier* biscuits and bars over-index among shoppers looking for on-the-go options.
Healthier*, special treat and savoury biscuits are key value drivers. Sweet everyday biscuits represent the largest biscuit subject in terms of value of sales, as a key volume driver, while healthier* biscuits provide the most value per unit.
Within sweet biscuits – which represent 61% of sales value4 and are growing at 5.3% - sweet everyday and special treat biscuits represent the largest sales value. Healthier* biscuits provide the most value per unit, followed by special treat biscuits and savoury biscuits.
Recently, increased levels of impulsive on-the-go purchases resulted in double-digit growth for some healthier* biscuit brands, like belVita. Sales are up with shoppers having returned to 'new normal' consumption patterns post-Covid.
The key to retail success is having a range that covers both in-home and on-the-go needs and offering a range of products that meet the latest consumer trends.
Top tips: be ready to cover all occasions
● Focus 80% of your range on the take home shopper mission and cover all the biscuit sub-sectors: sweet, savoury, and healthier*
● Ensure the fixture is clean and tidy
● Make your main biscuit fixture easy for shoppers to access by clearly merchandising and grouping by segments
● Group product formats together, and group brands together within formats
● Position your on-the-go biscuits with other on-the-go offers**
● Consider price marked packs (PMPs). This year, more than ever, many shoppers will be looking for value from the category, and PMPs are a great way for retailers to provide this reassurance
● Use shelf strips to help shoppers find the biscuits they are looking for – these can be ordered through www.snackdisplay.co.uk
● Consider placing biscuits in a secondary location**, for example, there is a great opportunity to locate biscuits with other categories, such as hot drinks. In fact, 44%5 of customers on a breakfast mission purchase a hot drink. Creating a deal between two complimentary categories such as these will help to drive incremental sales in the biscuit category
● Keep ahead of latest trends. With expert advice on shopper and consumer behaviour, you can find out more at www.snackdisplay.co.uk/products
To see some of the above principles put into action, check out the planograms below:
Benefits to retailers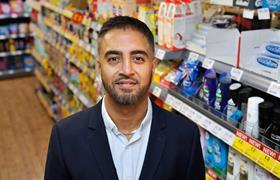 "Snack Display really impressed me. The site contains a wealth of information, which is super simple to access. As a retailer, my time is stretched so I really appreciate a site that can offer me valuable tips to help grow my sales.
"The site has product news, best seller information and product details, including scannable bar codes to help ordering. There are also some great tools on the site including category tutorials, planograms, seasonal advice and planners, as well as links to other useful sites, including Sign Language lessons! In addition, there are downloadable social media images and you can request point-of-sale materials. There's always a competition for retailers on the site, so it's well worth checking it regularly and giving them go."
– Atul Sodha, Londis Harefield
Biscuit products that are making waves
Please click on captions to access key brand data:
OREO appeals to a younger than average demographic7. Brand investment focuses on its playful equity positioning linking the brand to popular culture via iconic and impactful campaigns, successfully targeting a millennial-based audience. The brand's continued emotional engagement with its consumer is performing a critical role in the category, attracting the next generation of biscuit lovers8.
belVita is growing ahead of the category10, offering a proposition of 'Positive Energy' with a recipe made with five different wholegrains and gently baked to preserve the nutritional qualities including fibre and magnesium11.
Having introduced a new price-marked multi-pack format on belVita Honey & Nut flavour, the brand aims to attract new shoppers and help add value to the category. The new belVita Honey & Nut PMP taps into the healthier* multipack space within the convenience channel and communicates value to price-conscious shoppers.
belVita Honey & Nut is the best-selling flavour in the convenience channel12, so adding a PMP format is certainly set to help retailers benefit from this success even further. This year, more than ever, many shoppers will be looking for value from the category, and PMPs are a great way for retailers to provide this reassurance. belVita Honey & Nut PMP will be available at a pricemark of £1.49***, in a convenient multipack format that will help drive sales within both the breakfast and food-to-go occasions.
Cadbury Fingers A focus on the core brand in recent years has resulted in Cadbury biscuits step change growth, with Cadbury Fingers in +3%15 growth, achieving the No.2 Special Treats SKU.
TimeOut Wafers have great potential and play a key role in one of the biggest demand spaces - the Afternoon Treat occasion. At only 106 calories per bar and +1.2% year to date growth16 Time Out is sure to be a winning line in stores.
Ritz continues to provide a versatile snack, great for sharing and nibbling, while offering more options for consumers looking for an alternative to crisps. Ritz has achieved 3rd-highest brand power in the category18 and strong consumer relevance with 98% brand awareness19.
For all ranging and merchandising advice, retailers can visit www.snackdisplay.co.uk.


*Healthier as defined by Nielsen
**Subject to HFSS legislation
***Prices are recommended only. Retailers are free to set their own prices

Sources: 1 Nielsen IQ, Total market incl. Discounters, L52wks w/e 05.11.22; Kantar WPO, Total Market, 52 w/e 30.10.22; 3 Nielsen IQ, Total market incl. Discounters, L52 w/e 05.11.22; 4 Nielsen Total market value 52 w/e 05.11.22; 5 MCA HIM Food To Go Market Report 2020; 7+8 Kantar Total Biscuit 30.10.22; 9 Nielsen, Total Coverage excl. Discounters, MAT w/e 18.06.22; 10 Nielsen IQ, Total market incl. Discounters, L52wks w/e 05.11.22; 11 belVita Breakfast Biscuits have a high content of digestible starch, which is slow-release carbohydrate. Consumption of foods high in slow digestible starch raises blood glucose concentration less after a meal compared to foods low in slow digestible starch; 12 Nielsen, Total Coverage excl. Discounters, MAT w/e 18.06.22; 13 Nielsen, value sales, Total coverage including disc, two years MAT up to 06.11.22; 14 Total Market, Total Biscuits (exc. confect/oth), 52 w/e 30.10.22; 15 Nielsen, Total Coverage excl. Discounters, MAT w/e 28.01.23; 16 Nielsen Biscuits Total Market, 52 w/e 16.06.2022; 17Kantar Worldpanel, Savoury Biscuits, EDD w/e 11.03.20; 18 Kantar Worldpanel, Savoury Biscuits EDD w/e 11.03.20; 19 Nielsen: Total Ritz, Value Sales, MAT w/e 05.03.22

We're a big company. But we believe, above all, in one thing – something that's unique to us – and that's the power of big and small. Yes, we have the scale and resources of a global powerhouse. But also the speed, creativity and agility of a fresh new start-up.
View full Profile