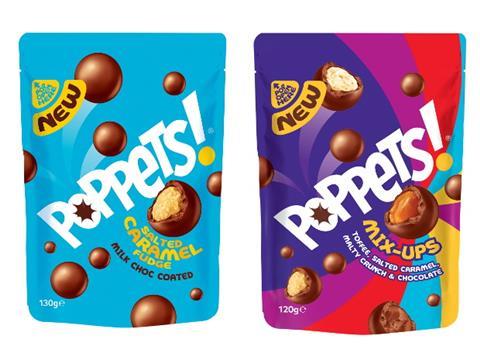 Fox's Glacier, Poppets and Barratt Liquorice Novelties are all unveiling fresh new looks as part of a major investment by Valeo Snack Foods, which will also see two new products added to the Poppets portfolio, as well as NPD from Fox's later in the year.
Poppets has welcomed Salted Caramel and Poppets Mix Ups, available from May 21. Salted Caramel is expected to have widespread appeal as a growing flavour profile, while Poppets Mix Ups feature Toffee, Salted Caramel, Crunchy Maltballs and Chocolate Balls in one pack. The firm claims that it offers a range of family favourites for an element of surprise, but with none of the polarising flavours you might find in other, similar offerings on the market.
The newly re-imagined Poppets packaging has a modern feel with a bold logo. Available in a single-serve cardboard carton or a sharing pouch format, the packaging will utilise primary colours to ensure shelf standout and show off Poppets' many different centres.
The Poppets range is also set to expand, giving consumers new and exciting ways to get that little chocolate hit. A new Salted Caramel flavour has widespread appeal as a growing flavour profile, and Poppets Mix Ups feature a selection of flavours in one pack.
The launches will be supported by a programme of marketing support.
Susan Anderson, brand manager at Valeo Snack Foods, added: "We're thrilled to reveal the new look for these little balls of chocolatey fun. The updated colours and text were all created with the customer in mind – to highlight flavours and guide customer navigation so they know exactly what they're getting.
"We've also considered the needs of retailers and will have an improved dual face opening CDU to provide flexibility for merchandising and increase visibility. We believe we've curated a brand and product offering that is modern and on trend, offers a broad appeal of flavour and is also a much-loved classic that holds universal family appeal."
Meanwhile, Fox's Glaciers also have a new look with packaging drawing on the brand's history, re-introducing design elements from its past such as its bright blue hue and the 'accept no imitations' strapline. The design gives Peppy the polar bear a fresh new look, and has also subtly referenced his counterpoint, Fox, from the original cartoons and TV adverts.
New to packs is the addition of '100 Years of Taking it Slow', a nod to the brand's heritage and expertise in creating premium, long lasting sweets.
The rebrand was managed with sustainability in mind, enabling a plastic reduction of more than ten per cent. And in order to broaden appeal, Fox's has taken the opportunity to highlight on pack that its products are vegan friendly.
A robust programme of retailer support activity will include TV, print, online and in store advertising, and in July, consumer sampling will take place via Degustabox.
Alice Thorpe, senior brand manager at Valeo Snack Foods, said: "Our relaunch celebrates Fox's rich heritage while also introducing the brand to a new generation. Valeo is set to invest seven figures in Fox's this year with an integrated through the line campaign, 'Satisfyingly Long Lasting'.
"This campaign celebrates the joy of taking a satisfyingly long lasting moment to yourself during the hustle and bustle of daily life, and savouring a Fox's sweet as an enjoyable pick me up. With 91% brand recognition, Fox's deserves its iconic reputation and this investment is about bringing it front of mind for today.
"We'll be announcing an exciting programme of NPD for the Fox's brand soon too, that come in single face shelf ready cases in order to help retailers manage space on shelf."
The third brand to get a makeover is Barratt Liquorice Novelties.
A complete product refresh will see consumers get more value for money as the much-loved treat unveils a new tapered carton pack, updated from its previous flat box style. The updated SKU will contain a 400g assortment of Liquorice Comfits, Pontefract Cakes, Liquorice Bites and Jelly Buttons in a new pick and mix format, with an MRRSP of £2.50, offering consumers more liquorice for their money.
The packaging redesign has enabled an 89% plastic reduction, part of Valeo's ongoing programme of sustainability improvements. The carton itself is also widely recyclable.
Russell Tanner, marketing director at Valeo Snack Foods, said: "Barratt Liquorice Novelties is a truly classic brand which has been loved by the nation for many years. This timely update ensures that we continue to meet the needs of the modern consumer with a convenient giftable pack that delivers improved value for money.
"We hope to appeal to a new generation of liquorice lovers and bring even more people into the category with a well-known brand name to help retailers target new shoppers through all gifting seasons and other special moments throughout the year.
"It was through giving the product a refresh that we were able to move to a new format and also reduce plastic. We are continuously looking for ways to ensure our packaging is as sustainable as possible. We are proud to have found a way consumers can enjoy the traditional taste of Barratt Liquorice Novelties whilst knowing positive steps are being taken to make packaging environmentally friendly and recyclable."
Still traditionally made in Pontefract, Liquorice Novelties has a new 'pick and mix' style and the new style carton, with more liquorice per box (270g vs 400g), is a perfect gift for liquorice lovers.