The coffee category is rising in popularity, as more customers are wanting to enjoy coffee shop style beverages in the home. Find out how to make the most of the category with top tips from JDE.
With the coffee category now worth over £1.5 billion [Kantar] and around 24 million households in the UK buying coffee [Kantar], the demand for retailers to stock a diverse range across the category has never been more important in this channel – especially as convenience and independent retailers continue to lead growth for the category [IGD].
A major trend that remains is the demand for good-quality coffee at home. Shoppers are continuing to trade up with products that allow them to easily recreate their favourite coffee shop experiences.
This has been proven through the continued growth within segments such as specialities, mixes and instant, with the soluble specialities segment now worth over £215m [Kantar] and 81% of in-home coffee cups made using instant products [Nielsen].
As sales of coffee in the impulse channel continue to rise YOY [Kantar], and around 10.6 million households are buying JDE products[Nielsen], retailers should stock household favourites such as Kenco, L'OR, Douwe Egberts and Tassimo to allow shoppers to purchase convenient, but still delicious, ways to enjoy their coffee shop favourites.
Top tips to inspire shoppers
Julliette McConnell, demand accelerator controller at Jacobs Douwe Egberts, shares her top tips to bolster sales and make the most of the category.
Offer shopers good range and availability:
Where possible, stock a diverse selection of products from different coffee sub-categories, in order to appeal to a wider tranche of shoppers. Ensure you have good availability, ideally two facings per SKU so they don't have to shop around.
Look out for best-sellers:
Shelf space may be limited, so a good place to start is by stocking popular best-sellers in your area across a few key categories.
Keep the category exciting by stocking new NPD:
When and if possible, stock new innovations to keep the category new and in line with trends, to encourage purchase.
Offer shoppers good value:
With 81% of in-home coffee cups being made using soluble products [Allegra], stock a good range of products from trusted and familer brands that consumers know and trust.
Use POS to your advantage:
Eye-catching signage and POS creates intrigue, with 60% of coffee shoppers making their purchase decision once they are in-store [Mintel].
Plan your shelf the right way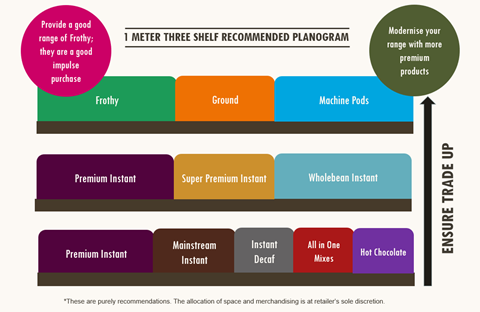 Must stock products and why
We know that consumers are turning to trusted and familiar brands that they know deliver on taste and quality[Kantar]. It is important for retailers to offer shoppers a good variety and availability and where possible, stock a diverse range of products from brands that consumers can rely on.
Bringing the coffee shop home
The influence of coffee shop trends continues to grow, with 65.1% of consumers looking for coffee shop quality drinks to enjoy in the comfort of their own homes[Allegra].
Tapping into the market trend for coffee-shop-worthy beverages, Kenco Cappuccino and Latte sachets allow consumers to recreate that great tasting, frothy coffee without the need for a coffee machine.
The cost-effective coffee choice
With the cost-of-living crisis, consumers are looking at how they can make simple switches to save money – including swapping their coffee shop visit for a delicious version at home. With over half of consumers drinking instant coffee at home in the UK[Mintel] and 9.4 million households buying JDE instant coffee products[Kantar] specifically, it's clear there is still a demand to provide consumers with great-tasting instant coffee.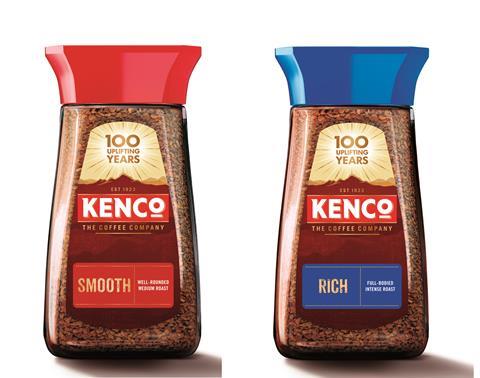 Specialities and flavours
Many sectors have seen growth, in particular, the iced specialties; now worth over £4 million[Nielsen], showcasing the opportunity for retailers to drive growth by offering iced coffee options to make at home.
Kenco Iced/Hot offers a flexible innovation that creates even more consumption occasions and provides a great opportunity for retailers to maximise their rate of sale throughout the entire year - with iced lattes perfect for the summer and hot lattes ideal for the winter months.
What's more, flavoured coffees now represent over 30% of the specialty sector[Nielsen]. Caramel and vanilla are named as the top flavours amongst shoppers, with caramel now accounting for 24% of the flavoured specialities segment[Nielsen IQ].
Kenco's flavoured Iced/Hot Lattes Salted Caramel and Vanilla, tap into the flavour preferences and demands from consumers - achieving over £1m in value sales in 2022[Nielsen]. Retailers should consider stocking best-sellers, such as Kenco Iced/Hot in Salted Caramel and Vanilla to meet demand and offer choice for shoppers.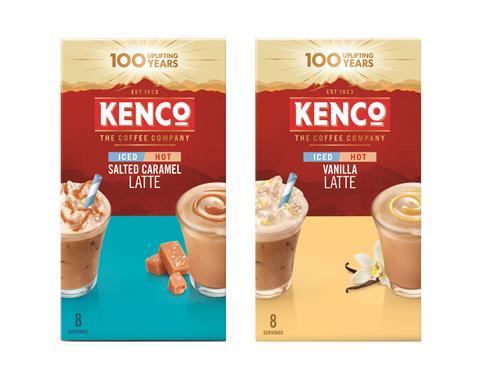 Tackling sustainability
Sustainability is impacting consumer choices now more than ever and remains a key consideration for shoppers. At a time when 'refill and reuse' behaviour is set to grow 5% annually to 2027[Smithers], retailers should look to stock more sustainable coffee options.
L'OR has recently launched new eye-catching, limited-edition designs of its iconic stopper jar, featuring three new and exclusive looks. The jars, with easily resealable lids, have been created to drive collectability and reusability amongst consumers.