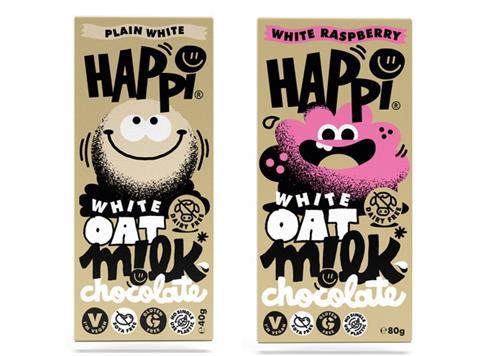 In response to consumer demand, oat milk chocolate brand Happi Free From has expanded its portfolio with the launch of Happi Plain White and Happi White Raspberry Oat Milk Chocolate. Both bars are available in 40g (rrp £1.79) and 80g (rrp: £2.99) formats. As with all the brand's products, the new Happi lines are free from soya and dairy, lower in sugar and '100% slave free'.
The new lines join the existing range which comprises: Oat Milk Chocolate Buttons and four bars: Plain Happi, Cacao Nib Crunch, Salted Caramel and Orange.
Happi sources its single origin chocolate directly and ethically from farmers and growers with a full 'farm-to-bar' supply chain. The company has replaced soya lecithin with sunflower lecithin to make the range completely allergen free. It is also 35% less sugar than other mass market chocolate brands.
"The response to the brand since we launched in January has been phenomenal, so it was a natural transition to broaden the range and bring in some white chocolate bars to appeal to the sweeter toothed chocolate lovers amongst us," explained Gavin Cox, founder of Happi.
"Our white chocolate isn't too sweet and we use the same single origin chocolate to give it a really rounded and full flavour," he adds.