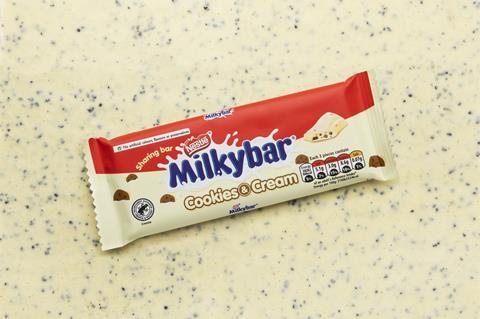 Leading white chocolate brand Milkybar has added the 90g bar to its portfolio.
Studded with cookie pieces, the bar has an rrp of £1.
The company claims that over 11 million Milkybar blocks have been sold this year.
In 2017, Nestlé introduced a lower sugar formulation for Milkybar that increased the quantity of milk in the recipe by over 10 per cent, making it the number one ingredient. By using more milk, Nestlé was able to naturally reduce the sugar content without using sweeteners. Milkybar is also free from artificial flavours, colours, and preservatives.
Milkybar Cookies & Cream is being made at Nestlé's factory in York, which also produces KitKat, Aero, Yorkie and Polo.