As sales crisps, snacks and nuts category continue to grow. Find out how KP Snacks responded to changes while still keeping up with strong demand.
The crisps, snacks and nuts (CSN) category is now worth over £4bn [Nielsen] and growing faster than any other impulse category [Kantar].
Excitingly, there is dynamic change across the category, and retailers can bank on bagged snacks to drive sales and footfall by stocking the right range and formats.

Using the strength of its brand portfolio, KP Snacks continues to look to help its retail partners adjust to shifting category trends and retain shoppers. Its supporting retailers to revive their sales, drive impulse purchases and thrive in a competitive market.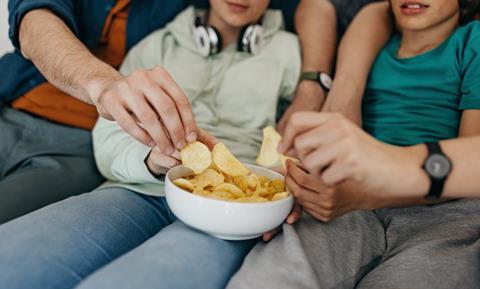 A core range recommendation for savoury snacks
'25 to Thrive' offers a core range recommendation of 25 SKUs from across the entire category, meeting today's shopper needs.
'The 25 recommended products follow five key ranging principles:
Retailers should stock the best-selling SKUs that shoppers want.
There should be a focus on PMPs, providing reassurance for shoppers and retailers alike.
You should be stocking the brands that shoppers know and love.
There should be a range of price points to meet every pocket.
A wide product range should be stocked that include products for all occasions including Nuts and Popcorn.
'25 to Thrive' encourages retailers to focus on the food-to-go category, which represents 17% of convenience missions [Lumina], and capitalise on the strength of PMP formats, with £1.25 PMPs accounting for 61% of Independent sales [Nielsen]. KP Snacks' £1.25 PMP portfolio is driving incremental sales, representing 39% of total £1.25 PMP sales and growing ahead of the market at +53.4% (vs +30.5%)[Nielsen].
Top tips for boosting savoury snacks sales
Must-stock ranging:
Offer the right products and price mix to deliver and demonstrate great value. Brands continue to be crucial for shoppers, with 61.3% saying that brand is the most important factor when choosing crisps & snacks [Lumina].
Understand your shoppers' missions and cater for them:
Capitalise on the growth of PMPs, they offer great value for money perception and have been a key driver of growth for convenience. Cater to the critical food-to-go mission and the growth of meal deals.
Drive impulsive purchases in store:
53% of impulse crisps & snacks are picked up in secondary locations [Lumina]. Utilise displays and secondary sightings to drive snacking sales and locate in complementary categories – e.g. soft drinks or sandwiches. Make use of impactful branded display and POS such as stackers and dump bins to drive basket spend and make impulsive treat categories stand out in-store.
How to plan your savoury snacks shelf
For retailers, simplicity in ranging is key to tap into core occasions and missions so KP Snacks' new '25 to Thrive' highlights the spectrum of CSN products as well as shopper missions and occasions.
Where people are seeking economical lunchtime meals and 'pick me up' occasions, McCoy's and Hula Hoops perform well. For evening sharing occasions, popcorn and nuts SKUs should be added to the range and positioned together on the top shelf.
PMPs are also a hugely important part of effective ranging. Within the KP Snacks portfolio, there is a variety of market leading PMP SKUs, to suit all budgets and occasions.
Smaller format PMPs features Space Raiders, the UK's No.1 best value brand [Nielsen], in 40p PMPs, alongside classic heritage favourites including Discos and Skips. Meanwhile, Hula Hoops Big Hoops BBQ Beef remains the best-selling PMP, offering consumers excellent value at £1.25 for a 70g pack.
Group lower priced PMPs together on the bottom shelf to aid navigation. Brands should also be ranged together as they are the primary navigation points in the category. Where possible, there should be adjacencies between crisps brands and snack brands. In larger fixtures, there should be double-facing of SKUS as this will aid replenishment and shopper navigation.
Retailer testimonial
Lewis Woodward, assistant manager at Nisa, Colley Gate, says:
"Since implementing the '25 to Thrive' ranging advice, we've had really positive comments from customers about the overall appearance of our CSN bays. Value really jumps out with the new layout and, in the current climate, shoppers want to see products they recognise at the best price. We also saw a significant increase in CSN sales."
Here are some of snacking's biggest sellers you need to know.

KP Snacks is the UK's number one manufacturer of nuts and popcorn, and number two manufacturer of bagged snacks. We make some of Britain's most iconic snack brands including McCoy's, Hula Hoops, Tyrrells, Butterkist, KP Nuts, POM-BEAR, popchips, Skips, Space Raiders, Discos, Nik Naks, Wheat Crunchies, Roysters and Frisps. We also produce many fantastic products for the UK's leading retailers. We are proud to create millions of happy snacking moments for people every day! We employ over 2,200 people in the UK across our seven manufacturing sites and our head office in Slough, Berkshire. KP Snacks is proud to be part of the Intersnack Group.
View full Profile