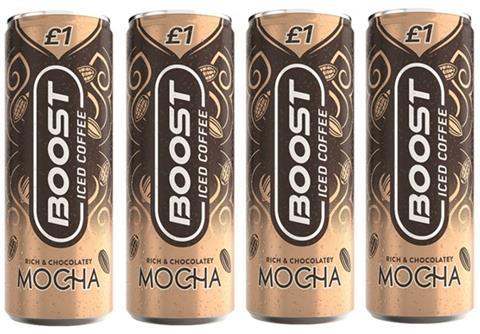 Boost has combined chocolate, South American coffee beans and milk to create its new Mocha iced coffee.
The firm claims that the new flavour offers extended shelf life for retailers compared to other brands, while the £1 PMP format provides strong cash margins for retailers.
Available in 12 x 250ml cases, the Mocha SKU joins Boost's Caffe Latte, Double Espresso and Caramel Latte SKUs.
The iced drinks market is worth £194m and growing at +30% volume and +31% value YOY (IRI Marketplace Symbols & Independents and NI Convenience 52 weeks sales to 26th December 2021) – making it the current fastest growing sub-category within soft drinks, states Boost.
Mocha, Latte, Caramel and Espresso generate 75% of the sales in the RTD iced coffee market (ibid), according to Boost, which claims to be the segment's fastest growing brand in unit sales.
Mocha is the 4th biggest flavour within RTD iced coffee, with an 11% market share (IRI Marketplace Data Symbols & Independents 52 weeks sales to 31st October 2021).
Adrian Hipkiss, marketing and international business director at Boost Drinks at Boost, says: "Investing in new flavour development is key to staying ahead of the curve and ensuring we're continuing to offer high-quality functional drinks – which we're confident this new Mocha flavour will offer."
To support the Mocha launch, Boost is activating a multi-channel marketing communications campaign across both trade and consumer formats, including digital and OOH. Plans include a number of trade sampling events taking place across UK depots with eye-catching POS available to wholesalers, alongside an exclusive distribution drive throughout April.
Consumers will also be able to get their hands on the new flavour via city centre sampling in London and Northern Ireland. Likewise, to generate excitement around the launch across Boost social channels, the team will be giving some lucky consumers the chance to be the first to try the new flavor.
OOH and digital advertising will also take place throughout May consisting of advertising on Hi-Street Media screens in 40 retailers across London to ensure Boost Mocha is front of mind to encourage impulse purchase.