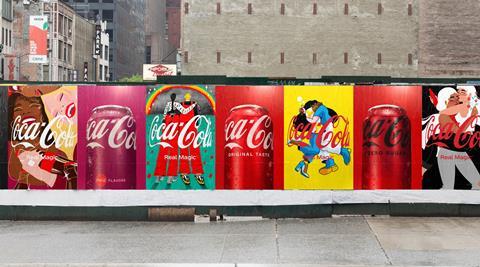 Coca-Cola has launched a new global brand philosophy and platform called Real Magic, which will be supported by a TV ad, which goes live on 4 October.
Real Magic marks the first new global brand platform for Coca-Cola since 2016 and is being launched alongside a refreshed visual identity for Coca-Cola, as well as a "new perspective" on the Coca-Cola logo.
Coca-Cola is collaborating with artists, photographers and illustrators to bring the concept of Real Magic to life through the embrace of the "Hug" logo. Design partners include Wieden+Kennedy London, KnownUnknown and Kenyon Weston.
Real Magic launches with a new campaign called "One Coke Away From Each Other" which includes TV, out-of home advertising, social media, digital and cinema. Blending real and virtual worlds, "One Coke Away From Each Other" is a metaphor that speaks to the belief that what unites us is greater than what sets us apart and celebrates our common humanity.
"Real Magic is not simply a tagline or a one-off campaign: It is a long-term brand philosophy and belief that will drive and guide marketing and communications across the Coca-Cola Trademark," said Manolo Arroyo, chief marketing officer for The Coca-Cola Company.