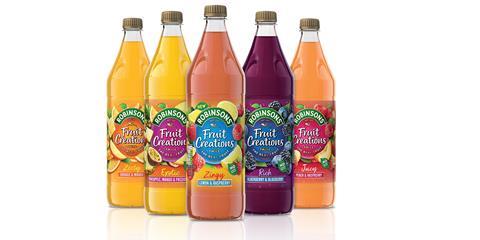 Lemon & Raspberry is the latest flavour to join Britvic's Robinsons Fruit Creations range. The premium-tier squash has also undergone a packaging refresh.
The new flavour comes in a 1l bottle (rrp £1.99) and is available in cases of 12. The brand will be supported by a £1m+ marketing campaign across audio, out of home, social, digital and in-store.
Research shows that shoppers who buy premium dilutes tend to spend 36% more than those who only shop mainstream (Kantar Worldpanel, Take Home Panel, Total Market, Good, Better, Best Dilutes, Britvic Defined, Spend per Buyer, 52we 20.02.2). Britvic claims that the brand has seen YOY consistent growth within the 'better' tier squash (NielsenIQ RMS, Total Coverage, Robinsons Fruit Creations, Britvic Defined, Value change vs L3Y, MAT w.e. 19.02.22).
The updated design will include improved imagery of larger, bolder fruit, the flavour names will see a font change to have a more premium feel and the branding made much stronger, leading with colour to dial up the flavour combinations.
Phil Sanders, out-of-home commercial director at Britvic, comments: "Robinsons has performed incredibly well in recent years, with Big Night In occasions allowing retailers to maximise sales of squash and other take-home staples. Just as sales of our Fruit Creations range continue to grow (+5% vs YA [NielsenIQ RMS, Grocery Multiples, Robinsons Fruit Creations, Value change versus YA, MAT we 19.02.22]), we want to give convenience shoppers the variety they crave through this latest addition – Robinsons Fruit Creations Lemon & Raspberry. A truly premium offering in the newly developed, bright and vibrant packaging, the new product is ideal for keeping retailers' existing adult squash drinkers engaged with their range as well as introducing new shoppers to the fixture."