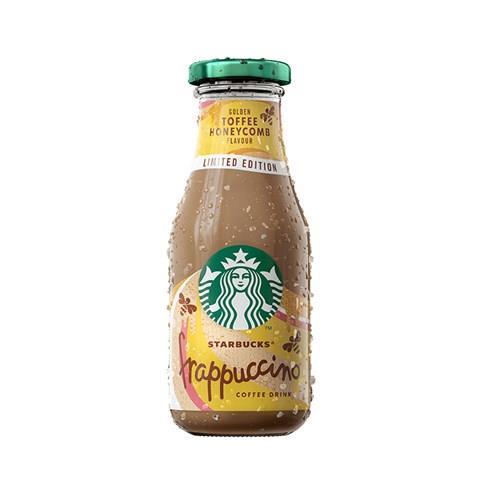 Retailers can now add Starbucks limited edition Frappuccino Toffee Honeycomb to their ready-to-drink (RTD) coffee offering.
Frappuccino Toffee Honeycomb flavoured chilled coffee comes in a recyclable glass bottle and is available at Costco (rrp £2.10).
Adam Hacking, head of beverages at Arla says: "Iced coffee is a relatively new category within soft drinks, but with its popularity continuing to soar, category leader Starbucks wants to ensure retailers make the most of this on trend and lucrative sub-category, by continuing to develop and launch relevant and exciting NPD."
The flavour is inspired by a Starbucks coffeehouse original, a chilled blend of Starbucks signature espresso, milk and real honey, finished with subtle notes of toffee.
Charlotta Oldham, director of marketing CPG EMEA says: "Starbucks is constantly evolving to create new and exciting flavours for consumers to enjoy. The new addition will allow our customers to enjoy a wider range of chilled Starbucks coffee, whenever and wherever they are."
Starbucks coffees are made with 100% arabica coffee and verified as responsibly sourced by Coffee and Farmer Equity practices.