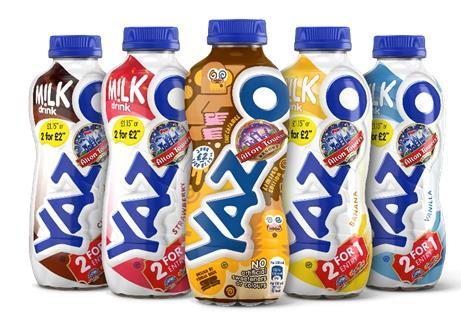 Traditional flavoured milk drink Yazoo has brought back its popular partnership with global family entertainment leader, Merlin Group, to help retailers maximise on the go sales across the summer months.
Returning for the third year in a row, the HFSS-compliant Yazoo range is offering 2-4-1 tickets for some of the UK's major adventure attractions. Each promotional bottle has a unique code that shoppers can use to redeem 2-4-1 tickets at Alton Towers or Thorpe Park.
Available until the park season ends in November 2022, the on-pack promotion runs across all Yazoo flavours and formats, including the limited-edition Choc Caramel and PMP's.
Maren Fuhrich, Yazoo brand manager at FrieslandCampina, says: "With the summer months approaching, we wanted to shake up the mundane so families can enjoy adventures and spend time together after a tricky couple of years. Our ongoing partnership with Merlin has played a key role in driving brand success in the past couple of years, and we are delighted to be continuing this successful collaboration in 2022.
"It was an easy decision for us to regroup with Merlin through the sheer success of Yazoo's previous promotional bottles. With Yazoo's PMP range representing 64% of convenience sales [IRI, Marketplace, Convenience, 52 w/e 03.10.2021], having the promotion on our price marked packs will help boost sales and ensures a positive price perception among consumers."