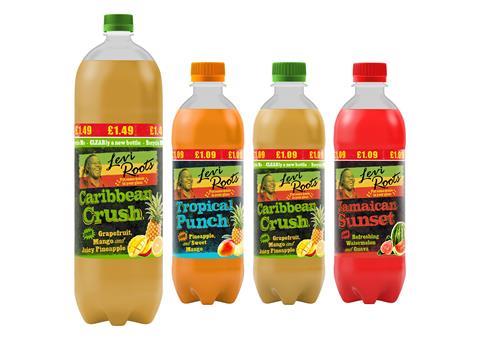 Nichols plc is introducing fully recyclable clear plastic bottles for its Levi Roots Caribbean Crush drink, along with updated labelling.
The change implements a move from green to clear bottles to aid consumer navigation. The 500ml bottles will be available from April, with 2l formats rolling out from May.
Nichols claims that Levi Roots continues to go from strength to strength, experiencing a 21% year on year growth in value sales within the impulse channel – outperforming the sector by 14% points (Nielsen IQ RMS, GB Total Impulse, Flavoured Carbonates, 52 w/e 26.02.2022).
The new packaging unifies the full Levi Roots range to offer 100% recyclable bottles, including lids. The clear plastic bottles also signpost to consumers the recyclability of the packaging, making it easier for consumers to dispose of responsibly. As one of the fastest growing flavoured carbonate brands in impulse (ibid), Levi Roots is bought and stocked by more retailers than ever before, states Nichols plc.
Jenny Powell, brand and innovation controller, says: "As a business, we want to ensure that we're creating a happier future for our planet by doing things the right way. By making the bottle clear we're able to make it easier for consumers to navigate the recyclability of the products, as well as ensuring we align the look and feel across all of the Levi Roots flavour variants."
Levi Roots sits alongside Vimto Fizzy and Sunkist within the Nichols plc flavoured carbonates portfolio which is growing +5.9% year on year (Nielsen IQ RMS data, GB Total Coverage, Flavoured Carbonates, 52 w/e 26.02.2022).