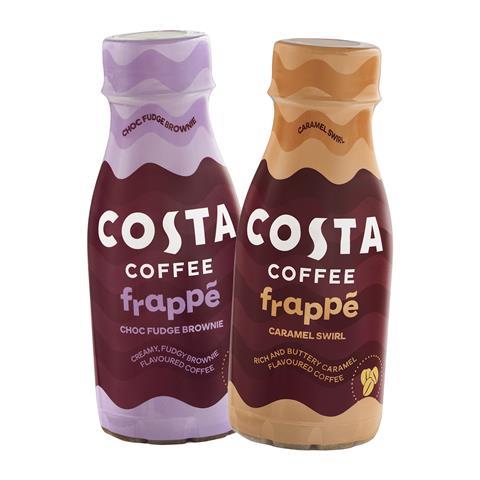 Coca-Cola Europacific Partners (CCEP) and Costa Coffee have launched a ready-to-drink (RTD) Frappé range, to drive incremental sales within the RTD coffee segment. The HFSS-products are luxurious enough to be consumed as a treat, whilst remaining compliant with HFSS.
Initially, the range features two popular flavours from Costa Coffee's coffee shop business – Chocolate Fudge Brownie and Caramel Swirl, which both contain Costa's slow-roasted, smooth and nutty Signature Blend coffee espresso with fresh milk.
Available in 250ml,100% recyclable bottles and made with 100% recycled plastic (excluding caps & labels), the range is rolling out throughout May across grocery, wholesale and convenience.
Costa Coffee and CCEP's Coffee Vision consumer research identified that the key RTD coffee need state of a 'boost' or 'pick me up' can be broken down into low intensity, medium intensity and high intensity, where distinct audience groups make choices based on level of caffeine, coffee flavour and sweetness (Proprietary Costa RTD research completed in 2020/2021).
As well as having low caffeine intensity – which is attractive to younger adults (Kantar: RTD Coffee Source of Growth Presentation, July 2020) – the RTD Frappés from Costa Coffee contain less sugar than many of the other brands on the market, meaning that even though they're designed for treating, they will still comply with HFSS regulations, claims the group.
The low intensity sub-segment has been the least well catered for to date but is up 34% YOY (Nielsen Total GB incl. discounters, val MAT w/e 01.01.22) and has significant growth potential. With the launch of the RTD Frappés, Costa Coffee will now offer low, medium and high intensity options across the range which also includes Latte, Vanilla Latte, Caramel Latte and Flat White.
The launch follows a year whereby Costa Coffee RTD nearly doubled in size for the second year in a row, growing at twice the rate of an already-booming segment (Nielsen Total GB incl. discounters, val MAT w/e 01.01.22) and achieving 90% incrementality (IRI data to July 2021 (At Home); Nielsen & Kantar data to Q3 2021 (RTD)).
To maintain this momentum, there continues to be significant investment in the brand. The Costa Coffee RTD Latte and Flat White variants will benefit from a subtle recipe tweak to improve taste, and a bold new look to deliver maximum standout on the shelf.
The brand will also be launching its biggest nationwide summer marketing campaign which fits under a global activation platform of "Summer is a state of mind". It will aim to uplift the nation and inspire positivity whatever the weather this summer, and includes out-of-home, social media advertising, as well as influencer activity.
As part of this, the Costa Coffee RTD range will be supported by a summer sampling campaign which will tour the nation, visiting 10 different cities and major events including Brighton Pride, CarFest and Bristol International Balloon Fiesta.
Martin Attock, Vice-President, commercial development at CCEP GB, says: "RTD coffee is worth £228m and up 37% in value YOY, which equates to an extra £65m of sales in the last 12 months [Nielsen Total GB incl. discounters, val MAT w/e 26.03.22]. But it's still yet to reach its full potential.
"Understanding the variety of need states the segment caters for is vital, so we can ensure all bases are covered – which is absolutely the case now for Costa Coffee RTD with the addition of the Frappé range. We're confident that, along with the great new taste across our Latte and Flat White variants, the Frappé range will help attract more consumers to the RTD coffee category this summer."