Discover which treats are iced gems and which are being given the cold shoulder.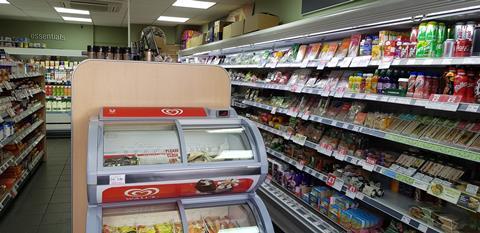 1. Impulse ice cream grew behind the market in 2020
Froneri claims that in 2020 impulse ice cream was not the summer success story it has been in previous years. "The warmer summer months are particularly important for impulse ice cream where sales usually spike as the temperature rises, however, under lockdown and with fewer people out and about last year, impulse sales grew behind the market," says customer marketing controller Henry Craven.
Nevertheless, the impulse segment saw double digit growth, according to Unilever UK, which claims impulse ice cream is worth £128m, up 10% yoy (Nielsen MAT 3rd October 2020 Total Coverage). "With 67 million single ice creams sold last year, Impulse ice cream is the second most impulsive category after confectionery," says category director Kat Simpson. Freezer favourite Cornetto grew penetration significantly ahead of the market, going from 11% to 13% penetration in 2020. This year, Wall's is helping retailers "bring the experience of the traditional ice cream van and soft-serve ice cream into the home" with Cornetto Soft. Single variant Cornetto Soft Chocolatey stays soft in the freezer and is exclusive to the impulse channel.
Mos Patel, who owns Premier and Family Shopper stores in Greater Manchester, has moved his ice cream to the back of the store to make room for a slush offer, but claims that sales remain strong. "We had a Wall's freezer at the front, but we have no space because of slushies, so I've moved it to the rear," he says. "Magnum and Cornettos are the bestsellers and Cadbury Dairy Milk, Maltesers and Flakes all do well." He claims that his customers buy into brands when it comes to single formats. "We used to do cheaper ones, but they were 30% slower, so we stopped."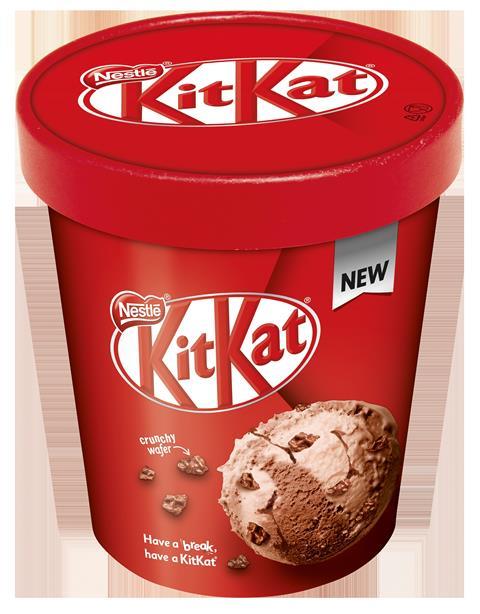 2. Sales of Take Home ice cream in Convenience outperformed Total Grocery
Against the backdrop of Covid-19, lockdown restrictions have had a significant impact on Take Home ice cream, driving over 365 million additional ice cream consumption occasions, states Froneri.
"Sales of Take Home ice cream in Convenience have grown +22.3% YOY, outperforming Total Grocery sales (+21%) [Nielsen Scantrack |52 weeks Data to 26.12.20]," says Craven. "And while it's common to see ice cream sales increase sharply with periods of warm weather in the summer, with the ongoing pandemic and tighter lockdown restrictions, we've seen uplifts through winter higher than we would normally predict, suggesting a lasting impact on the consumption patterns of consumers." The firm is welcoming summer 2021 with a new Cadbury Dairy Milk Core Tub, Cadbury Dairy Milk Choc Top Cone and KitKat Tub.
General Mills, which owns Häagen-Dazs, agrees that ice cream was a winner over winter. "We know that in the summer, this [sales growth] was driven by favourable weather as well as lockdown, which saw a shift in buyer behaviour lean heavily towards convenience for more planned and top up shops," says ice cream marketing manager Kat Jones. "This growth continued well into the atypical ice cream season. During winter specifically, we saw retailers grow their share of ice cream space as they looked to drive frozen conversion via ice cream."
Keystore More retailer Wilson Rea, who owns a store in Lanark, concurs that ice cream sales have remained strong over the colder months. "I know a lot of people who take the Wall's freezer out at winter, but people are still sitting at home, where it's 20 degrees," he says. "Up here, there were a couple of days where it was -12, -14 degrees and people still wanted ice cream! It's not seasonal. A 500g tub of Magnum is our biggest seller."
Take Home is strong for Mos. "Ice cream is selling well," he says. "I've cut down frozen veg and fries to dedicate a chest freezer to multipacks, including Oreo, Flake and Vimto Lollies."
Protein specialist Wheyhey believes take home ice cream will remain popular post-lockdown. "There is expected to be lasting impact on the consumption patterns of shoppers, with more consumers relying on frozen products such as ice cream, for their quality and convenience," says founder Damien Kennedy. "As restrictions start loosening, but restaurants remain closed for eat-ins, we only see the performance of take-home tubs increasing."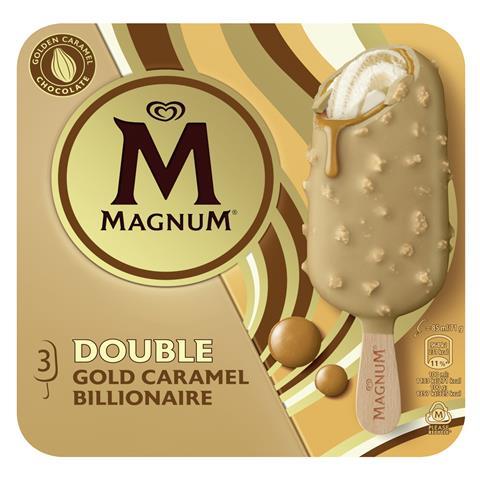 3. Value sales of Chocolate Sticks have risen 32.6% in convenience
"Throughout the pandemic many of us have looked for little ways to treat ourselves, so the more indulgent sectors such as Chocolate Sticks (+32.6% YOY) have performed well in Convenience in the last year, contributing heavily to value and volume growth [Nielsen Scantrack |Total Convenience | Total Take Home Ice Cream | Total Value Sales |52 weeks Data to 26.12.20]," claims Froneri.
Multipacks of chocolate sticks were key sellers at Nisa. "Shoppers continued to splash out and treat themselves at home during the lockdown periods," says Sorren Ashmore, wholesale category controller for frozen. The group's 2021 ice cream brochure went live in March and includes the Nestle KitKat impulse stick, which is exclusive to Co-op and Nisa for the Summer period.
"As we all spent our summers in our gardens and local parks, we saw a big sales increase in our handheld ice creams in the convenience and independent channels, as well as an increase in multipacks sales too," says Jennifer Dyne, ice-cream brand experience director, Unilever UK&I. "Just take Magnum multipacks for example, which saw a 33% increase in value sales last year, compared to 2019. Magnum is the number one brand in the UK ice cream category, worth £237m RSV, with a share of 18%. It is growing +27% MAT sales value and winning share +104bps. 2020 has been Magnum's most successful year in over five years, thanks to the strongest performing NPD – Magnum Ruby, achieving +£12m RSV in less than a year." New Magnum Double Gold Caramel Billionaire is available is single and multipack stick formats.
The firm is also livening up its chocolate stick offer with Ben & Jerry's Cookie Dough Peace Pop, which boasts a recyclable wrapper.
During challenging times, customers are more inclined to treat themselves, as well as try to replicate a similar enjoyment as eating out which is why premium and luxury ice cream products continue to be such a shopping staple, states Lotus Bakeries. "Stick-based ice creams are versatile in that they make a great individual dessert at any time of year, but particularly as we approach the warmer months where customers will be enjoying more barbecues and alfresco dining," says UK category & development marketing manager Frances Booth. New Lotus Biscoff White Chocolate Ice Cream Sticks (rrp £3.89, 3x90ml) feature Lotus Biscoff ice cream, Lotus Biscoff Spread and a crisp outer layer of Belgian white chocolate containing Lotus Biscoff biscuit pieces.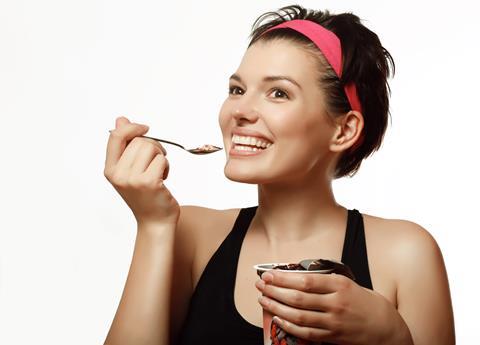 4. Low-Calorie ice cream fell behind the total Ice Cream category in 2020
Towards the end of last year, wellness took a back seat with the Low-Calorie segment falling significantly behind the total Ice Cream category in total market, +3.4% vs. YA (Nielsen Scantrack - Total Ice Cream Total UK incl discounters EPOS.52w/e 26th December 2020), claims General Mills, which offers a low calorie Gelato with 30% less sugar and 50% less fat than regular ice cream. "We are expecting growth to return in the long-term as wellness remains an important on-going trend and we may see more NPD innovation to meet demands, particularly with HFSS regulations on the horizon," says Jones.
Mackie's of Scotland claims that more health-focused lines have missed out. "Where Mackie's has thrived in our use of wholesome dairy and no artificial ingredients, the 'healthy' brands have seemingly lost out, using substitutes for premium ingredients such as milk and cream to save on calories," says sales director Stuart Common.
However, some functional ice creams enjoyed healthy sales. Sugar-free, high-protein ice cream Wheyhey saw brand value sales growth 45% in the UK YOY (Wheyhey category data 2020). Wheyhey claims to be the UK's first and only natural sugar-free ice cream, "bridging the gap between delivering on consumers' desire for indulgence and offering a functional product". The brand recently added a Brownies & Cream variant to its lineup.
Another brand hoping to capitalise on consumer demand for both protein and ice cream is Grenade, which has launched its first ever frozen treat. Carb Killa Ice Cream (rrp £4 for a 4-pack) contains over 6.5g protein, less than 1.7g sugar and is only 120 calories per bar.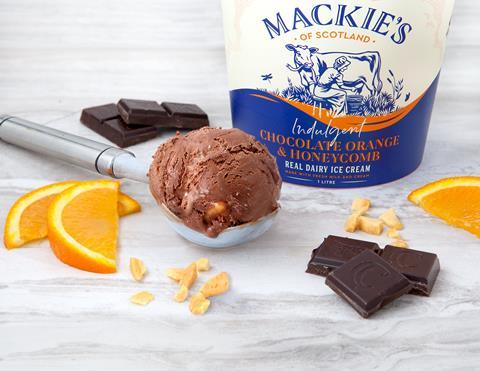 5. Luxury tubs drove summer sales, growing £4.6m in 2020
The value growth of convenience outpaced the total market for the 26-week summer period last year, growing +31% and take home ice cream was the number one driver of growth during this period (Nielsen Scantrack – Total UK & Total Impulse [non-grocery multiples led convenience, mostly symbol groups + independent stores] – 26w/e 22-aug-2020), states General Mills. "Luxury tubs, as the biggest contributor, grew £4.6m [ibid], accounting for 35% of this take-home growth, which saw Häagen-Dazs become the fastest growing luxury tub brand in convenience in Summer 2020 [ibid]," says Jones. Häagen-Dazs is currently worth £98m with significant growth of +19% [Nielsen Scan MAT data to Dec]. "We have only seen this accelerate in latest 12 weeks where the brand is outpacing the total category," says Jones. "Since Covid-19, the brand has acquired 750,000 new buyers with a total 19.7% household penetration (Nielsen CPS data 2020)."
Froneri adds that annual sales of super premium tubs are up 19.7% (Nielsen Scantrack |Total Convenience | Total Take Home Ice Cream | Total Value Sales |52 weeks Data to 26.12.20) as consumers seek out luxury.
Unilever's Simpson predicts that demand for premium will continue. "As recessionary behaviours grow, we can learn from past economic trends that premium ice cream brands grew faster than the rest of ice cream, as shoppers looked for a small but permissible treat to enjoy at home," she says. "Ensure the top sellers are given enough space in your take-home cabinet for luxury and premium tubs." This year, Unilever has added to its tub offer with Magnum Double Gold Caramel Billionaire. The group provides further category management advice via its Partners for Growth programme.
Mackie's is keen to meet demand for those seeking super premium treats. The firm's Traditional real dairy ice cream has seen sales rise +35% according to Kantar Worldpanel Data (52 weeks ending 27 Dec 2020) and Mackie's sensed that there was an appetite for something even more decadent. Last month, it launched a chocolate orange & honeycomb variant (rrp £3.50) available in Scotland through the Co-op. "Kantar Worldpanel data showed that Mackie's of Scotland UK sale's growth was second only to one other brand in the premium ice cream market," says Common. "A more indulgent choice of ice cream is attractive to consumers looking for a simple pleasure or treat at home for themselves and their families." Mackie's is investing a six figure sum to support its recent brand refresh.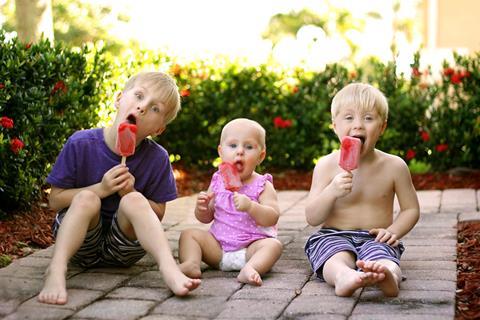 6. Ice lollies are up 23% in convenience
Although consumers have sought comfort in more indulgent products, Ice Lollies continue to perform strongly as a sector, with sales up over +23% YOY (Nielsen Scantrack |Total Convenience | Total Take Home Ice Cream | Total Value Sales |52 weeks Data to 26.12.20), according to Froneri. "Lollies have moved from being a summer staple to an all-year-round favourite and the fastest growing of all handheld sectors over the last five years, driven by their great value and low-calorie permissibility," says Craven. "Brands with broad family appeal have done particularly well and as the market leading brand, Rowntree's continues to lead this upward curve, growing +33% YOY in Convenience." Rowntree's Fruit Pastille lollies are now the second best-selling product in the total ice cream market and a must stock SKU in both Take Home and Impulse formats, claims the firm.
Unilever is also targeting family friendly occasions with new Twister Peek-A-Blue, which comes in a mix of melon, strawberry-lemon and apple-blueberry.
Watermelon flavour lollies are popular at Keystore More in Lanark. "It's refreshing," says Wilson. He gives lollies preference over ice cream so that they don't cannibalise his serve over ice cream counter. "I'll take out of the Wall's ice cream freezer any products that will compete with my scoop and put it in more water-based lollies."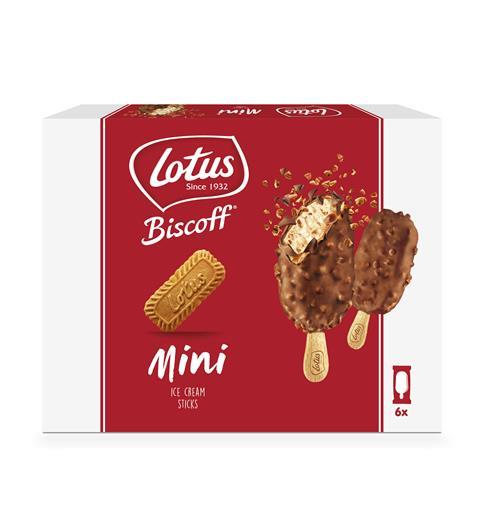 7. Lockdown fuels interest in portion control
If the UK's obsession with Little Moons is anything to go by, mini servings of ice cream are definitely proving popular. Admittedly, the latter's success was largely fuelled by Tik Tok, but there is undoubtedly a hunger for smaller quantities. With 48% of respondents claiming to have put on weight during lockdown, according to a King's College London and Ipsos MORI survey, it's not surprising that many consumers are keen to watch what they eat. But that doesn't necessarily mean that they want to give up the good stuff completely.
Lotus Bakeries has seen demand for smaller portions, launching Lotus Biscoff Mini Ice Cream Sticks last year, and Mini Tubs (rrp £4, 4x80ml) last month. "The Lotus Biscoff Mini Ice Cream Sticks and Tubs have been introduced to meet this very trend," says Booth. "Especially since spending more time at home, customers are looking for portion-controlled treats that aren't restrictive. These new delights offer the same big Lotus Biscoff taste explosion but in a smaller format for an indulgent, yet portion-controlled treat."
Mackie's Common claims that consumers would rather have "an indulgent product that they can enjoy in moderation" via portion controlled packs, than healthier ice cream. "We launched our Mini Collection, a four pack containing two small tubs of our most popular flavours, Traditional and Honeycomb, in March 2020," he says. "This retail product has proved to be the company's most popular launch in years, leading to listings in another three major retailers (Tesco, Coop and Iceland) for the summer 2021 season."
Häagen-Dazs offers a range of mini options to satisfy consumer needs. Jones claims that more than one third of category users reduced their ice cream consumption in 2019 due to sugar concerns [Mintel]. "Yet, out of those concerned, 50% of shoppers agreed that having greater control over portion size was a good alternative to abstaining," she says. "This is where Häagen-Dazs comes in; our differing portion sizes, from tubs to mini cups, support consumer choice and allow them to control their level of indulgence, which we've found is a big purchase driver."