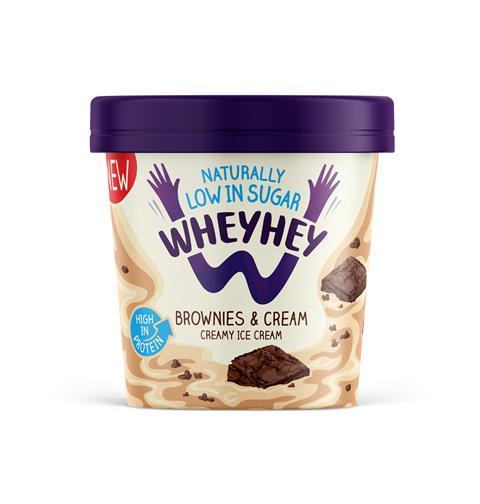 Wheyhey is launching an indulgent Brownies & Cream flavour (500ml, rrp £4.50) containing chewy pieces of brownie. A high source of protein and fibre, whilst low in sugar and calories, the product is made with cream from grass fed cows.
Wheyhey claims to be the UK's first and only natural sugar-free ice cream, "bridging the gap between delivering on consumers' desire for indulgence and offering a functional product".
The firm claims that Wheyhey contains more protein than any of its competitors, with a 100ml serving of Wheyhey containing 7.3g of protein. The low-sugar ice cream comes in at 100 calories per serving and is gluten-free.
"The brand's innovation team have made it their mission to tackle sub-category misconceptions around taste and texture, producing an undeniably smooth and creamy serve," says company founder Damien Kennedy. "Wheyhey's ice cream range contains extra whey protein isolate and is low in lactose, producing a creamier and smoother texture in comparison to other low calorie ice creams in the market."
The new flavour joins the existing line-up, which comprises: Chocolate, Salted Caramel, Cinnamon Danish, Chocolate & Hazelnut and Coconut.