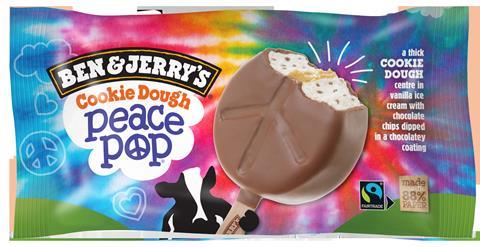 Ben & Jerry's has launched the Cookie Dough Peace Pop.
The ice cream brand has reimagined its best-selling Cookie Dough flavourso dough lovers can enjoy on the move.
Ben & Jerry's Cookie Dough Peace Pop has an RRP of £2.20 for a single and £3.99 for the 3 stick multipack.
UK brand manager for Ben & Jerry's Madeleine Boulton said: "We love to invent new ways for flavour fans to enjoy the ice cream they know and love. We can't wait to bring a cookie dough inspired treat to retailers on a stick, which ice cream fans can enjoy on the go, anywhere and everywhere.
"We're happy that each Cookie Dough Peace Pop is on a wooden stick, and with an all new, recyclable wrapper made with 88% paper. This means that our fans can dispose of all packaging responsibly (only after they have enjoyed every-last-chocolatey-bite)."
The Cookie Dough Peace Pops will be on a wooden stick and nestled into a first of its kind tie dye wrapper. Made with 88% paper, the ice cream wrapper is widely recyclable.
Ben & Jerry's has already made steps with its responsible and sustainable packaging mission, with tubs which now contain 40% less plastic, and plastic that is used is now made from a renewable plant source.