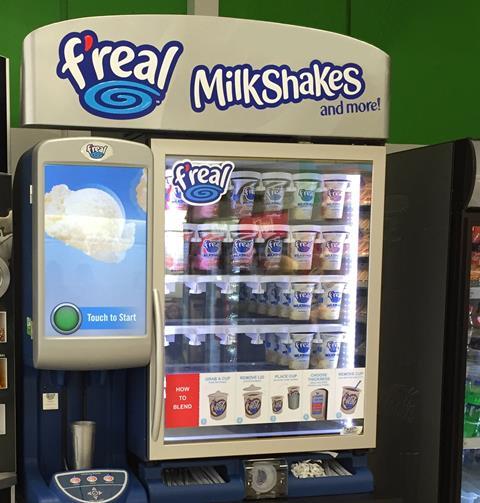 Retailers have been left confused over the criteria for being approved for a F'real milkshake machine while others have expressed dismay over a potential 20-week for their machine.
F'real, which is owned by Rich Products, debuted in the UK in July 2018 and has proven popular with consumers and retailers. Earlier this year, it paused its applications for convenience stores until 19 April however some retailers from that tranche have been turned down, leaving them frustrated about the process and criteria for being approved for an installation.
Speaking to ConvenienceStore.co.uk, Rich's sales, marketing and R&D director UK John Want explained the new application process and criteria for choosing stores. "After carefully analysing our historical registration process and current capacity for machines, on Monday 19 April we launched a new online process and invited retailers to register their interest to become a F'real partner. We were pleased to be inundated with responses, further demonstrating the popularity and success of the brand within the convenience channel.
"We value every retailer that gets in touch and wants to work with us, however we have a detailed criteria that each store must match in order for us to work with them – for the benefit of both businesses."
He went on to say that retailers can reapply if they are refused.
"The F'real package is a significant investment for us and each store, so we look at a number of factors before accepting or declining any registration. This includes; a look at the customer base of each store and whether it matches our target demographic of young adults, whether the store will be able to meet our daily cup sale target and finally whether it is a genuine 'drink to go' destination, complementing other hot and chilled branded drinks they already stock. Having said that, we appreciate that stores continually evolve their offer and retailers are always welcome to reapply if their store offer changes."
F'real delays
One retailer, who did not wish to be named, explained to ConvenienceStore.co.uk how they have been told they will have to wait 20 weeks for a machine to be installed after being approved.
"I've been trying to apply since January but they told me to wait until 19 April before applying again. It was 10 working days before I got an answer and then I received another email telling me it could be 20 weeks before it's installed."
The retailer expressed concern that this would mean the machine might not be in place until after the summer. "I know it sells well all the time but the summer was going to be a key period for this and we're going to miss it. Meanwhile I know of other stores that have got their machines installed."
Despite the expected delay, the retailer said they will have to see if they will proceed with the installation. "It's a very popular product and I know it does well in other stores but I'm not sure I can wait five months for it to be installed."
In response, Want added: "With regards to the delays, our team is working around the clock to fulfil all stores on our waiting list as soon as possible. As with many other FMCG companies right now, we are facing a global supply issue for machine parts and so we are supplying all retailers with a realistic lead time. Of course if anything changes we will contact every customer individually to organise a quicker fitting."