2020 was a scorcher for BBQ sales thanks to people being at home more and this summer could be even hotter for retailers.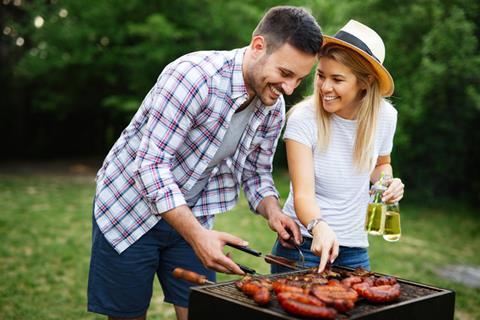 1. There were 100 million barbecue occasions in Summer 2020 (up 44% YOY)
The total number of BBQs increased by 44% (Kantar, 16 w/e 9 August 2020) with 100 million occasions between April and August, according to the Agriculture and Horticulture Development Board.
Last year's unique combination of warm weather and consumers spending more time at home during the pandemic led to a surge in barbecues across the UK, claims St Pierre Groupe. "Three times the amount of barbecues were held in the three months to May 2020 compared to the previous year [Kantar], benefiting a number of lines, including bakery," says founder Paul Baker.
Sales of Chilled Burgers in convenience increased 63% YOY in 2020 vs 2019, according to wholesale data analysis company Salesout. "Quarter Pounder SKUs seemed to have more success than other format types within the category," says managing director Kirsty Harris-Clarke. "Calling out a few trusted side dishes to any BBQ shows the following YOY sales movements over the all important Summer period: Burger Buns were up +40%, Cheese Slices were up +39% and Coleslaw and Potato Salad saw +29% growth."
Spar Parkfoot in West Malling, Kent was bowled over by BBQ demand. "It was the most bumper year we've ever had for BBQ," says owner David Charman. "The most significant thing was so many people were eating from home - we sold three times more LPG [Liquefied Petroleum Gas] (gas bottles) than normal. We sold more through our [in-store] butchery than cigarettes."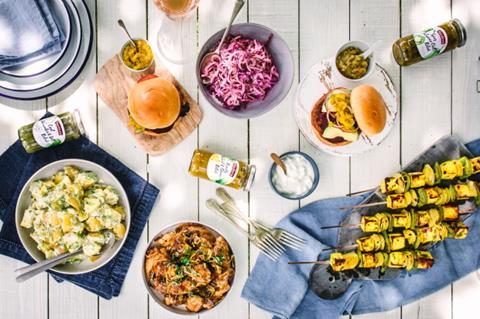 2. BBQ consumers will trade up in 2021 to compensate for missed get togethers
As restrictions eased between the lockdowns last summer, premium lines became extremely popular as people enjoyed a combination of hot weather and being reunited with their friends and family, states St Pierre Groupe. "Shoppers looked for opportunities to trade up where possible and opted for premium alternatives to improve their barbecues, such as using brioche burger buns and hot dog rolls as their bread carrier," says founder Paul Baker. "Demand for our products increased significantly last year across all our brands, with the business growing by 52% (Nielsen to March '21)."
St Pierre brand sales are up 58% YOY in the UK – five times the category year on year – with its brioche burger buns and hot dog rolls driving this success, while its Baker Street fresher-for-longer products are up 30% YOY.
With restrictions starting to ease again, the firm is expecting a similar pattern of behaviour, but on a larger scale. "This is partly due to the longer lockdown throughout winter, but also because many missed out on key occasions, such as Christmas," says Baker. "Family and friends will be looking for ways to elevate their barbecue selection to make these gatherings even more special. One simple way to do this is to trade up to a more premium burger bun or hot dog roll, like brioche."
Sue has seen evidence of consumers buying into more luxury lines at her store. "That is so true - people buy the brioche hot dog rolls and buns," she says. "It's three or four times the price, but people buy it. People like to put the best out for friends."
According to Baxters, BBQ consumers are "looking for ways to elevate their meals, adding crunch, tang, taste and texture to pimp up their plate". Gordon Sloan, Baxters category & shopper development controller, says: "Over the last year, al fresco dining has become one of the most prevalent aspects of consumer's lives. As a result, we've seen a huge surge in demand for our store cupboard essentials … we saw an increase in sales of 64% up on 2019 for the first 6 months."
The firm's latest market data to the end of March 2021, has a stronger growth performance from the Convenience channel when compared to other areas of the retail sector. "Whilst Meal Accompaniments grew +17% YoY, we also saw Convenience grow by +24% YoY [Nielsen Scantrack, 52 w/e 27.03.21]," says Sloan. "In addition to growth from the big-hitting product groups of Chutneys, Sweet Pickles, Gherkins, Beetroots and Pickled Onions, we also saw a significant uplift in Relish (+28% YoY in Convenience)." The firm's relish range includes Punchy Mustard & Gherkin and Cool Cucumber and Dill.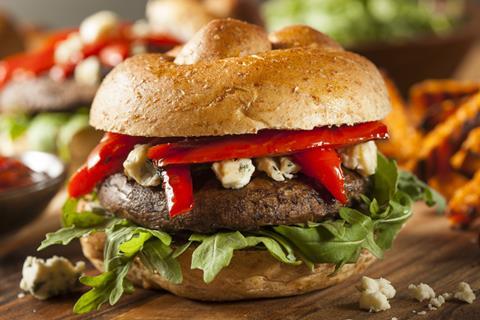 3. Over 40% of all BBQs now include vegetarian, vegan or plant-based options
"There has been a large increase over the years in vegetarian and vegan BBQ offerings, with over 40% of all BBQ's now including either a full or partial vegetarian, vegan or plant-based option [National BBQ Week]," says The UK and Ireland Mushroom Producers group. "Stores should bear this in mind when it comes to their BBQ displays and sales, thinking beyond meat, offering alternatives to conventional products and looking at other ways to make the BBQ offering more attractive. Mushrooms are set to be a barbeque staple this year, which can be grilled, skewered or used as a plant-based patty in a burger recipe."
Salesout data shows that Chilled Vegan and Veggie burgers grew 155% within convenience last summer. "There was very strong growth within the vegan and vegetarian meats category – though coming off an extremely low base vs meat alternatives," states Harris-Clarke. "There is some way to go – but plenty of headroom – for Vegan and Vegetarian SKUs to start making serious inroads into nabbing significant market share away from the Meat SKUs. Burger sales rose +155% and sausages were up +30%. The West Midlands (+469%), South West (+118%) and Yorkshire & Humber (+116%) were the biggest growing sales areas YOY.
"In 2020, we saw an increased demand for meat free products and plant-based alternatives as sustainability and looking after your diet continues to remain a priority for consumers," says Baxters' Sloan. "We anticipate consumers swapping out their burgers for plant-based alternatives this summer and pairing their buns with nutritious salad toppings and punchy chutneys and relishes."
Fikerte Woldegiorgis, foods marketing director, Unilever UK&I claims that the traditional meat-packed BBQ is changing. "We're often seeing this replaced by plant-based alternatives as more people embrace a flexitarian diet (Nielsen & Kantar data MAT 23 Jan 2020 MAT, Hellmann's share within mayonnaise category)," he says. "This has driven growth of the meat-free market which was worth £250m in 2020. Hellmann's Vegan Mayo is now the No.1 vegan mayo brand with 56.2% share (UK Nielsen Retail Grocery Value Sales MAT 27/02/2021)."
Sue is catering for vegan and flexitarian BBQ occasions with frozen meat-free burgers and chilled beetroot burgers. "People are buying into it," she says. "You're bound to have someone veggie and vegan in the group these days."
Meatless Farm believes consumers will invest in even more plant-based BBQ options in 2021. "The traditional image of a British barbecue spread with bangers and burgers is going to get a real shake up this year," says managing director UK/ROI Michael Hunter. "We know that one of the biggest trends to result from the pandemic is the rise in plant-based eating as consumers re-evaluate their food choices, driven by increased sustainability and health concerns. This has been a trend on the rise for some time, but the pandemic has really catapulted meat-free to the forefront of a broader consumer interest."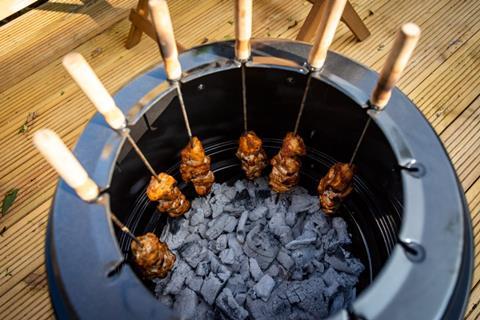 4. Consumers demand more choice and inspiring flavours to avoid barbecue fatigue
"While travelling abroad has been halted this year, more consumers are experimenting with world flavours and spices at home," says The UK and Ireland Mushroom Producers group. "Brands that continue to innovate barbeque products are thriving, helping to avoid 'barbecue fatigue' among consumers. There needs to be a greater variety of products available in convenience stores, beyond the usual offering of burgers and sausages, in order to attract more shoppers."
David has also seen a hunger for variety at Spar Parkfoot. The store's butchery counter stocks all manner of different BBQ options, including ribs, lamb kebabs and Tomahawk Steak. "Everybody has upped their game," he says. "We're offering things on our butchery counter that we didn't offer before, such as different marinades." He has also renamed some of his products to make them more accessible to customers. "We used to have a Rudolph's Revenge sausage and now we call it Hot and Spicy," he explains.
Exotic flavours are popular among those seeking international cuisines whilst travel is currently banned, claims Follow Your Heart. "Condiments that offer a twist on classic favourites are a good way to attract customers," says VP of product & marketing Katherine Franklin The firm's range of Vegenaise comes in seven different flavours, including Sriracha, Garlic Aioli, and new Avocado Oil.
Caroline Morris, head of sales at Bar-Be-Quick, agrees that locked down consumers have grown ever more adventurous. "We know consumers are looking for barbecues that offer versatility, as they experiment with what they can do within the comfort of their own home and garden," she says. "Over the summer months, we expect many people will be attempting to replicate their favourite dishes at home, whether that's Portuguese Piri Piri, Greek-style kebab skewers or Jamaican jerk chicken."
New for 2021, is the firm's Tandoori Smoker & Grill Barbecue, which enables consumers to achieve Indian-style restaurant cooking at home, which. "This appeals to the growing consumer trend of the so-called "fakeaway" – as people look to ditch the Friday night takeaway and enjoy a healthier version at home," says Morris. The Bar-Be-Quick Tandoori Smoker & Grill Barbecue (rrp £99) is stocked at selected Central England Co-op stores.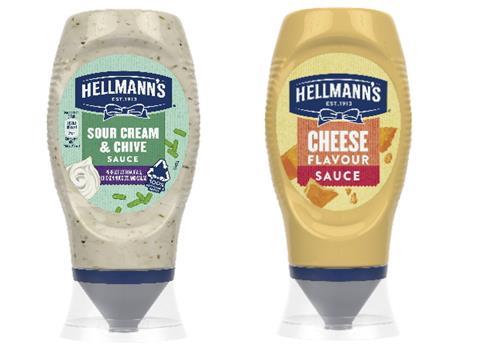 5. Table Sauces saw a 35% increase in convenience over the summer months 2020 YOY
Sales for the Table Sauces category were up 35% YOY in convenience stores in summer 2020 v summer 2019, claims SalesOut. "Chilli Sauces (+62%) and Mustards (+53%) saw good YOY growth rates – though the category is still dominated by sales of Tomato Sauce and Mayonnaise (consumers unwilling to budge from staple favourites)."
In 2020 Heinz Tomato Ketchup grew 17.8%, adding £18m in extra sales (Nielsen).
Meanwhile, Hellmann's experienced 27.2%% value growth (Nielsen, MAT 26 Dec 2020, Total Dressings) and Hellmann's Mayonnaise experienced 29.7% value growth (Nielsen, MAT 26 Dec 2020, Mayonnaise). Unilever's Partners For Growth programme states that 50% of all condiments & sauces sales are mayonnaise and ketchup [Kantar L24w 9th September 20], and advises retailers to use Heinz Tomato Ketchup and Hellmann's Mayonnaise as 'power sku's to signpost and help shoppers find the category.
"As we are now able to socialise outdoors again, we see BBQ's set to be a bigger occasion than ever before," says Woldegiorgis. This month sees the addition of two new Hellmann's 250ml squeeze variants: Sour Cream & Chive and Cheese Flavour.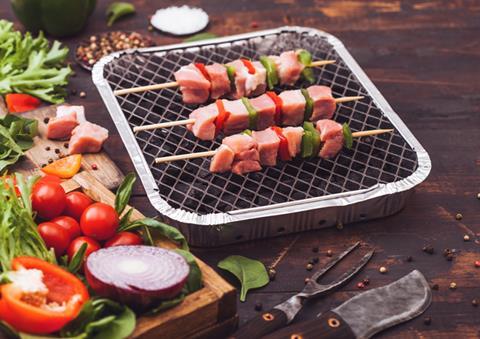 6. Sales of BBQ equipment rose 60% YOY in convenience in 2020
Sales of essential items – charcoal, disposable BBQs, firelighters etc – rose 60% on a YOY basis within Retail Convenience as consumers made the most of the good weather at the start of 2020's first lockdown alongside trying to keep their wider family entertained in the lean periods where freedom of movement was severely restrained, claims wholesale data analysis company SalesOut.
London (+114%), West Midlands (+111%) and the North East (+109%) were the most notably active regions in terms of YOY positive sales performance.
"Our original Instant Barbecue has consistently been Bar-Be-Quick's best-selling product because it is quick and convenient to use, easily recycled and there is very little clean-up required," says Morris. "It appeals to both the time-poor consumer and those who do not want to invest in expensive barbecuing equipment. For those looking to feed the whole family, we also offer a Party Size Instant Barbecue, which has an extra-large grill area to cater for up to 10 people."
David claims that meeting the high demand for BBQ equipment was challenging. "We could barely get enough charcoal," he says. "There were times when suppliers were running short as they had difficulties getting raw materials into the country."
Sue also struggled to source stock. "Last summer, we had difficulty sourcing charcoal and things," she says. "The weather was very hot very early on."
However, she is well kitted out for 2021. "This year we are fully stocked and people are buying a lot," she says. "I think it will do well all summer, lots of people want to entertain at home and see people they haven't seen in ages. Charcoal is going very well and wood going into firepits is selling very fast."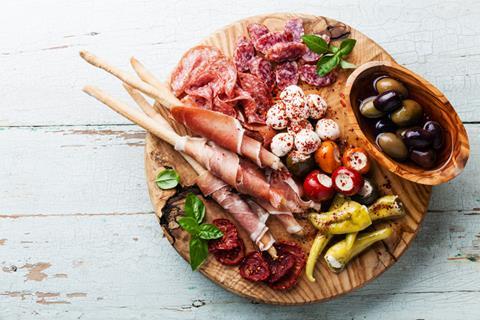 7. Antipasti has grown by £7m in the last two years
Antipasti sales have been elevated by the pandemic, with sales growing by +17.2% in value and +15.5% in volume, whilst the category is up by £7m in the last two years [IRI MAT 52 w/e 10/10/20], according to RH Amar. "There is a clear and growing demand for fine foods throughout the year, and especially at peak times of celebration and leisure such as the summer BBQ, says Anne-Marie Cannon, senior brand manager for Cooks&Co and Mary Berry's Foods at the brands' owner and distributor RH Amar. "Cooks&Co was one of the fastest growing antipasti brands in the past year, contributing 7% of category growth, which was particularly driven by increased demand for peppers and tomatoes."
She claims that there is also long-term growth in artichokes and tapenades, whilst value sales of the brand's canned 400g Vine Leaves are up by +82% (RH Amar sales out 2020). "The watchout for retailers, though, is to make sure they are giving antipasti enough space during peak sales periods," warns Cannon. "Most retailers have actually restricted the space given to antipasti during this period of growth, with total shelf space down by -7.6% [IRI MAT 52 w/e 10/10/20], so our advice would be to make sure they're giving antipasti the space it deserves, particularly during peak periods."
Another BBQ winner was Galbani Mozzarella. Galbani 125g and Galbani Burrata saw phenomenal sales growth during the months of May to August 2020 (vs the previous period of January to April), with an increase of +72%, +94% and +182% in value sales respectively (IRI 17w/e 29th August 2020 vs previous period, volume sales). "With the ongoing health crisis continuing to impact consumer buying patterns, people are continuing to shop locally, despite restrictions beginning to ease," says Heloise Le Norcy-Trott, group marketing director for Lactalis. "This combined with the fact that less people will be heading abroad this summer, we predict barbecue and alfresco dining sales opportunities for independent retailers will be at an all-time high this summer. The weather will also play a part, meaning if we benefit from a warmer than usual summer, there will be even more planned and spontaneous barbecues for retailers to cater for." Lactalis UK & Ireland has invested in a new media campaign for Galbani, which runs from May to the end of July.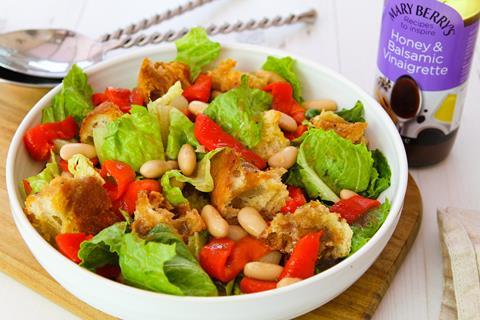 8. Dressing sales soared more than 24% in 2020
"The dressing category grew by over 24% in 2020 [Kantar L24w 9th September 20]," says Unilever category director Kat Simpson. The firm's Partners for Growth programme advises retailers to site complementary products next to each other, such as salad dressings by salad bags, to prompt purchase.
Prior to summer 2020, retail sales of salad dressings had been in long-term value decline, observes RH Amar. "A year of intermittent lockdowns and cancelled foreign breaks obviously brought a very different set of dynamics into play, and it was unsurprising to see salad dressings post their first rises for some time as householders cranked up the BBQ and enjoyed UK-based summer holidays, both in increasing numbers and with greater frequency," says Cannon.
However, it should be noted that sales of premium offerings (priced at above £2.50), including Mary Berry's range, had continued to show growth prior to 2020, highlights the firm. "Premium dressings now account for more than 11% of all sales and Mary Berry's accounts more than two thirds (67.7%) of those sales," says Cannon. "Mary Berry's Blue Cheese Dressing posted a value sales increase of +126% [RH Amar sales out 2020 v 2019]. Our sales across both independent and symbol group convenience retailers over the last year are particularly impressive,up in value by +34.4% [IRI 52 w/e 02/02/21], so the opportunity is clear as we head towards another season of high demand." The Mary Berry brand will be supported on social media channels throughout 2021.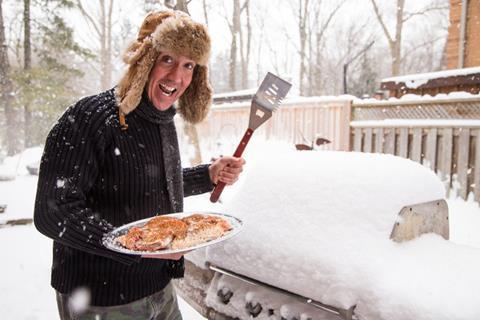 9. BBQs are no longer reliant on sunshine
"BBQs boomed during the first lockdown with more than half of Brits cooking a meal on their grill outside – and a tenth even braving the rain [Tesco survey 2020]," says The UK and Ireland Mushroom Producers group.
Brioche Pasquier believes that this has had a lasting impact. "One result of the pandemic has been an increased incentive to make more use of our gardens and local outside spaces, whatever the weather," says sales manager Charlotte Hulbert. "Our traditional BBQ summer has stretched to being a way to come together safely whatever the season, and hot weather is no longer the only reason to entertain al fresco. With people desperate to see friends and family when the rules allow, outdoor heaters have become more popular, making cold weather entertaining more convivial, and awnings, tents and gazebos utilised to provide shelter."
She claims that now is the time to promote BBQ lines. "This year, don't wait for the hot weather to promote outdoor eating," says Hulbert. "Sharing food outdoors with a few friends or family is one of the few luxuries we are likely to be able to enjoy through late Spring and early summer, so make the most of your outdoor eating displays to encourage sales." Brioche Pasquier remains the leading brioche brand in the UK and sales of its popular Brioche Rolls grew by 5.1% year on year, claims the firm.
Spar UK senior brand manager Joanne Cramer agrees that consumers will want to get their grill on come rain or shine. "As we head into summer and restrictions are lifted, consumers will focus on more BBQ occasions whatever the weather," she says. The group has launched a 'Make it your summer' range, including SPAR Premium Aberdeen Angus Beef Burgers 2's 340g (rrp £3.75) and Mini Antipasti trio (Spicy) (rrp £3).
Sue is raring to go when it comes to selling BBQ lines, but for the time being her range is limited. "At the moment we've not swung into it," she says. "Sausages and burgers have been flying out. I'm hoping Costcutter is going to launch summer BBQ stuff - we have the basics, but the fancy marinaded stuff I'm still waiting for those lines to launch. We could be selling this stuff now."

Sarah is Deputy Editor for conveniencestore.co.uk.