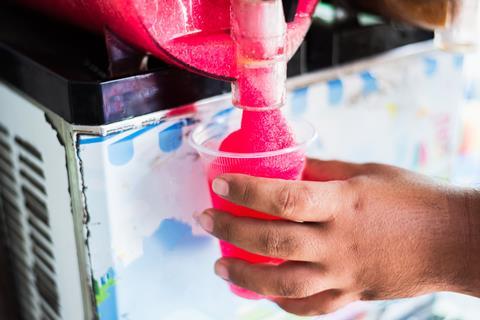 As many retailers are finding, adding the big frozen drinks brands to their soft drink offering means quids in. They sell like, erm, hot cakes. So it is very frustrating when you wind up with a machine with glitches. Doubly distressing when it's two machines.
I got a phone call from Atul (Al) Hathi, who runs Latchford Londis in Warrington, who said he was at his wits' end with the two Frozen Brothers machines he has – Tango Ice Blast and Slush Puppie. He told me: "Every six-eight weeks the seal goes and there are leaks."
He actually wrote to the company and asked for a list of the call outs he had made. They sent him the list and it showed that, between 15 October 2019 and 25 March 2021, there had been 13 call outs for leaks (red side leaking, blue side leaking) plug replacements, machine not freezing, not dispensing and so on.
(And on the day he rang me, 21 April, his most recent and fourteenth complaint, on 9 April had yet to receive a response.)
He believes that, in his case, he was unlucky and got a couple of 'lemons' as he has other similar machines, such as an adult cocktail machine, with hardly any problems. He also has a couple of friends with Frozen Brothers' machines and they haven't experienced anything like the level of problems he is having.
Al also wrote: "Another issue I have is with the lead time from my call to the helpdesk and them informing the engineer. There seems to be a 2/3 day difference."
He asked the company to "look into the number of times we have had an engineer to replace seals and let me know if you consider this to be acceptable".
And he added: "I am bringing up these issues with my Londis manager so he is aware of problems that retailers could face."
The company acknowledged: "The seals wearing is to be expected, they will naturally corrode over time, however the amount of times you have had this issue is not considered to be natural wear and tear."
As I wrote to Frozen Brothers Al's main complaints were the down time, the lag between him reporting the problem and the engineer attending, the loss of business and of product, the lack of compensation and the "bloody mess" of clearing it all up.
In fact Al told me: "When the red slush leaked overnight the place looked like a CSI crime scene." Within a few days of my contacting the company Al reported back that he had received a call from them agreeing that the Tango Ice Blast machine was faulty. "And they will replace it as soon as they are able to. As for the Slush Puppie we have agreed to have all seals replaced and monitor it."

Jac Roper is editor for Convenience Store's Dear Jac column. If you've got a retail problem, call Jac on 020 8502 9775 or email: jac@roper-biz.co.uk.