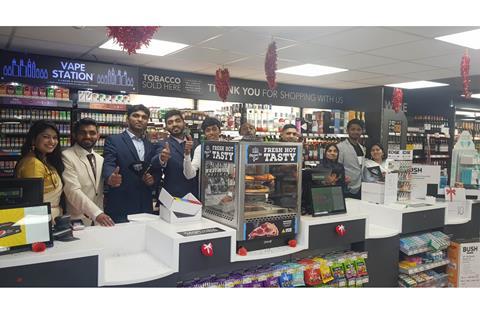 A Premier retailer and owner of a new Booker concept store in Gosport, Hampshire is encouraging repeat custom with Chicago Town's Pizza to Go concept.
Imtiyaz Mamode is one of a number of retailers who have introduced the hot pizza cabinet into their business. Since the unit first launched in January, Chicago Town has worked with hundreds of stores to launch the new food to go concept into the convenience channel.
Imtiyaz said: "Over the last four weeks we have averaged sales of seven pizzas a day and we even managed to sell 12 pizzas in just one day last Sunday. As news of Pizza to Go has spread around our local community in Gosport we've attracted more and more new customers into the store every day. Our shoppers love the fact they can buy hot and fresh pizza from us and we've been really pleased with the level of sales we are achieving."
Richard Cooper, senior brand manager at brand owner Dr. Oetker, added: "Imtiyaz and scores of fantastic retailers just like him have recently introduced the Chicago Town Pizza to Go concept into their shops and they are already achieving excellent rates of sale. It goes to show there is huge appetite amongst convenience shoppers for hot and fresh takeaway pizza. Our Chicago Town Pizza to Go concept therefore enables retailers to very quickly and easily tap into this huge growth market and start making more dough straight away."
For more information about becoming a Pizza to Go stockist, email Dr.Oetker: foodtogo@oetker.co.uk or visit: https://www.oetker-professional.co.uk/products/pizza-to-go.