Dr. Oetker has launched a range of edible letters and numbers for home bakers to personalize their bakes.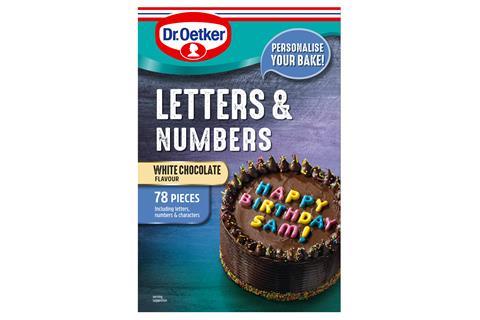 The new decorations (40g / rrp £2.50) are white chocolate flavoured and packs contain 78 pieces including letters, numbers and characters in three different colours: blue, yellow and pink.
Made for celebration cakes or cupcakes, the product is easy for amateur bakers or children to use and can simply be placed on top of frosting or icing.
Riccardo Panichi, head of marketing for cake and dessert at Dr. Oetker UK, said: "Personalisation is a huge trend in baking, with more consumers adding bespoke messages to their cakes. We spent some time checking the perfect letter to number ratio to optomise for the most popular messaging. The new Letters & Numbers are ideal for occasions such as birthdays and bring a personal touch to cake decoration."
The product joins the brand's existing range of chocolate placements and is available to independent retailers now.