Müller has launched its first ever Skyr product, Müller Corner Icelandic Style Skyr.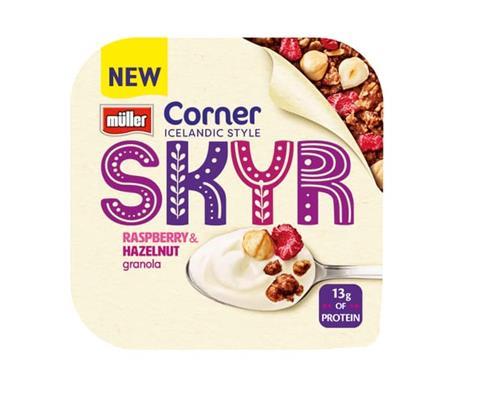 The super-thick product will be available in three variants: Icelandic Style Skyr with raspberry and hazelnut granola; nuts and chocolate coated balls granola; and banana and almond granola. A clear section in the packaging allows shoppers to view the appearance of the corner ingredients.
Available as a single pot (180g), the rrp is £1.50.
The launch will be supported by a multimillion pound marketing campaign starring champion athlete and brand ambassador Dina Asher-Smith, including a new television advert and social media.
Michael Inpong, strategy and marketing director at Müller Yogurt & Desserts said:
"We're the nation's favourite yogurt brand because we add taste to life. We're constantly creating innovative, fun and delicious new products, like this one, which meet changing shopper needs.
"Demand for Skyr products continues to grow and we know that taste is by far the most important factor when choosing yogurts.
"This is a revolutionary moment for Müller Corner, so we're backing it with a huge multimillion pound marketing campaign."