Chicago Town launches hot and fresh takeaway pizza concept helping convenience retailers get a big slice of the £6bn* grab & go market.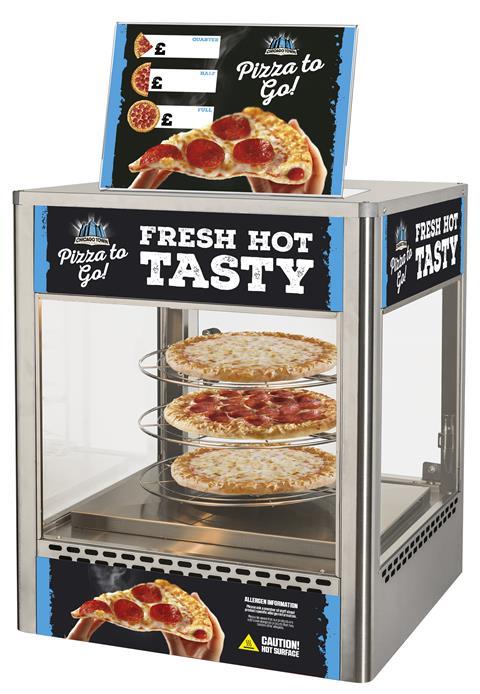 Delivering a fantastic 50% margin, retailers who buy the Chicago Town hot 'Pizza to Go' cabinet (just £550+VAT) will be reimbursed in FREE stock[1]. Also, with free installation, training and POS it's an affordable, quick and simple hot food to go solution for retailers to profit from.
Stores can freshly prepare and sell 12 inch stuffed crust Chicago Town 'Pizza to Go' straight from a hot cabinet sited in store. With unique fresh rising dough, that's never pre-cooked, the pizzas deliver real takeaway taste. The pizzas are available in the two most popular Chicago Town Pizza flavours, Loaded Cheese and Loaded Pepperoni, with a stuffed crust bursting with its signature tomato sauce.
Retailers can sell Pizza To Go in quarter slice, half pizza or even a whole pizza giving flexibility to create exciting meal deals and attractive price points, driving incremental sales both day and night.
In addition to the free installation, POS and training, participating stores will receive ongoing support through field teams to help them continually maximise sales.
To become a Pizza to Go stockist, contact Dr. Oetker at foodtogo@oetker.co.uk
or visit https://www.oetker-professional.co.uk/products/pizza-to-go
[1] FREE hot pizza cabinet based on free Chicago Town Pizza to Go stock to the value of £560 covering the initial outlay of the pizza cabinet at £550+Vat. Free stock is assumed on an £RRP of £7. Based on 10 cases = £560 (8 pizzas in a case). RRP is at the store's discretion. Hot pizza cabinet includes a 2 year in-store warranty which can be extended if required.
*Data source; MCA Eating Out Report 2018