Lancashire cheesemakers Butlers Farmhouse Cheeses has launched a convenience pack of domestic cheese under the banner of The Perfect British Cheeseboard.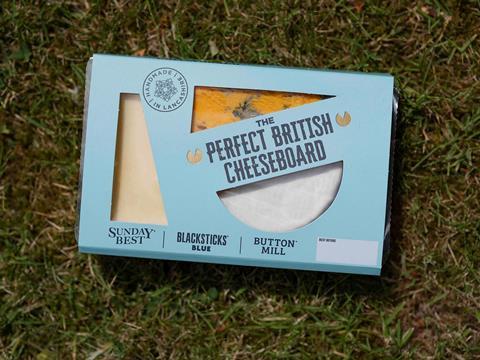 The 155g (rrp £4) pack combines examples of the company's blue, hard and soft cheeses to satisfy grab-and-go customers who are looking to create a convenient cheeseboard.
The cheeseboard features Butlers' Sunday Best, a crunchy and crumbly version of Lancashire cheese; Blacksticks Blue, described as a creamy orange blue cheese with gentle bite; and Button Mill, a small batch, soft, washed-rind cheese with a delicate flavour.
The new product has been designed with convenience stores in mind, for whom space is a premium but who still wish to tap into the trend for farmhouse and speciality cheeses.
Matthew Hall, fourth-generation owner of Butlers Farmhouse Cheeses said: "The Perfect British Cheeseboard product has been designed with ease in mind – with crowd-pleasing farmhouse cheeses that arrive as the ideal package for sharing (or not!) as an instant cheeseboard experience. We also wanted to make it as simple for retailers to tap into the craft cheese movement fuss-free. The Perfect British Cheeseboard achieves this, with great margins for retailers, making it an extremely attractive proposition."