Wall's Pastry has developed a chicken Scotch egg, designed to support consumer preferences for healthier snack products.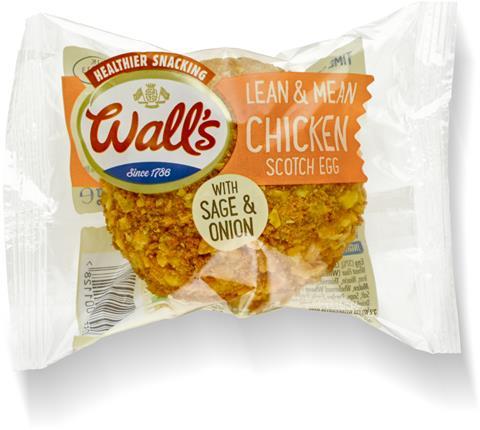 The 113g chicken scotch egg is made with 100% British chicken, onion, garlic, nutmeg and a blend of fresh herbs including sage, parsley and coriander coated in a golden crumb. It contains 2.1g of saturated fat, 9g of fat, 12.3g of protein and 197 calories.
This product is the third in the Wall's Pastry healthier chicken range, after the chicken jumbo roll and chicken rolls with sage & onion, which launched in stores earlier this year.
Mike Holton, brand manager at Wall's Pastry at Addo Food Group said: "Our category research has shown that there is currently a gap in the market for chilled chicken pastry products and, after seeing the success of our chicken pastry rolls, we wanted to continue to expand our range and provide consumers with an innovative and healthier twist on their traditional favourites.
"We're really excited to be launching a new product that provides a healthier on-the-go and snacking alternative. Whether it's a quick bite or a lunchtime treat, we want to offer a high protein snack to consumers who are looking for something a little different without any added guilt."