Chilled category is on the rise, up 2% year-on-year in covenience (Kantar) and with shoppers flocking to their local shops for more meal solutions, isn't it time to expand your offering?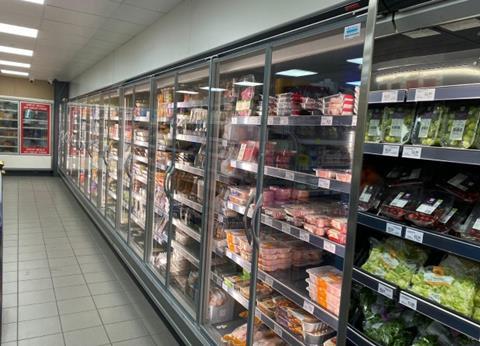 Staying cool has never been hotter in convenience. With shoppers realising that their local convenience store has a meal offering to rival that of some major multiples and the public not wanting to potentially queue up just to get their dinner for that evening, convenience stores have an opportunity to focus on fresh and chilled.
Chilled is also growing in importance for own label ranges. According to the HIM/MCA UK Convenience Market Report 2020, chilled foods are a popular own label purchase, with almost 10% of own label purchases in both small and larger stores falling into the chilled dairy category and 8% coming from chilled foods.
The report also highlighted that grocery items, such as chilled dairy and fresh fruit and veg, feature more prominently in baskets as more consumers visit on main shop missions during lockdown.
Nisa Walsall retailer Amrit Pahal recently upgraded his fresh and chilled section as part of a major store renovation. Although he admits the timing wasn't great with coronavirus hitting just as the refit kicked off, the opportunity to enhance his offer at a time when more eyes were on his store was perfect.
Amrit had more than one reason to install new chillers in the store. "We wanted to upgrade the store after going to the ACS Summit last year and realising that this is where the industry is going and what the next generation cares about is sustainability.
"The big focus for us before Covid-19 was sustainability and environmental impact so we decided we had to do something about it. My old chillers were very inefficient and had a very high energy bill so when we looked at new chillers we looked at the most efficient ones out there that would bring the bills down."
Realising that to make money, you have to spend some, Amrit and his family invested a significant amount in upgrading the chilled offering.
"We settled on the Arneg Osaka chillers and the whole shop including beer chillers have been upgraded at a cost of in excess of £65,000. But we'll make that back on the savings in our energy bills.
"The old chillers didn't have doors on them and were very inefficient so the savings will be immense. Before when we were running the old chillers, we would have to run the heating because the store would get so cold but now we're able to stop that."
Category focus
"The chilled category is important to us. With these new shelves, we're able to start lower and finish higher so I've managed to get extra shelving the whole way along. Now I've got about 91m of chilled shelving. Going on industry insight, fresh is the focus and ambient is going away. Any growth in ambient over the past few months has been more of an anomaly due to the fact that people were panic buying due to the coronavirus. The long-term actual future is in fresh and chilled, and now our chilled meal solutions have gone through the roof."
Amrit explains that to be successful in chilled is tough and the offering has to be solid in order to instil that shopping habit. "Chilled is now a destination shop. Customers pop into shops and potentially buy a chocolate bar. You don't impulse buy chilled products so we have to have an offering that makes people think of us when they're planning their next shop."
Reduced categories?
With the overhaul of the chilled category, did Amrit look at what sub-categories within chilled could be expanded or reduced?
"We've expanded our fish range and added a local curry supplier which does very well for me. I've got a large ready meal range and fresh meat range which works very well. The only area I've cut down on is long-life products in the chiller and replaced them with more fresh products."
Fresh and chilled can be a high risk, high reward category for a convenience store and while footfall is high now, that might not be the case forever, something Amrit took into account when planning it all out.
"When we put the new chillers in, I was growing my chilled from what it was to where it is now and I was concerned about wastage. We also didn't want to build a discount sticker culture amongst our customers who would just wait until the short-life products were reduced in price. We managed to negate this by signing up to the Too Good to Go food app so all my wastage goes through that. This also feeds into our sustainability, that is something the next generation of shoppers is concerned about."
While Amrit spend a lot on new chillers, he says that it doesn't always have to be that costly and that retailers considering growing chilled to look at what they have very closely.
"Work with the chiller you've got now. We decided it wasn't a good idea to get new chillers until we maximised the ones we had. We rearranged our chiller to maximise the space and then decide if it warrants the investment.
"In terms of buying new chillers, I didn't retrofit doors to mine because the cabinets were shoddy and becoming broken. The rest of the store would have gotten an upgrade so the chillers would have looked out of place. So if you can and it works for you, I would say fit doors and save some money."
But what about sales? "I've had an immediate increase in sales and my chilled order has gone up 30% already."