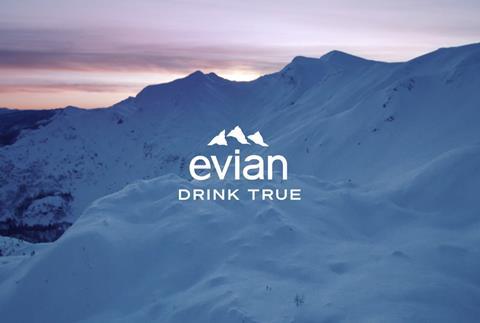 Evian is marking Earth Day with the launch of a digital dashboard to track its progress towards becoming circular by 2025. The natural mineral water brand, which is now a B Corp, aims to make all of its bottles from 100% recycled plastic (rPET), a journey which has already been kickstarted by the launch of two innovative bottle formats made of 100% rPET in 2020.
Shweta Harit, VP of marketing at Evian, said: "I am so pleased that Evian is now part of the B Corp community and that we are now more committed than ever to transparency. As a brand, we know we must strive to keep doing more and going further for people and planet, so we are truly honoured to join a global movement of responsible organisations that want to accelerate progress on the shared challenges we face.
"At evian, being B Corp goes way beyond our sustainability credentials, it's also about our commitment to working together as a group of companies to drive change and advance company standards to benefit people, communities and the planet. We're also aware of the need for transparency, acting as a force for good that wants to be accountable, learn and improve constantly, which is why we have also launched our dashboard to help us achieve this.
Katie Hill, CEO at B Lab Europe, said: "We are delighted to welcome Evian to the B Corp community. This global movement of nearly 4000 companies from over 70 countries and 150 sectors is helping to change the way business operates, and in so doing, they redefine the qualities of success in business. Evian's commitment to circularity in its operations, and the transparency with which it will share this progress towards this goal, will inspire other companies to follow suit. Now more than ever, it is crucial for both companies and individuals to operate for the benefit of all and use business as a force for good."