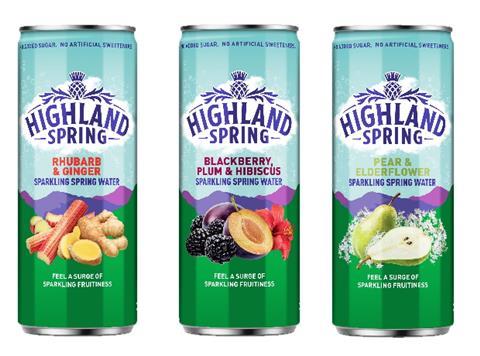 Cans of Highland Spring Flavoured Sparkling Water will be available from April. The drinks are a maximum of 33 calories with no added sugar or artificial sweeteners and come in three flavours inspired by Scotland: Rhubarb & Ginger; Blackberry, Plum & Hibiscus; and Pear & Elderflower. The latter two are available in 4x330ml multipacks (rrp £3.25) and all three flavours are available in 330ml single cans (rrp £1.15).
The canned sparkling flavoured water category has experienced encouraging growth in the last 12 months, up 40% to a total value of £4.9m [Nielsen Scantrack MAT Sales to 30.01.21]. However, many premium flavoured waters are not meeting consumer needs; taste being the biggest issue and lack of flavour driving low repeat purchase. 80% of consumers [Highland Spring commissioned research September 2020 (740 consumers)] said a fuller-flavoured drink from Highland Spring would be appealing, with the top three drivers for purchase being 'natural ingredients', 'no added sugar' and 'no artificial sweeteners' [ibid].
Carol Saunders, head of marketing at Highland Spring, said: "The growth in the sparkling flavoured water category over the last year has been impressive. There is still significant headroom for more, with the provision of a well-known brand, such as Highland Spring, to drive awareness, trial and repeat purchase.
"We believe there is a huge opportunity for the category through launching our new Highland Spring Flavoured Sparkling Water range and these high quality products are a natural extension to our portfolio.
"Thanks to a vast amount of consumer research and product testing, we are absolutely confident that our new Highland Spring Flavoured Sparkling Waters will meet the shoppers' need for a fuller, more-adventurous, flavour profile, with all the credibility of a well-established brand.
"Scoring very high on consumer appeal and receiving a strong response to the concept, flavour combinations and taste, this new launch broadens our appeal with younger consumers, making it perfect for lunch at home, sharing with friends and as an alcohol replacement.
"We also believe that by offering a wider back-of-store range, with clear merchandising we can ultimately help to drive visibility, awareness, trial and further growth for the category."
The launch will be supported by a fully integrated, through-the-line campaign featuring national advertising, with presence on social media and extensive PR and digital support. The launch will be further celebrated with a range of in-store activity focused around driving trial and repeat purchase.