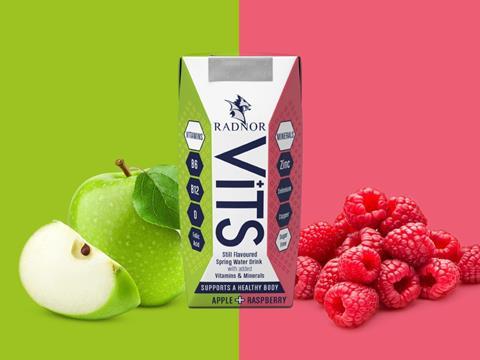 Radnor Vits, which launched on 1st March, claims to be the first vitamin D flavoured spring water in Tetra Pak packaging. The straw-free water can be drunk straight from the pack.
Available in lemon & lime and apple & raspberry flavours, Radnor Vits is low calorie, sugar free and suitable for vegetarians and vegans.
Public Health England and NICE advise that 10 micrograms of vitamin D are needed every day for healthy bones and muscles. Everyone is advised to take a vitamin D supplement between October and March, when the sun is too low in the sky for our bodies to naturally make vitamin D from sunlight.
Radnor Vits' benefits include:
* Vitamin D – Contributes to the maintenance of normal muscle function, cell division, teeth and bones.
* Copper - Contributes to the maintenance of normal connective tissues.
* Folic Acid - Helps make healthy red blood cells
* Selenium - Contributes to the maintenance of normal hair, nails, immune system, and thyroid function.
* Zinc – Contributes to metabolism, brain function and normal.
William Watkins, owner and managing director of Radnor, said: "When we heard that 20% of the British population is deficient in vitamin D, and that this is a growing problem thanks to lockdown and people staying indoors, we decided to create a new daily drink to help tackle the problem.
"Radnor Vits is the first functional drink of its kind in Tetra Pak packages and, as well as providing your daily dose of vitamin D, it also contains other vital vitamins and minerals to help support a balanced diet.
"Our new drink, designed as your once-a-day vitamin and minerals boost, increases your daily intake of vitamin D and other recommended vitamins and minerals up to 200%."
Over the past 12 months, there have been reports about vitamin D potentially reducing the risk of coronavirus and the Government is keeping a close eye on the results of trials currently underway.