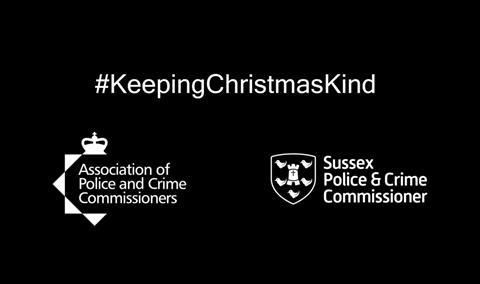 A new Christmas campaign created by Sussex Police & Crime Commissioner Katy Bourne is to focus on the impact that abuse has on shopworkers and their families.
According to Usdaw, 76% of shopworkers say that incidents of violence, threats and abuse have been worse during Covid. Its research revealed that, every minute of the working day, a shopworker is verbally abused, threatened with violence or physically attacked.
Bourne, who is also National Business Crime Lead for the Association of Police & Crime Commissioners, devised the campaign and is saying that 'enough is enough' when it comes to the abuse of shop workers. With the support of her PCC colleagues across the country, she wants to make sure that, as a nation, we are all #KeepingChristmasKind.
She said: "The rise in assaults and abuse against shopworkers is getting out of hand.
"This pandemic has shown how important our local businesses and their staff are to our communities. Intimidation, verbal abuse and violence of any kind against our shopworkers cannot be tolerated.
"I'm seriously concerned about the impact a Covid Christmas may have on our local stores. We have all had an incredibly challenging year but we cannot stand by and watch those who have helped keep our country going, be abused in this way.
"Please share the 'Keeping Christmas Kind' message and help me encourage people to stop, take a step back and rethink their behaviour."
Usdaw general secretary Paddy Lillis added: "We want to remind customers to remember that shopworkers are people as well. They will be working really hard to make your shopping experience as stress-free and enjoyable as possible.
"Talking to our members who work in retail, I know that verbal abuse cuts deep. Many will go home after a shift upset about an unpleasant incident that took place at work that day and worried that it will happen to them again. That is why Usdaw, the shopworkers' union, runs a Respect for Shopworkers campaign and supports the message to keep Christmas kind. It's a simple message but remembering that shopworkers are working extra hard at this time and treating them with respect will mean that everyone can have a happier Christmas."
Earlier this year, Lillis sat down with ConvenienceStore.co.uk to outline the extent of the problem.
This campaign has also been financially backed by The Co-op which sees on average 730 incidents a day and The Southern Co-op which have seen an 80% rise in assaults and abuse over the last couple of months - these ranged from colleagues being threatened with knives to others being hospitalised after being attacked by shoplifters.
Usdaw also recently launched a petition calling for abuse of shopworkers to be deemed a specific offence and carry a penalty that acts as a deterrent. Despite the petition receiving more than 85,000 signatures, the government declined to create a new offence.
Crime and Policing Minister Kit Malthouse said: "I cannot understand why anyone would be so idiotic or cruel as to assault a shopworker, so I wholeheartedly support the campaign for kindness towards them, especially over the Christmas period.
"The government has recently set out plans to tackle this issue and working with the sector we hope to provide better protection.
"We are also committed to giving the police the resources they need to tackle crime of all types, including recruiting 20,000 additional police officers over the next three years."