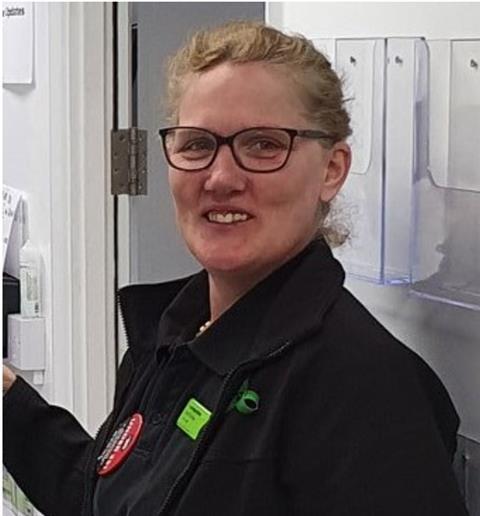 When Covid-19 struck, Elaine Rowley of Markfield Central England Co-op quickly realised that without her support, elderly people in the local area could easily get overlooked. "I said to my manager we need to do more, we need to get involved with the community," she explains.
She contacted Markfield Court Retirement Village to raise awareness of the store's click & collect service and also started delivering shopping direct to residents. "Some elderly people were getting family to ring up and do telephone orders and I was happy to deliver them," she says.
But she didn't stop there. Knowing that the local community library was a lifeline for many older residents, she jumped at the chance to help it reopen after it closed because of the pandemic. "I got in touch with our IT people that do all our covid stickers for the flooring and store doors and said 'If there's any spare can we have them?'," she says. "I took them to the library and showed [the staff] how we'd got them around the store and how they could put them 2m apart." She even made sure they had refreshments on hand. "If they needed any teas or coffees I got them some vouchers to help them set back up."
Residents were delighted, and so was Elaine. "Just chatting with some of the residents that live in Markfield that are going back into the library, they have said that that's the only place they visit," she says. "It's been fantastic to know that we've done something good for the community."
She also helped the local football team, Markfield Colts, with donations for their hamper initiative and built up a strong relationship with the local church, plus raised £150 for Macmillan through a cake sale.
What's more, as part of the Membership Community Council (MCC), she got dressed up as a Ninja Turtle at Halloween and visited several stores to raise funds for charity.
Elaine now thinks nothing of picking up the phone and reaching out to different community groups, but she claims that this hasn't always been the case. "I didn't have any confidence before, but going on to MCC has brought me out of my shell," she says. "I've had lovely cards from people thanking me for the work I've done. I absolutely love the MCC, it's one of my passions."
When she isn't out in the community, Elaine is busy helping her colleagues develop. She has trained four duty managers over the last year to the stage that they are all good enough to be team leaders.
Elaine has just moved to another store in nearby Ratby, but plans to keep in touch with Markfield and carry on her charity commitments.