Hazel Ridge gives us a masterclass in how to sweat your space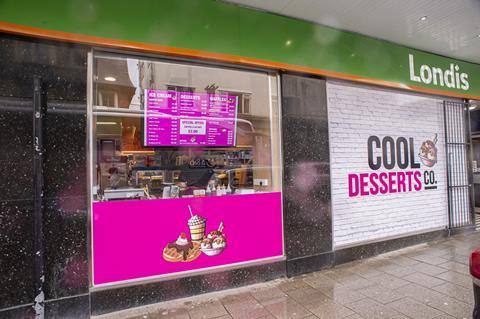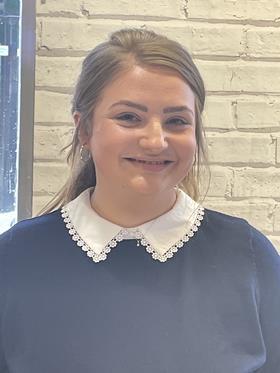 She may only be 24 years old, but Hazel Ridge has been running Bassett's Londis Weymouth for over a year and has already got some impressive figures to show for herself. The store, which is owned by respected retailer Steve Bassett, was previously managed by forward-thinking Dave Hiscutt, who oversaw the introduction of the store's innovative dessert bar and cake counter in 2019, and has more recently been promoted to operations manager.
To work under two such capable retailers might have been daunting for some, but Hazel was up for the challenge. Having worked at the store full time since 2017, she has watched it blossom and when she took on the role of manager she was brimming with ideas to maximise sales.
"Londis Westham Road is a great store and due to its prominent seaside location, the seasonal variation in sales, range, waste and staffing levels, the store requires a good skill set," Hazel tells Convenience Store, adding that she is determined to drive the business forward to make more profit than ever in challenging times.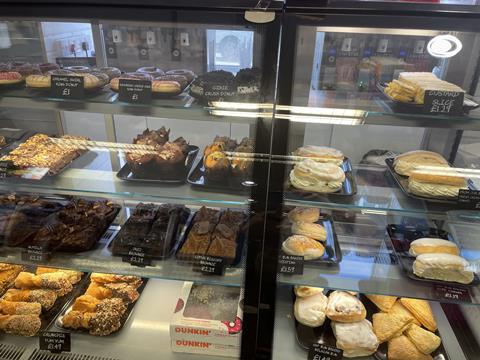 To ensure that the dessert bar maintains its appeal, Hazel is frequently trialling new flavours of brownies and Yum Yums, with recent successes including Oreo and Cornflake crunch, which sold so well they will be a permanent addition, and she has also treated customers to chocolate dipped croissants in crunchy, Oreo and biscuit flavours. "By being adventurous with the flavours, I have sold an extra 2,000 lines of dessert bar products in the last year," says Hazel. "My dessert bar used to make up 3% of shop sales, which I have managed to increase to 5% at an 80% margin."
She was also quick to get Dunkin Donuts on board when the brand was made available in UK c-stores, ensuring hers was one of the first Londis stores to stock them.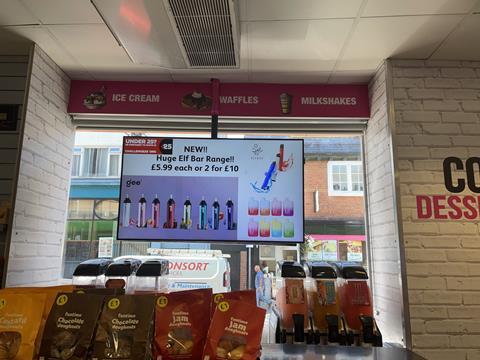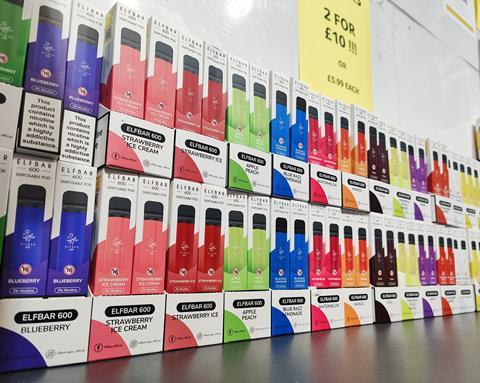 The store's vaping range has received the Hazel treatment too. "Elf bars are incredible," she says. "My boss let me get a massive stand. The first week we started selling them, it did £650, then two weeks ago I did £7,500 in a week." The brand is also supported in-store by screens promoting the range.
Another sales win was when Hazel introduced flowers in time for Valentine's Day. "I then kept a range in place after Valentine's Day," she says. By ordering regularly and by having a good selection in a prominent place in the store, three months later she was ordering five cases per week with a 30% margin - that's over 25 bunches selling per week from a starting base of zero!
She has also been tinkering with the store's American offer, which she has recently expanded. "As well as the dessert bar, my store is famous in Weymouth for our range of American candy and drinks," she says. "To capitalise on its success, I have expanded it to over 3 metres. I have moved to weekly ordering, [whereas] previously it was ad-hoc which left the fixtures empty for too long." By analysing her sales data and ensuring she buys the most sought-after products, Hazel has added £30,000 worth of extra sales in the last year.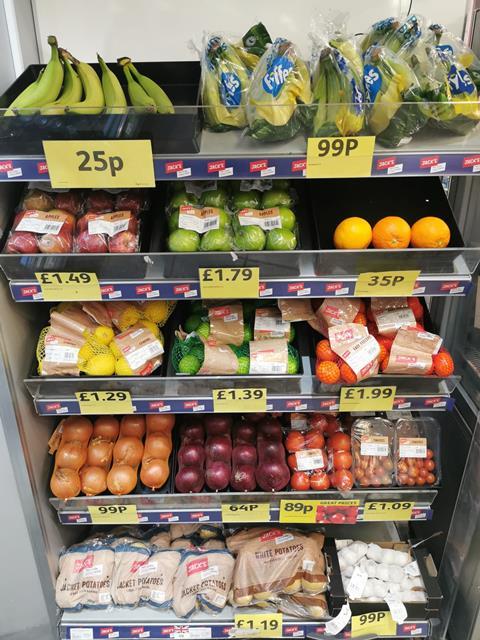 It's not just the fun, fast-moving categories that have benefitted from Hazel's willingness to experiment.
"I always felt the fruit and veg section in the store was very minor, so I have dedicated a section to produce next to the food chiller using the new range of Jacks by Tesco fruit and veg, the sales have picked up in that area and looks great as the colours are bright and have Jacks branding," she says. "My sales in fruit and veg are currently up 12% YOY."
She has also trialled moving categories around to give them greater visibility. "My store isn't a typical square box, it has two different levels, and has long and narrow points," she explains. "I have to make sure the space is working for a profitable return." She does this by completing range reviews and concentrating on space analysis.
By moving her grocery section up to the top of the store where it can be seen from the street, she has added an extra £6000 worth of sales to the category.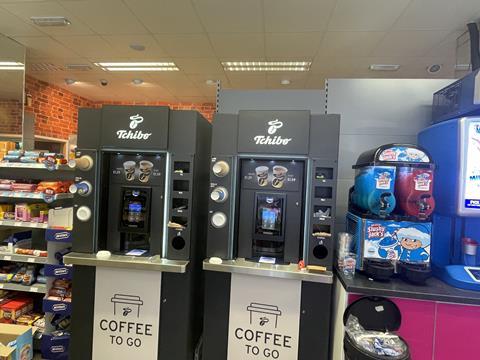 Drinks To Go has also soared since Hazel grouped her machines together. "The coffee machine was moved to my drinks zone containing other products such as Tango Ice Blast, and by doing so I have doubled my customer base and sales from 20,000 to 40,000 cups," she says. To grow the sales of take away coffee even further, she then decided to add another coffee machine and upgrade my existing one, so the store now boasts two Tchibo machines.
She has also reconfigured the Beer and Cider section to ensure multipacks can be sold at chilled temperature. This drove an additional £300 sales per week just through the winter months, which is the store's quietest time.
Having noted the rising trend of vegan food, Hazel has expanded the store's options. "I now have a section in each of my chilled, frozen and ambient categories dedicated to it," she says. "I have taken advantage of the Tesco-Booker exclusives and we now stock the Wicked range in store which we can only order via Londis," says Hazel. "Other convenience stores in the area can't do this so easily. I suggested to my Londis Regional Development Manager that there should be some Vegan shelf edge stripping made to help me make the range stand out in store. My idea was put forward and POS is now available."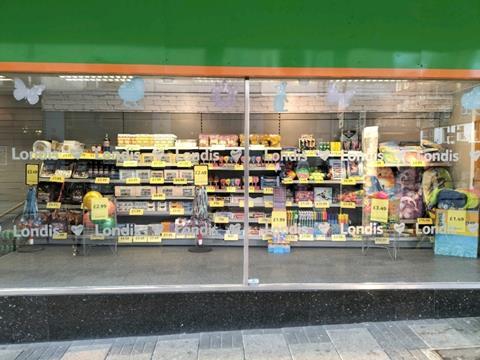 Hazel decided to take advantage of the store's ideal location between the beach and the carpark this summer by amping up her window displays. "There's a massive window that looks out onto the street," she explains. "We've always had a small beachware section at the back of the store, so I thought with all the heatwaves we've had, why not do a window with boogie boards and inflatables and all the stuff you need to go to the beach." The 2018 sales for the beach items were £1400, but thanks to Hazel, they reached £11,000 this summer.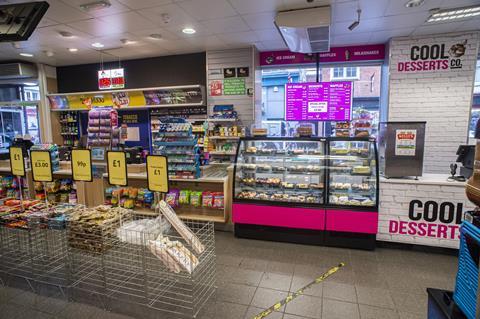 Of course, running a seasonal store means it's all hands on deck during the summer months, so Hazel motivates her team to do their best with fun incentives. "During the summer season my store hugely picks up which means the pace has to pick up with stocking the shelves," she says. "Last summer, I started a competition between the employees where the fastest group to put a delivery out got to spin on a prize wheel I made, the wheel included different things such as a free Tango Ice Blast, or something yummy from the Dessert Bar," she says. "My staff retention is very high and I take this as a credit to my managerial style."
With her team firmly behind her, Hazel grew the overall margin by 2% in her first year as manager, but she's not stopping there. She says she wants the dessert bar to expand to the point that it has to have its own rota and staff specifically for it and she is eyeing up a donut machine to add to the mix. Sounds pretty sweet to us!