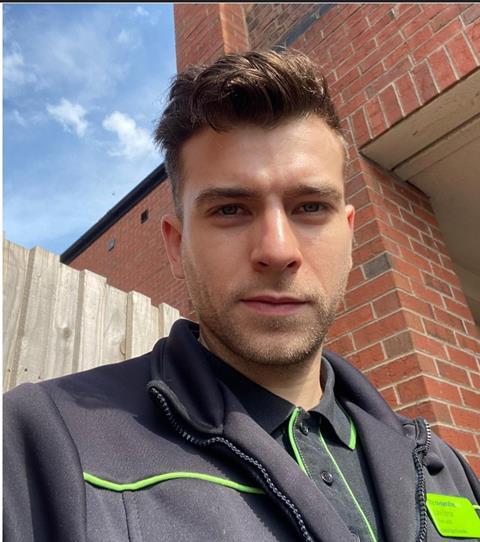 Having just been accepted onto the Co-op's management training scheme Leading the Way, Luke jumped at the chance to head up a trial of the Appy Shopper delivery app at Anstey. "I got to handle the recruitment process and the whole training process from assisting the drivers, the pickers and the management team in terms of using the app and how to manage it in store," he explains. "I threw myself straight into it - this was my opportunity to lead something and show my ability."
He mastered how to use the app himself and began teaching others. "Explaining to senior managers four pay grades above myself how to use it was an eye-opening experience!" he grins. By testing the app he was able to spot flaws and make major improvements, such as increasing the range for certain customers and adjusting at the delivery radiuses to include a nearby retirement village.
In addition, Luke found time to help his community. He was already a keen supporter of Dementia Friends as his grandmother, who sadly passed away earlier this year, had lived with the condition for several years. "As lockdown came into force and my Grandma was in a care home at the start it was really difficult to not be able to go and see her."
So Luke and his partner Adam decided to buy and donate lots of crafts and puzzles to the care home to keep the residents busy. The gifts were well received by the home and at Christmastime, Luke was inspired to evolve the idea into a Co-op initiative called Crafts For Care.
Over 20 stores got involved, setting up stands with colouring books, pens, paper and glue for customers to buy and donate to care homes for residents to make a Christmas card to send home. The group then made donations to eight care homes around the region. "It was a phenomenal success and to see the impact it had across Leicestershire was a real achievement and something I'm so proud of for pulling off," says Luke. "I went with the managers of each store to deliver some of the crafting stuff. We had carers in tears, it was just amazing. To be part of it, let alone lead it, was truly a special time for myself and my family."
Luke's hard work has enabled him to progress his career and he is now a store manager. He is also celebrating a first class History degree from the Open University, which he completed in June last year after six years' studying part-time. "Despite covid and everything else that's gone on, it's been a fantastic journey this past year for me," he says.