Covid-19 turned the soft drinks category on its head, but now it's all change once again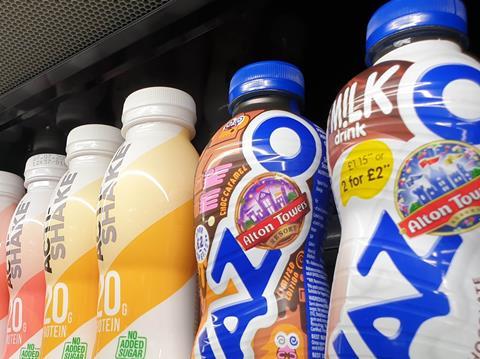 1. Brands are offsetting price rises with tempting deals
Everyone's feeling the pinch right now, with soaring energy, fuel and packaging costs pushing up prices at the wholesalers and supermarkets. As a result, food and drink price inflation hit at an 11-year high of 5.9% in April [Kantar 12 w/e 17.4.22].
Soft drinks, of course, are not immune to such pressures. "We're seeing prices go up across the board, but soft drinks brands are still driving sales with decent deals," says Rav Singh, who runs Go Local Extra Southey in Sheffield.
"We're selling a litre of Robinsons Orange for £1 a litre versus 80p for own label. Before milk prices went up, Yazoo put its retail prices up from £1 to £1.15 (400ml) but then introduced a two for £2 deal. Deals like this really help to drive sales. The brands clearly know what they're doing."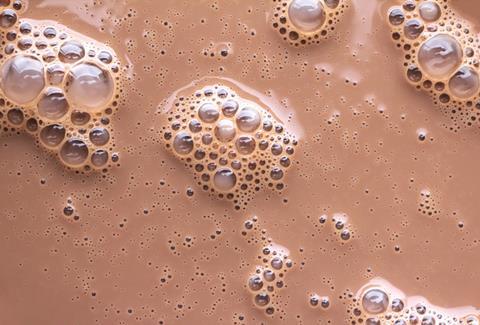 2. Indulgent milk drinks are taking advantage of the treat trend
F'Real states that the dairy drinks category is up 48.6% last year, growing to £306.5m (Kantar), with milkshakes and flavoured milk responsible for much of those gains.
"In the UK, milkshakes proved resilient to the fallout from covid, performing better than most other beverage segments since 2019," says marketing manager Gemma Briant. "They now represent 1.9% of total beverages – an increase from 1.3% five years ago [The NPD Group]. Milkshakes are the only cold drinks seeing penetration return to pre-covid levels, with frequency returning faster than most other subsectors to 2019 figures, driven by retained buyers increasing purchase occasions."
The firm's indulgent shakes are made with real ice-cream and saw a nearly +250% increase in convenience outlets last year (F'real data).
Briant puts the brand's success partly down to the lipstick effect, whereby consumers economise by cutting back on indulgences like meals out or cinema trips and spending more on affordable treats. "As larger-scale luxuries become harder to achieve with the rising cost of living, a premium on-the-go beverage offering that feels like a bespoke treat will become even more appealing," she claims.
Premium bottled milkshake brand Shaken Udder is also honing in on the luxury aspect of the brand with a digital out-of-home advertising campaign focusing on its most popular Chocolush! flavour. The brand claims to have achieved an impressive 63% YOY growth in 2022 so far (Nielsen).
Another firm stepping up to premium is FrieslandCampina, which launched premium dairy drink brand Chocomel in a one-litre format last year, helping to drive sales to £1.4m (IRI). The manufacturer also reports strong growth for its one-litre formats of flavoured milk drink Yazoo.
"The entire category has been supported by the trend for premiumisation in flavoured milks – this has brought new consumers to the category and helped wider growth," says business unit controller Dan Chesbrough. "FrieslandCampina's premium chocolate milk brand Chocomel has actually been adding new users to the category over the last year, proving that people are happy to pay more for indulgence that doesn't break the bank.
"Chocomel is driving the growth of this category growing 81% year-on-year [IRI], way ahead of the category average, and is now the fastest growing premium milk drink with sales over £1m, and worth over £6m [ibid]."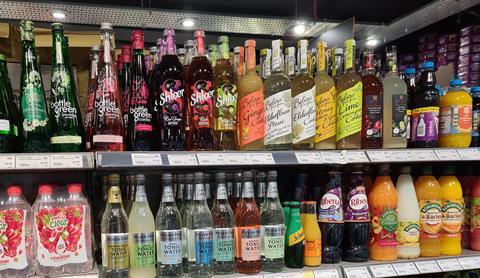 3. Consumers are going for posh squash and juice
With fewer people going out to pubs and bars than before the pandemic, demand for posher drinks that can be drank at home is growing, confirms Andy Lewis, marketing controller at Sunmagic Juices.
"The premiumisation trend is continuing in adult soft drinks," he says. "Taste appeal is the most important factor in premium soft drinks. Freshly squeezed juice value growth of 15.3% year-on-year makes it the fastest growing juices sector, for example [NielsenIQ 52 w/e 18.12.21]."
Lewis points to the 2021 launch of the Daymer Bay range of artisan juices and lemonades as one example of how Sunmagic is helping retailers capitalise on elevated numbers of at-home occasions and growing demand for premium products.
Squash is also seeing growth in premium. After being hailed the "in-home refreshment hero" of the pandemic by Britvic, the firm's annual Soft Drinks Review showed that sales fell -19% in 2021, with all major brands seeing value declines (IRI). However, the report identified that shoppers are seeking out higher quality squashes within convenience, with premium Robinsons Fruit Creation range witnessing an 8% rise in sales versus pre pandemic (IRI). The firm has just added a Lemon & Raspberry flavour to the range.
Top tier cordials are doing the business for Conrad Davies, who owns four Spar outlets (two Express; two supermarkets) in North Wales. "We have a good, better, best approach and 'posh squash' lines like Bottle Green and Belvoir cordials are doing very well," he says.
Bottle Green is taking full advantage of the opportunity to encourage trade up, with a new advertising campaign featuring the tagline 'Add a Dash of Extraordinary'.
ADVERTISEMENT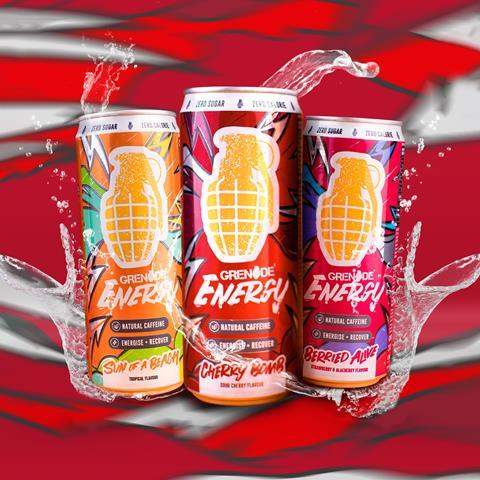 Grenade energises soft drinks category
As consumer demand for functional energy drinks grows, ranges like Grenade Energy represent a golden opportunity for retailers, offering an array of compelling flavours and ingredients that are attractive to health-conscious consumers.
Grenade Energy is one of the cleanest products on the market. Not only is the entire range zero sugar, it's also zero calorie and is free from preservatives and artificial colours. Perfect for powering up workouts, this delicious drink also contains plant-based BCAAs (studied for their role in muscle recovery) and caffeine derived from coffee beans – not created artificially.
Available in three flavours: Cherry Bomb, Sun of a Beach, and Berried Alive, retailers can maximise sales by placing Grenade Energy in prominent store locations, with impactful POS to grab customers' attention. Understanding that consumers want to grab and go, retailers should also place Grenade Energy into their chillers by the counter, turning waiting time into buying time. With free point of sale to support your sales, please contact POS@Grenade.com to order and stock up today!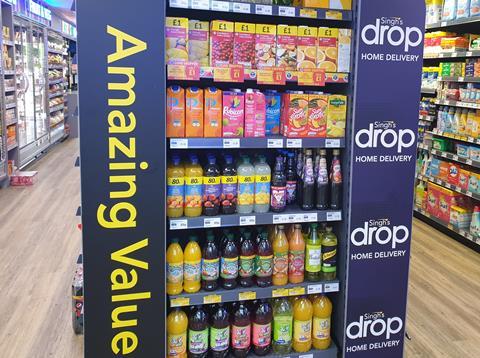 4. Now more than ever, value is virtue
Still, signalling value has never been more important in these uncertain times. "Stocking price marked packs (PMPs) in squash is a sure-fire way for retailers to establish and build trust with their customers," says Nichols' brand & innovation controller Angela Reay.
"By providing transparent value perception, consumers can be certain that they're getting excellent value for money options, especially as the savvy shopper trend is predicted to return exponentially. PMPs will also encourage consumers on the hunt for good deals to trial new squash flavour variants, as customers seek out offers and in-store promotions."
NielsenIQ numbers for the year ending 26 February show that Nichols' Vimto 725ml PMP Original squash is the number one PMP SKU in impulse and Vimto 725ml PMP No Added Sugar squash is the fourth biggest seller.
"Inflation continues to rise and we're expecting this to continue," adds Chris Newman, Britvic head of category management for convenience and impulse. "That puts more pressure on personal finances." The firm claims that PMPs are vital for convenience stores, with 44% of soft drink sales within the channel going through as PMP, up from 38% pre-pandemic (IRI).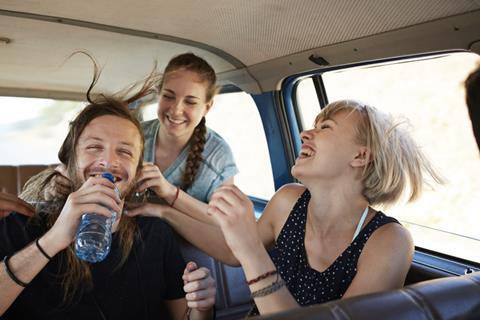 5. The return of on-the-go sales is boosting margins
The end of lockdown restrictions last summer may have signalled the end of an unprecedented sales period for convenience retailers, but it also helped boost margins on soft drinks by driving sales of smaller formats.
On the go soft drinks suffered an 11% decline in convenience in 2020 (IRI), but value sales rose to £1,764m in 2021, up 19% YOY (IRI), as restrictions lifted.
"Soft drinks were a disaster because you weren't getting the youngsters coming in and buying the smaller formats so much," says Conrad. "We were selling more two litre bottles and multipacks and saw a massive drop in margin. Overall margins are now coming back to pre-pandemic levels."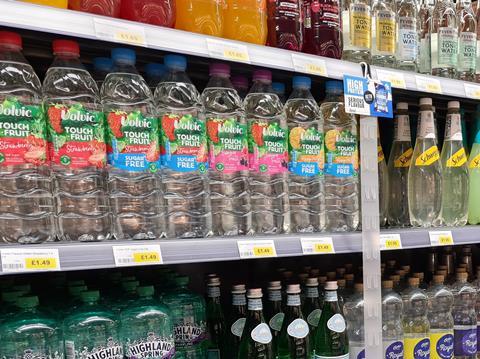 6. Flavoured water is flying, up 9.9% YOY
Despite an overall dip on sales of bottled water during the dark days of the pandemic (across all channels, sales crashed by 13.3% in the year to 7 September 2020 according to NielsenIQ) the convenience channel is now seeing growth.
The convenience market significantly overtrades in bottled water, notes Sunmagic Juices, with 27.8% of sales (IRI). "Both plain still water (+15.3%) and flavoured water (+9.9%) have been performing strongly, as on the go consumers return to more normal behaviour patterns," says Lewis, though he predicts this may change going forward. "But pressures on their pockets from rising household bills are likely to lead to significant numbers cutting down on carbonates and scrimping on bottled waters, topping up at the tap before going out."
Sales of water remain buoyant for Conrad. "Water flies really well whatever else is going on," he says. "It's just the format mix that changed during the pandemic and lockdown."
Demand for flavoured water is on the rise for Rav. "Bottled water always stays pretty much consistent for us but what we have seen is a big increase in sales of flavoured water," he says. "We have gone from stocking three Volvic Touch of Fruit larger formats to five and they're selling well."
Danone has recently added a Peach & Raspberry variant to its sugar free Touch of Fruit range. "Consumers are looking to make more mindful food and drink choices, and we believe flavoured water has a key role to play in offering a refreshing alternative to soft drinks, that won't compromise on taste", says marketing director Gemma Morgan.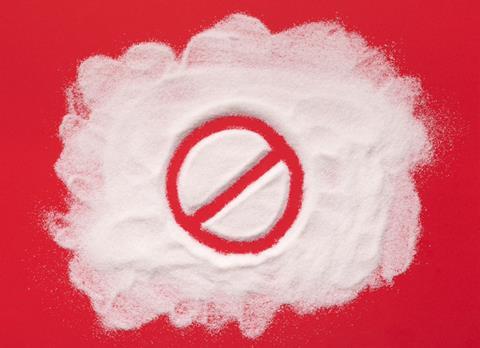 7. HFSS may have stalled, but sugar-free is booming
Indeed, growing demand for flavoured water is in part being driven by growing concern about how much sugar is in standard soft drinks.
"As the category continues to evolve, we're seeing greater uptake from retailers for our market leader, Touch of Fruit, with the sugar free range particularly driving continuous growth for the brand," says Danone's Morgan.
Sugar free is fuelling Rav's on the go flavoured water sales. "I stock an own label flavoured water in my chillers front of store and ever since the local primary school banned the kids from taking in fizzy drinks I have seen a big increase in sales," says Rav. "Sugar-free drinks are of growing importance."
That's despite the government's plans to ban food and drink containing high levels of salt, fat and/or sugar from being stocked in prime spots in larger stores from October going off the rails last month. Indeed, most suppliers say demand is growing for lower sugar lines.
"Retailers should stock up on lower-sugar juice drinks such as Ribena Light – now worth over £26.7m - to capitalise on the ongoing trend towards lower-sugar choices," says Matt Gouldsmith, channel director for wholesale at Suntory Beverage & Food, citing NielsenIQ.
"Ribena Light has seen over 23% growth in the last year, which shows this demand among shoppers for lower-sugar soft drinks."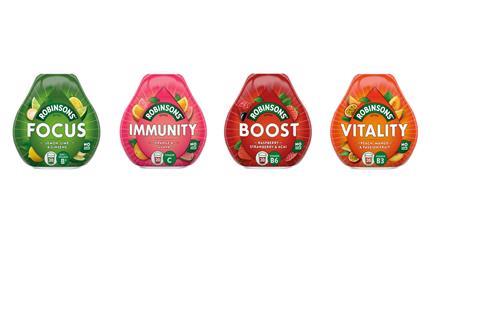 8. Health means more than cutting out sugar
Healthy drinking is not only about consuming less sugar, of course. Increasingly, it's about consuming more vitamins, minerals and other nutrients that contribute to our health and wellbeing. Robinsons recently launched a Benefit Drops range with added vitamins. "Each of the four flavours in the range provides a different added vitamin combination, which is perfectly suited for shoppers looking for functional drinks to suit their lifestyle, especially considering 32% of consumers have said they would be interested in buying cordials and squashes with added vitamins or minerals," says Phil Sanders, out of home director at Britvic.
Britvic is not the only one playing the functional health card. Nichols rolled out Vitamin C & D lines across its Vimto and Sunkist ranges in 2021 and Weetabix launched Weetabix On The Go Plus Immune Support drinks.
"Immunity is a top and growing priority for food and drink shoppers, and we wanted to tap into this consumer need," says head of sales Darryl Burgess. "The breakfast drink is high in fibre, ideal for keeping you 'on top' during busy mornings on the move, and also has Vitamin D and 19g of Protein."
The drink isn't yet available in the convenience channel, but Weetabix is testing the water by bringing it to trade shows to gauge retailers' reactions. Speaking to Convenience Store at the National Convenience Show, Weetabix business development executive Phoebe Coppell said: "That's been very popular at the show so my feedback will be maybe we look to get this in convenience stores."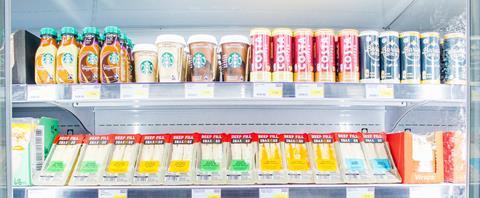 9. Value sales of iced coffee are up 31% YOY in indies & symbols
The iced drinks market is worth £194m in independents and symbols and growing at +30% volume and +31% value YOY (IRI), according to Boost, which added a £1 PMP Mocha variant to its range in March.
If you thought ice coffee is only for thirty-somethings on hot days, think again. "Cold coffee brands like Jimmy's are doing really well at the moment and that seems to be driven by younger shoppers aged between about the 14 and 22," says Conrad.
"While the energy drinks seem to be predominantly tradies who like to come in and get the big cans of Monster, we're seeing strong growth from smarter, more brand-aware kids who are asking for ice coffee from Starbucks and Jimmy's."
Weetabix is getting in on the action, launching Caffé Latte breakfast drinks in wholesale and convenience store following a limited-edition trial run last year as a £1 PMP.
"It's introduced new shoppers to the dairy coffee drinks category, offering a two for one coffee and breakfast whilst travelling," says Burgess, citing Nielsen IQ [52 w/e 1.1.22]. "Iced coffee retail sales soared by 35.4% to £209m in the past year and ready-to-drink coffee's popularity is projected to rise in the UK in the years ahead."
Best stock up then.