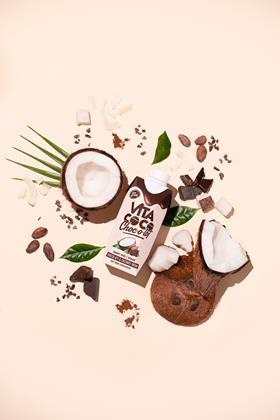 Vita Coco has reformulated its popular chocolate-flavoured Choc-o-lot drink with added fibre, which is believed to aid bowel health.
The vegan-friendly drink, which is being rolled out across major supermarkets this month, is packed with vitamin C and potassium making it a tasty, yet still nutritious drink for when a green juice just won't hit the spot.
The drink can not only be added to cereal for a breakfast twist, but it's also low in sugar, making it suitable for those who are searching for a low sugar alternative to fruit juice but still want a chocolatey hit. Studies show that on average, 100% fruit juice contains around 20-26 grams of sugar per cup (240ml) – which is nearly 85% higher (sugar content) than Choc-o-lot as the drink only contains 4g of sugar per 100ml of serving .
Nutritionist Emma Moross says "Choc-o-lot is a perfect drink for when we don't fancy a green juice as it's got that chocolatey flavour so many of us love but is still low in sugar. This refreshing drink also contains vitamin C, potassium and now has the benefits of fibre included too, making it a great all-rounder for a chocolatey refreshment".
Choc-o-lot with fibre, (RRP 330ml, £1.80) is now being rolled out in stores across the UK including Sainsbury's, Waitrose, Co-op, Boots and convenience stores.