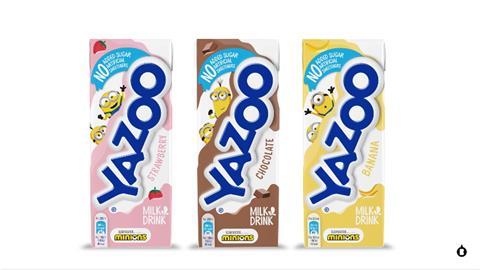 Yazoo Kids, the no added sugar flavoured milk from FrieslandCampina, is extending its popular Minions partnership this summer ahead of a new carton packaging launch later this year.
To coincide with the launch of the new movie, Minions: The Rise of Gru, out 1st July, a new digital advertising campaign will also run across the summer, to raise awareness of the Yazoo Kids range.
To drive the distinction between Yazoo's core and Kids range, Minion's will appear on x3 and x6 multipacks as part of the ongoing Universal collaboration. The Kids packs will showcase the recognisable Minions characters in new lunchbox-friendly, square packaging.
Yazoo Kids is also part of the 'Better Health Food Scanner App' campaign, with all flavours, including the recently approved chocolate variety, holding the 'Good Choice' badge - making it easier for parents to make healthier choices for their children. All the cocoa used in Yazoo Kids Chocolate is also Rainforest Alliance approved.
Maren Fuhrich, brand manager at FrieslandCampina, said: "Yazoo Kids and Universal's Minions share a cheeky, yet loveable brand identity so we're delighted to extend our partnership. The Minions on-pack design has helped to drive awareness since beginning in 2020 and ensures the range stands out on shelf. The launch of the new Minions movie in July will ensure it's another yellow summer.
"Sustainability is a key focus for us at FrieslandCampina so we're proud to introduce the new eco-friendly cardboard carton packaging this autumn. Coupled with Yazoo Kids' great nutritionals and the Minions tie-up, we're confident it will be a hit with parents and Kids alike."