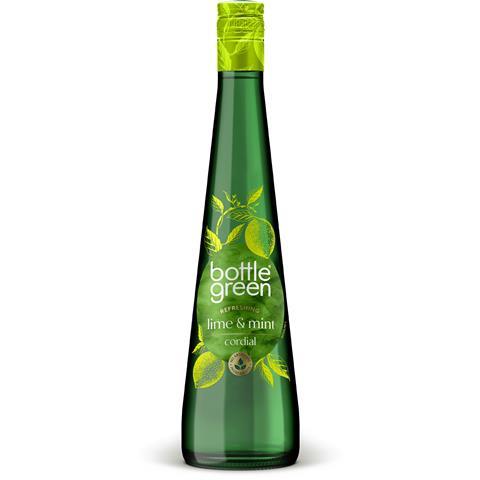 Premium cordial brand Bottlegreen has added a Lime & Mint flavour in time for summer.
Available in a 500ml glass bottle, the permanent new addition to the bottlegreen line-up has an rrp of £3.75. Lime infused with crushed mint leaves mixes with Cotswold spring water drawn from an on-site spring to create a flavour which takes its cues from the mojito. In line with all Bottlegreen products, Lime & Mint cordial is free from artificial flavours, colours, sweeteners and preservatives.
The cordial can be poured over ice and mixed with still, sparkling or soda water, as well as with alcohol to create a cocktail. It can even be used as an easy way to add vibrant flavour to baking recipes, or to create cupcake toppings, jellies or ice-lollies, suggests the brand. Once diluted, one 500ml bottle produces 30 servings.
With lime currently the top flavour recruiter for premium cordials (Nielsen, Kantar 2021(lime flavour generated 34% of total category growth)) and mojito RTDs currently +23% in take home (Nielsen Total UK RTD category value (£) MAT 26.03.22), Bottlegreen owner SHS Drinks has strong ambitions for its latest launch. Combined with green citrus' ongoing consumer appeal in soft drinks, the popularity of mojito consumption in the on-trade, and the fact that lockdown experiences generated a 50% increase in on-trade cocktail drinkers seeking mixed drinks or cocktails at home (CGA On-trade Sept 2020), SHS believes that Bottlegreen is perfectly poised to benefit from recent trends.
The brand is also investing in its biggest-ever advertising campaign. Using the new tagline 'Add a Dash of Extraordinary', the creative highlights Bottlegreen's ability to elevate consumers' serve experiences. The multi-faceted programme comprises: digital 6-sheet posters, print advertising, advertorials in key magazines, paid social media ads, and campaign-themed support with key customers. Specific Lime & Mint activity will appear as part of the overall brand push.
In addition to featuring in the wider campaign, Lime & Mint will also benefit from bespoke social media support – including tempting recipe inspirations.
Sarah Lawson, head of marketing – softs at SHS Drinks, said: "Refreshing Lime & Mint is going to prove the perfect accompaniment to sunny days and warm evenings. We're confident that bottlegreen's zesty new flavour will set taste buds tingling. 2022 is going to be a big year for the brand and our latest launch blends together flavours which echo the renowned mojito and will appeal to both lovers of high-quality soft drinks and those seeking quick and easy ways to mix their own distinctive cocktails."