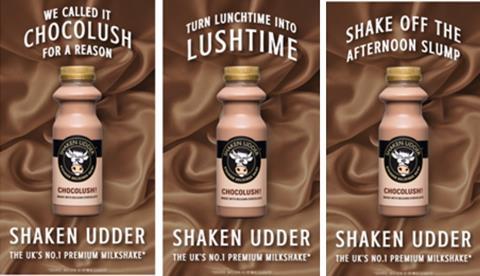 British milkshake brand Shaken Udder is launching a digital out-of-home advertising campaign, the biggest campaign the brand has ever run since they first arrived on the scene in 2004.
The campaign, which runs from 9-29th May, includes digital ads at railways stations, roadside, on the London Underground and malls. The majority of the ads will appear in and around London and in Yorkshire on JCDecaux, Global and Clear Channel screens. The activity includes a mixture of static and full-motion ads with the primary goal of raising brand awareness.
Senior brand manager Paras Arora says: "Shaken Udder is going from strength to strength and we get incredibly positive feedback on the delicious taste of our shakes. We have decided to invest in an exciting, large scale ad campaign to introduce the brand to an even wider audience."
The creative assets focus on Chocolush! – the brand's most popular flavour – demonstrating that it makes the ideal on-the-go treat at different times of day. The ads emphasise the premium nature of the shakes and how they are suited to different consumption occasions. Shaken Udder uses real fruit and Belgian chocolate to achieve a creamy taste.
The full motion ads in shopping malls, will feature the strapline 'Grab One on The Go' to appeal to impulse buyers, while the creative appearing on tube and rail adverts mimics train doors opening.
Shaken Udder will amplify the campaign via their own social media channels.
Media for the campaign was planned and bought by Shaken Udder's Media Agency, The Village.
A founder-led brand which first launched at festivals in 2004, Shaken Udder has achieved an impressive 63% YOY growth in 2022 so far (Nielsen IQ 52 w.e. 12.03.22). This comes after a phenomenal 2021 where the brand significantly outperformed the milkshake category, achieving more than 70% growth YOY (Nielsen IQ 52 w.e 15/01/22). Shaken Udder is now worth around £20m in retail sales value, making it the no.1 premium shake brand in the market, claims the firm.
The firm launched an ambient range in February.