Haribo is revamping its vegetarian range with colour and flavour changes for its jelly beans and funny mix bags, plus a new mini edition of its giant strawbs sweets.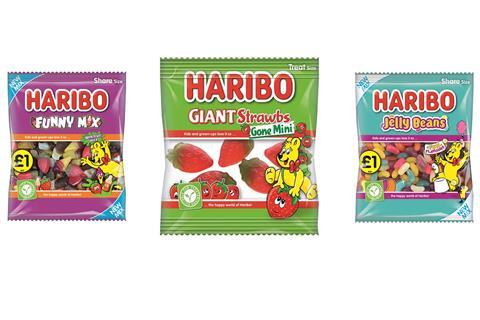 The changes to the line-up are designed to help the brand appeal to a growing number of consumers that follow a vegetarian diet.
Claire James, trade marketing manager for Haribo, commented: "Vegetarian treats have been an important part of Haribo's portfolio for many years, so we are really excited to be able to strengthen this range further with new, exciting flavours and formats."
The brand's updated jelly beans feature stronger colours and flavours and consist of candy floss; marshmallow; popcorn; peach & passionfruit; raspberry; and blackcurrant sweets.
Haribo's funny mix now boasts real fruit juice and an ice-cream shaped sweet with pineapple and blackcurrant juice has also been added to the mix.
The cola bottle sweet featured in the range is now made with lemon juice to recreate the flavour of a cola drink with a slice of lemon. The updated Haribo funny mix and Haribo jelly beans are available to convenience stores now in 180g bags (£1 PMP).
In addition, the brand is adding giant strawbs gone mini sweets to its vegetarian offer - available in convenient portion controlled 16g bags with an rrp of 16p.
Haribo's vegetarian range also includes giant strawbs; rainbow twists; rainbow strips z!ng; strawberry spaghetti z!ng; and rainbow spaghetti z!ng sweets.