Despite the sugar backlash there's strong demand for sweets, with plenty of innovation in pack formats and flavours to tempt shoppers.
In a world where not a day goes by without the consumer press alluding to sugar's role in the UK's obesity crisis, it might seem doubtful that the sweet market could survive – let alone grow. But despite the myriad of hurdles faced by the category, sugar continues to glisten.
While the confectionery market in convenience is declining by -1.2% in value terms – with chocolate and gum sub-categories declining by -1.6% and -3.3% respectively – sugar is holding its own, up by 0.5% (IRI data MAT to 24 February 2019 value growth – total confectionery + sub cats).
Sat Deo, who owns three Spar stores in South Yorkshire, has noticed a shift in the balance of confectionery sales at his store. "Everybody buys into sweets. Sugar confectionery is growing – in the bagged range I'm selling more now. Two or three years ago, the split was 80/20 between chocolate and sugar confectionery, but now it's 60/40, especially when there's a promotion on Haribo bags, that really pushes sales. Even when they're in non-pricemarked packs at £1.39 after the promotion, you still see pick-up as people get used to eating them," he says.
As a result, Sat has decided to extend his Haribo range at the expense of chocolate. "We've increased from four to six permanent Haribo lines after looking at epos data," he says. "We've got rid of a few chocolate lines to make room."
Haribo is also breathing new life into the brand this summer with the addition of exotic fruit and wild berry flavours to limited-edition Starmix and Tangfastics bags. Trade marketing manager Claire James says: "Appealing to adult consumers looking to treat themselves with new and exciting variants of their favourite sweets, they add a great deal of fun to the category."
Tropical treats include: an alphonso mango heart; passion fruit & strawberry egg; maracuja Bear; and guava & grapefruit bottle.
New Tangfastics variants include: a blueberry & elderflower dummy; cassis bottle; cherry croc; and a gooseberry flavoured cherry-shaped piece.
Philip Moutray of Costcutter Moygashel in Dungannon, Belfast, has a strong Haribo range and is keen to try out new products when space allows. "We have Strawbs, Supermix, Tangfastics and Starmix. We expand the Haribo range further when it's on offer, and we're willing to give something new a go."
Haribo is certainly a winner for Debbie Skilton of Londis Newport, Yorkshire. "Haribo does well on offer," she says. "It was half-price not long ago. You see a big difference in sales then – they fly out. It's our best-seller."
There are no prizes for guessing the top sellers at Suresh Arulananthan's four stores in Kent. "Sugar confectionery is selling well across my stores," he says. "Haribo is our best-seller with Starmix and Tangfastics."
He also notes that Bonds sweets sell well at three for £1.
At Costcutter Forest Road in Leicester, it's Vimto that is getting customers excited. "Vimto sweets have been going really well," says owner Jagbir Athwal. "Vimto Bon Bons are our best-sellers. Drumsticks Squashies and Haribo Starmix and Tangfastics are all really good, too – we sell over a couple of cases a week. Offices will buy stuff for the team on a Friday – four or five bags-worth. We do £1,600 a week in volume sales on a 30% margin, which is quite decent."
Philip has also seen success with Drumsticks Squashies. "Sweets are a strong performing everyday product. A lot of customers come in to get lunch from the deli and then grab some sweets for after," he says. "Squashies has been the big one in recent years – it's head and shoulders above anything else. We get two ambient orders a week and we get boxes of them in every delivery, whereas with other sweets it's just every other week."
Squashies manufacturer Swizzels is confident the product will continue to perform well. ''Swizzels hanging bags are worth £52m, up 8%, with £1 pricemarked packs driving growth at 20% year on year," says sales director Mark Walker.
The firm is giving convenience retailers the chance to win a family holiday for four this summer as part of its Fun in the Sun trade and consumer campaign.
Retailers must purchase three cases of Swizzels' £1 PMP hanging bags including Choos, Squashies and Loadsa bags, and text their details to be entered into a prize draw. The winner will receive an all-inclusive one-week holiday to the Canary Islands, worth £3,000. Swizzels is running the competition activated by wholesalers across the UK from June to September.
The Fun in the Sun consumer campaign will also be supported by consumer PR and social media, driving shoppers to stores to purchase Swizzels products during the summer months.
It's no surprise that Squashies are a hit when you consider that softer eats is one of the most popular sub-sectors. "Soft gums is worth £208.3m in 2018, according to Kantar, and is still on the rise," points out Russell Tanner, marketing and category director at Tangerine Confectionery.
Dip Dab is the latest addition to its Softies range, which includes Refreshers and Fruit Salad. "These sweets provide a modern take on the nostalgic trend by introducing shareable versions of classic single treats, in an easy-to-consume format which appeals to a younger shopper," says Tanner.
Mars Wrigley Confectionery ventured into the sub-category last year. Designed to overcome barriers to purchase, Skittles shed their shells to become Skittles Chewies, while Starburst shrank and shed their wrappers to become Starburst Minis. Chewies has been 10.6% incremental to fruity everyday confectionery since launching. Meanwhile, Starburst Minis has been 24% incremental (Nielsen CPS, data to 29 December 2018).
Nestlé Confectionery has waved goodbye to old favourite Tooty Frooties in order to focus its efforts on soft chews. A Nestlé spokesperson said: "Sweet tastes and trends change over the years and Tooty Frooties have become much less popular in the decades since their launch. In 2019 people prefer the jelly and foamy sweets you find in Rowntree's Randoms and that's why we've decided to concentrate on new products under the Randoms brand."
The firm recently introduced two new Sours and Squish'ems 140g sharing bags to the Rowntrees Randoms range, rrp £1.29.
The new lines include several new sweet shapes including a hashtag, gnome, unicorn and a flamingo, while sweets shaped like a cake, birthday present, party popper and number 10 have also been added to celebrate the brand's 10-year anniversary.
In addition to the new shapes, the green sweets featured in the range, currently lime-flavoured, have been made apple-flavoured after the change proved more popular in testing. All of the sweets contain no artificial colours, flavours or preservatives.
Give mints and gums a refreshing change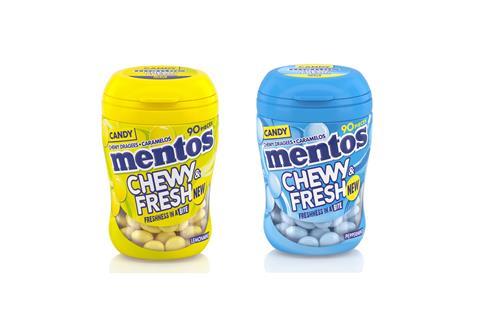 With gum singles having seen a heavy decline due to changing consumer lifestyles, Mentos manufacturer Perfetti is pushing for retailers to rethink their merchandising techniques.
"Retailers need to give mints and gums sufficient visibility or they'll lose sales," says trade marketing manager Mark Roberts. "Make sure you have mints and gums at the counter and look at secondary sitings – encourage gum and mints with coffee," he suggests, advocating building it into a meal deal with a sandwich.
He claims that Boots has previously run a meal deal with a sandwich, drink and snack or mint and gum. "That's something retailers can think about in these days when consumers want to regulate what they eat – you could have a £4 meal deal, plus 50p for gums and mints," Roberts suggests.
The firm is targeting on-the-go shoppers with a new range of chewy mints. Available in a handy 99g resealable bottle, each contains 90 candy pieces and comes in lemonmint and peppermint flavours (rrp £1.70).
Meanwhile, Ferrero claims that consumers want stronger flavours. "We have seen demand increase for stronger mint flavours, which is now the third-biggest flavour territory in the category," says customer development director Levi Boorer.
"That demand is largely coming from new shoppers and is creating incremental growth within the category, driven by more young adults buying extra-strong mint products. That incremental growth is evidenced by our classic Fresh Mint product, seeing value sales up by 3.74%, with our new Intense Mint Tic Tac fitting the demand for stronger mint flavours perfectly."
He continues: "The extra-strong flavour in Tic Tac Intense Mint differentiates the new product from the brand's Fresh Mint product, while also capitalising on the number one requirement of shoppers in this category: 'refreshment'."
He adds: "The bold blue colour of the pill helps the product to stand out on shelf, making it an eye-catching option for impulse purchases in store."
Sour tastes
Randoms isn't the only brand boasting sour npd this summer. Maynards Bassetts recently unveiled its first-ever sour soft jelly product, Soft Jellies Fizzy Fish, to help retailers drive sales from sharing bags. The product joins Soft Jellies Wild Safari, which was launched in 2018.
Perfetti Van Melle is also getting creative on the sours front. "One area we've seen grow is the sour flavour profile," says trade marketing manager Mark Roberts. "The total sour market is currently worth £50m with growth of 21% in the past two years. In convenience the market is £29m and has grown 32% in the past two years (IRI data to 2 March 2019).
"It's a big opportunity to drive further sales," he says.
In response, the firm has launched the Chupa Chups Sour Infernals Lollipop, featuring a layer of extreme sour coating to four classic flavours including cherry, strawberry, lemon and cola. The lollies come in tubes of 100 and have an rrp of 21p. The firm is also releasing a Sour Infernals Chewing Gum (rrp 5p), which "blows your mind and your tastebuds".
Maynards gets silly in summer on-pack promo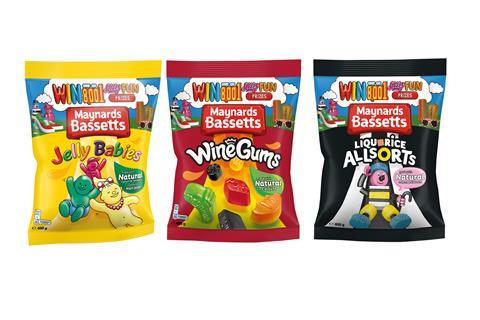 Maynards Bassetts is offering shoppers the chance to win one of 8,001 wacky prizes as part of its Summer of Silly Fun on-pack promotion.
The promotion, which runs until 31 August, will be flashed on products including Jelly Babies, Wine Gums, Wine Gums Tangy and Soft Jellies Wild Safari.
Consumers enter the codes found inside promotional packs to www.summerofsillyfun.com to instantly find out if they have won. Designer sunglasses, days out, wireless speakers and trainers are among the prizes.
Anna Ulrich, brand manager for Joyful Candy at Mondelez International, says: "This campaign taps into the playful, fun side of the brand. Summer is already a great time for candy sales, so this exciting promotion is sure to help drive retailers' sales in this segment. We hope this will continue to drive the relevance of Maynards Bassetts with shoppers, especially among younger adults."
Mondelez says that to make the most of this promotion, retailers should look to position in secondary sites for those on-the-go purchases, or on cross-category displays for evening and impulse treat opportunities.
Pocket money prices
There's more competition on the sour scene from Fini Sweets. The group is hoping to shake up pocket money sweets with Missile Xplosion (rrp 5p). Launched at the end of March, the sour flavour gum has a liquid centre and claims to colour your tongue.
Bazooka Candy Brands is already reaping the benefits of sour sweets. "2018's npd from Bazooka candy brands was based around expanding our top-performing core brands with the introduction of sours across Juicy Drop Pop, Big Baby Pop and Flip N Dip," says head of UK sales David Holt.
"The launch of these helped Bazooka's core powerhouse brands such as Juicy Drop and Push Pop continue to be strong category performers, with Juicy Drop delivering 44% growth last year." The firm continues to capitalise on sour with its new Rattlerz chew sweets, which come in fruity and sour variants rrp 55p for a 40g bag.
Philip has plenty of sour options in his kids' sweets range. "We have a strong kiddies' range of novelty sweets facing the chilled drinks and magazines. We're in a good position as we have a number of schools and bus stops nearby," he says. "There's lollipops and extreme sour sweets – kids love the fun of it."
Best-sellers include red and white pencils, Chupa Chups lollies and 10p Wham bars and Refreshers bars.
Phillip claims that visible pricing is important for this audience. "Kids who have less disposable income look for the PMPs," he says.
Holt couldn't agree more. "The most important thing that retailers need to be aware of in regards to pricing for their sugar confectionery fixture is to have all products clearly priced," he says. "Our research shows that kids can be intimidated and embarrassed to ask for prices and often worry that they have the wrong money, so clear price points are critical – for example, 10p, 30p, 50p, £1."
And it's not just kids who like clear pricing. When it comes to bags of confectionery, pricemarked packs remain popular and the round pound appears to be retaining its magic. "Anything pricemarked at £1, such as Midget Gems and Sports Gems, goes well," says Debbie at Londis Newport. "I wouldn't get them in at £1.69, I leave it until they're on offer."
Mace retailer Salinder Khera, who owns Southcourt Convenience Store in Aylesbury, Buckinghamshire, has seen success with £1 bags and a £1 multibuy promotion on smaller bags. "Pricemarked Haribo does well and some of the Bonds of London bags sell quite well on three for £1, or 39p each," he says. "We also run a four for £1 deal on Halal sweets."
Philip claims that a lot of his pricemarked sweets go well. "We have a range called One Pounders and we sell boxes every week," he explains. "It's the same with Haribo and Maynards – some are permanently at £1 and it's extraordinary the difference it makes to sales. Every three-week promotional cycle we have a good selection of sweets on offer. Large bags perform the best when on offer at £1."
Vimto adds Remix Sodapops to the mix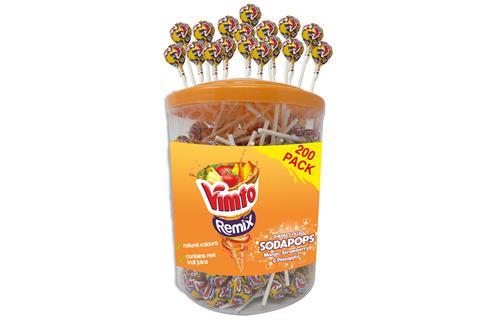 Iconic soft drinks brand Vimto has collaborated with the UK's leading confectionery distributor IB Group to launch Vimto Remix Sodapops.
The new lollipop features the mango, strawberry and pineapple flavour from Vimto's popular Remix range, which has grown to £9.6m since launching in 2016. The lollies have an rrp of 10p and come in jars of 200, featuring a special lid which doubles as a display stand.
Vimto Remix Sodapops contain real fruit flavours with an explosion of sherbet in the centre. They're suitable for vegetarians and made with natural colours.
The launch comes as Vimto revitalises its much loved and oldest confectionery licence – Vimto Original Lollipops – through a new partnership with the IB Group.
The collaboration will see both Vimto Remix and Original lollies available across the country, with stock in all 20 Hancocks Cash and Carry sites, plus distribution throughout its 55,000-strong customer base.
Vimto brand licensing manager Helen Hartley says: "Our new partnership harnesses the ever-growing popularity of the Vimto brand with IB Group's unquestionable confectionery experience."
Compact countlines
Beyond pound bags, there's another trend coming to the fore, according to Jagbir at Costcutter Forest Road. "We see smaller pack sizes coming in because health is a big topic – it's not just about value, it's about portion size, not just a huge bag for £1."
The store has welcomed the introduction of Nestlé Confectionery's 25p range. "At the moment we're doing 25p bags of Mini Randoms. Usually, an adult would get a 69p non-pricemarked pack for a kid, but that's probably their sugar intake for the day.
"If something is a sugary sweet you'll sell it no matter what, but you have to look at your rate of sale. We look very closely at the volume of sale on skus and what does and doesn't work. With the Randoms line we've considered our approach – money in the till, profit on return – it's much better for us."
The success of the small bag has caused Jagbir to review his range of pack sizes. "We're taking out the 69p Randoms bag and giving the choice of the 25p pack or the £1 bag. People always have the choice of two 25p bags if they want more. That's a good example of where we'd have just run three lines, whereas when you look back on it, you're just not making enough. With 25p Randoms, margins have been really high as we've had free stock because it's a new line, so it's 40%. It will fall to 30%, but 30% is more than enough if the rate of sale is good."
Tangerine Confectionery is taking advantage of consumer demand for smaller pack sizes. "Kids' singles will, of course, always remain popular in convenience stores and owners should look to stock a wide range of confectionery to appeal to a range of tastes," says Tanner. "Tangerine's single-pack treats, such as 30g packs of Fruit Salad Softies Minis and Refreshers Softies Minis, have been popular both as a healthier children's alternative for parents conscious of portion control, and for adults looking to satisfy their sweet tooth with a non-chocolate alternative."
Bazooka concurs that portion-controlled products enable consumers to make better-for-you choices, and cutting back could be the preferred option over artificially sweetened confectionery.
Says Holt: "Currently consumers can differentiate between the sugars and sweeteners. In most areas of confectionery artificially sweetened products have not made significant inroads. In our surveys consumers are clear on sugar confectionery and its role in the diets of both themselves and their children, with a preference for sugar over artificial sweeteners and a significant rejection of hidden sugars. Parents prefer to manage their children's sugar consumption by portion control and limiting spend. This is the trend that will continue to drive the market forward, especially in the convenience segment where sugar confectionery plays a crucial role in attracting children and families into their stores."
The firm has just launched Peppa Pig- and PJ Masks-branded fruity gummies in 45g packs (rrp 55p). The sweets contain fruit juice and carry a '99 calories per portion' flash.
Jagbir has noticed that consumers are wary of reduced- sugar and sugar-free products. "With sugar free, people don't trust it," he says. "It still tastes sweet, but what is making it sweet? People are a bit sceptical."
However, he does offer the reduced sugar Fruittella lines in order to give customers choice.
Brand owner Perfetti Van Melle urges c-stores to stock more better-for-you lines. "Convenience isn't embracing better-for-you as much as other channels – growing at 7.5% – but only represents 2.5% of the market, so it's a real opportunity (IRI data to 2 March 2019)."
He claims that if people give it a chance, they will find that reduced-sugar confectionery tastes similar to its full-sugar counterparts. "Confectionery is a treat spend," he says. "People shouldn't have to sacrifice quality if they want to reduce sugar. Our items are researched and tested as sugar confectionery, not reduced sugar confectionery. It's important to signpost these items in-store."
So to keep your customers sweet, make sure you embrace better-for-you options, along with best-sellers at tempting price points and npd to add excitement. That way, you'll ensure the sugar rush goes on for some time to come.
Bobby's unveils long-lasting chews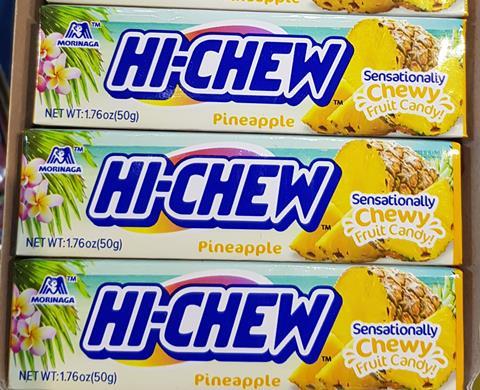 Bobby's Confectionery has exclusivity in the UK for three flavours of Hi-Chew, the number one sweet in Japan.
The company says the cherry, pineapple and strawberry Hi-Chew has the texture of chewing gum, but is an edible sweet.
National sales development manager Dave Clarke adds: "The more you chew, the more intense the flavour becomes. It's positioned between the chewing gum market, which is in decline, and a chew sweet. It has premium packaging and a £1 rrp."
The products come in a counter display unit featuring all three flavours, and single sweets are also available to offer for sampling. "We're giving retailers a gravity dispenser with 200 individual sweets where people can buy a 10p sweet to try," says Clarke.
"There are 150 different flavours in Japan, so down the line we may swap and change, but at the moment the plan is to stick with three and enhance the brand," he adds.
The firm trialled the products in three areas last year and Clarke claims that "repeats have been fantastic", with the sweets performing so well that case sizes have been increased from 10 to 15 for the national rollout.