Haribo is showing its commitment to the convenience market with a competition offering retailers the chance to win £200 of stock.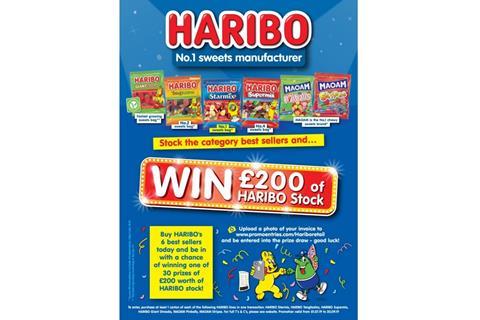 Store owners who purchase all six of Haribo's best-selling lines: Starmix, Tangfastics, Supermix and Giant Strawbs plus Maoam Stripes and Maoam Pinballs, will then qualify to enter the prize draw.
With a total of 30 prizes up for grabs, retailers have until 30 September 2019 to visit www.promoentries.com/Hariboretail and upload a copy of their sales invoice - proving that they have purchased of all six products.
Claire James, trade marketing manager at Haribo, commented: "The convenience sector is a key channel when it comes to both planned and spontaneous purchases, so it's important that retailers have an attractive display of confectionery which increases the appeal for those who wish to enjoy and share a sweet treat.
"Customers have an expectation that their favourite products will be in store and easy to find, especially those from the number one sweets manufacturer. With such an exciting mix of tastes and textures which are available in a range of formats, our core lines are a perfect way to attract shoppers and increase sales."