The new variant is part of a premium makeover for the boxed chocolate line.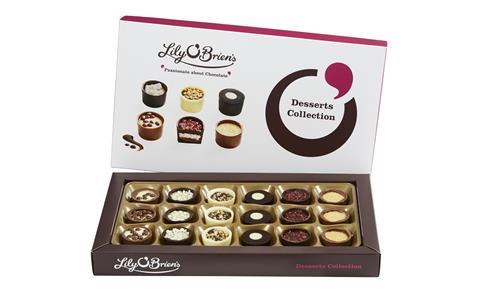 The revamped Desserts Collection showcases all six chocolates on front of pack, including hazelnut torte, raspberry infusion, banoffee pie and new lemon posset. The latter comprises lemon truffle in a dark chocolate cup, sprinkled with meringue pieces.
The makeover comes as the inlaid box chocolates category is valued at £183m within the grocery market. The premium inlaid box market accounts for over 40% of the category and is driving growth at +2.2%. Lily O'Brien's, with a market value of £10.2m, is performing ahead of the market and is now the third largest premium brand in the UK's inlaid box market [Nielsen MAT December 2019].
The Desserts Collection is Lily O'Brien's top performing SKU in the UK, up 6% year on year, and has more than doubled its growth over the last five years.
"Despite a highly competitive premium chocolate market, we have made significant inroads in the UK and continue to set ourselves ambitious targets," explained commercial director at Lily O'Brien's, Andrew Marjoram. "Gifting and receiving chocolates is a big part of Christmas and especially when gifting, shoppers are looking for premium quality products to impress their loved ones and that reflect well on them. We've developed a new box design that will ensure Lily O'Brien's Desserts Collection stands out on shelf when shoppers look for premium gift options and introduced a delicious new recipe - Lemon Posset that is sure to be a hit with chocolate lovers."
The company is also investing in ATL advertising. Leading with an OOH campaign featuring the Desserts Collection in a classic Christmas Eve scene, the campaign will be activated on digital screens in key locations to reach mainstream shoppers nationwide in December and will be supported by print and digital advertising, social media and PR.
"Our Christmas campaign is the perfect opportunity for us to engage directly with chocolate lovers and continue to build Lily O'Brien's position within the UK premium chocolate market," concludes Marjoram.
Lily O'Brien's new Desserts Collection boxed chocolates contain 18 chocolates and the 230g box has an rrp of £7.