New variants of Haribo's best-selling treats are heading into c-stores, with exotic fruit and wild berry flavours now featuring in limited edition Starmix and Tangfastics bags.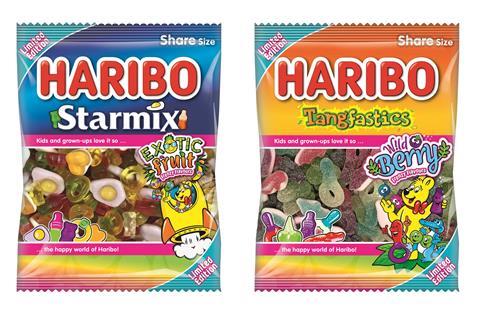 The new special bags will feature alongside the brand's existing range of Starmix and Tangfastics sweets. Both exotic fruit and wild berry variants will be available in a 140g bagged format with an rrp of £1.29.
The exotic fruit Starmix bags will feature the following sweets: an alphonso mango heart, a passion fruit & strawberry egg, a maracuja bear and a guava & grapefruit bottle.
Meanwhile, the wild berry Tangfastics bags will include: a blueberry & elderflower dummy, a cassis bottle, a cherry croc and a gooseberry-flavoured cherry shaped sweet.
Claire James, trade marketing manager for Haribo, said: "Each year, for a limited time only, we unveil tasty new flavours for Starmix and Tangfastics. This year is no different, with exotic fruit and wild berry offering a selection of deliciously refreshing flavours that are perfect for summer time.
"Appealing to adult consumers looking to treat themselves with new and exciting variants of their favourite sweets, they add a great deal of fun into the category."