Vape Dinner Lady has opened its first chain of concession stores within EG Group forecourt service stations across the UK.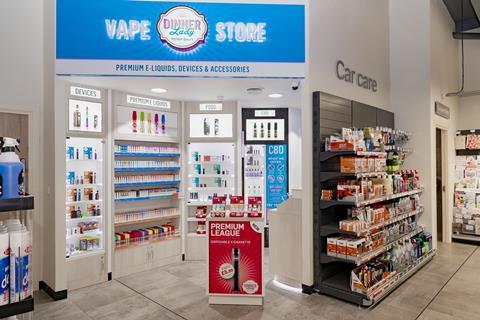 The first phase of the new store formats have opened in more than 14 locations across the country, providing consumers with a full range of premium vape e-liquids, devices and accessories, including Vape Dinner Lady's new disposable e-cigarette.
The brand argues that changing consumer behaviour has seen shoppers switch from cigarettes to vaping and it believes the vape category is now increasingly important in the convenience channel.
Commenting on the concessions, Vape Dinner Lady chief marketing officer John Taylor said: "Opening a range of concession stores in forecourt services stations makes sense for both retailers and consumers alike.
"Demand for quality vape products has grown significantly in recent years as consumers switch from cigarettes to vaping, which is regarded by Public Health England as being 95% less harmful than smoking tobacco."
He added: "Our new concession store formats bring first mover advantage for retailers. They fill the gap left by reducing sales of cigarettes and make it easy for consumers to shop a wide range of products in both Vape and CBD."
Each Vape Dinner Lady concession is designed to offer a complete selection of vaping products that appeal to a wide range of consumers, from cigarette smokers looking to switch to experienced vapers shopping for the latest e-liquids and devices.
The brand's partnership with EG Group has seen concession store formats open at forecourts in Burnley, Bolton, Warren, Stevenage, Ramsbottom, Three Arches, Snowhill, Cannock, Oval and Weld Blundell.
More concessions are expected to open over the next few months and into 2020.