JTI has launched two new menthol flavours into its Logic Compact Intense range, ahead of the ban on menthol and capsule cigarettes on 20 May.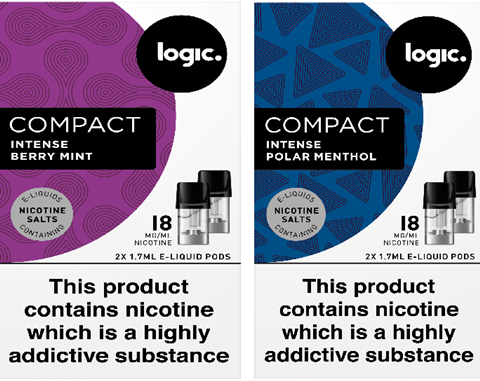 Now including Berry Mint and Polar Menthol, the Logic Compact Intense range, which features Nicotine Salts, provides vapers with a smoother and more intense flavour delivery.
The new variants will allow retailers to capitalise on the demand for menthol flavours – which, according to JTI are currently one of the most popular flavours within the vaping category.
They will also help retailers to provide even more choice ahead of the menthol and capsule cigarette ban, as some existing adult smokers turn to vaping as an alternative to traditional mentholated tobacco products.
JTI UK's head of reduced risk products Nick Geens said: "With both existing adult vapers and smokers looking for more choice when it comes to menthol flavours, we're pleased to be extending our Logic Compact Intense range to help with this demand.
"Retailers should look to offer a wide range of post-ban menthol alternatives to cater for their customers' needs – and vaping is just one part of this."
Available in 18mg formats, the new flavours pods have an rrp of £5.99.
For more information on the Logic portfolio, retailers should speak to their JTI Logic Representative, call the help desk on 0800 112 3401 or visit www.jtiadvance.co.uk.