Vape Dinner Lady is rolling out a new premium range of tobacco flavoured e-liquids to its 14 concession stores, that have opened in partnership with EG Group.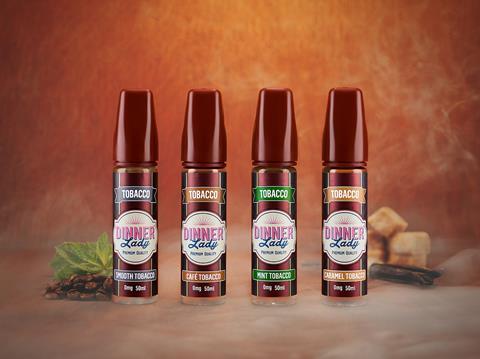 Designed to help those looking to switch from cigarettes, the four-strong line-up includes the following:
Smooth Tobacco – a naturally rounded tobacco flavour
Café Tobacco – tobacco with a hint of roasted coffee
Mint Tobacco – a blend of light tobacco and notes of eucalyptus
Caramel Tobacco – Featuring hints of vanilla crème and dark caramel
Vape Dinner Lady has launched the high-end range to provide consumers with an authentic vaping experience that is "95% less harmful than smoking cigarettes" (Public Health England).
Vape Dinner Lady's chief marketing officer, John Taylor said, "Luxury Class Tobacco is another great addition which will provide a superior vaping experience. The Dinner Lady brand is famous for its premium e-liquids. We have recently invested several million pounds in our state-of-the art manufacturing operations in the UK, to ensure we provide consumers with the highest quality products".
Smooth Tobacco is also available as a flavour in Vape Dinner Lady's recently launched disposable pod device, available to convenience stores and wholesalers nationwide.